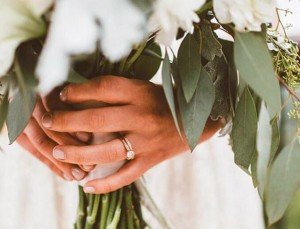 Summer wedding season is here, but if you're planning (or dreaming of) a wedding next summer then you'll be happy to see that the recent Spring 2016 Bridal Fashion Week brought a diverse selection of to-die-for dresses. We picked five of our favorite wedding dress trends from the new collections and paired each with a Brilliant Earth ring that coordinates beautifully.
Luxurious Layers
Layer upon layer of taffeta, organza, or tulle graced many of the gowns on the 2016 runways, giving them an unabashedly romantic effect. The combination of a layered gauze skirt and beaded sleeves on this Angel Sanchez dress creates a look that's both very sophisticated and a little bit dreamy.  With three bands of diamonds on each side and double claw prongs, the Riviera Engagement Ring from the new Monaco Collection has a similarly stand-out elegance.
Vintage Victorian
Dresses with demure elements like high necklines and long sleeves as well as lots of ladylike lace evoked the prim but beautiful aesthetic of the Victorian era.  This gown from Sottero Midgley embodies the trend, and would make the perfect pairing with an authentic Victorian engagement ring, like the Jaela Ring from the 1880s.
90's Modern
While some designers were drawn to the 1890s others were inspired by the designs of a more recent decade: The 1990s, with its clean lines and elegantly minimalist looks. Evoking athletic wear, this sexy and streamlined Vera Wang gown would be beautifully complemented by our new Entwined Bisou Ring, which can be worn as an engagement or a wedding ring, or as a combination of the two in one design.
Floral Prints
At once unique and traditional in feel, floral prints were one of the loveliest new looks to emerge during the 2016 collections. The florals often have a soft, watercolor appearance, as in this dreamy blue gown by Naeem Khan. If you're drawn to flower-inspired designs then you'll also adore the Lily Engagement Ring from our new Monaco Collection.
Detachable Skirts 
Many brides want to switch up their looks between the wedding and the reception, and this season designers are offering the easy, chic option of a detachable skirt. This Monique Lhuillier dress features a romantic overskirt to wear during the ceremony, which you can then remove to transform it to a dance floor-ready look later.  Brides who are drawn to these two-looks-in-one designs will also love the elegant harmony of a matching engagement ring and wedding ring, such as the Willow Matched Set with Sapphire Accents.
Final Thoughts
Which of these wedding dress trends and rings is your favorite?  Let us know on Facebook or Twitter, or in the comments section!