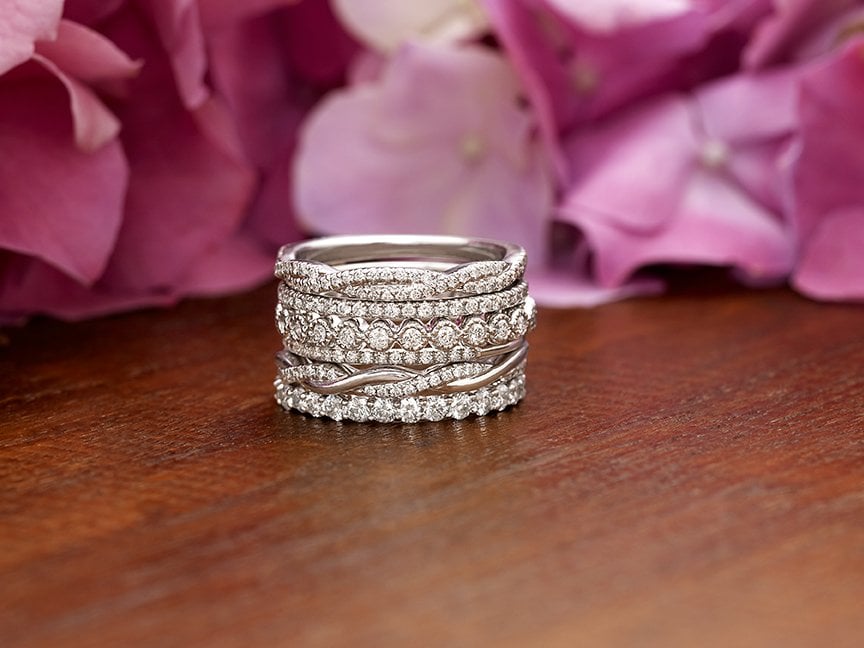 If you agree with the idiom "the more the merrier," you'll most likely love ring stacks! Many women choose to integrate their wedding bands into a ring stack, making a beautiful statement about marriage: no matter what else changes around it, a wedding band stays right where it is, faithful and everlasting.
Depending on how many rings you have, you can make a different combination for every day of the week! But be aware that there is a delicate art to stacking rings—if you simply grab whatever rings are closest to you and pile them all on one finger, nine times out of ten it won't look quite right.
Whether you are looking to stack your "forever ring" with other rings that are important to you, or you are just looking to make a stunning right hand ring stack, we have a few helpful tips to make your stacking rings as beautiful as can be!

Pre-arranged Ring Stacks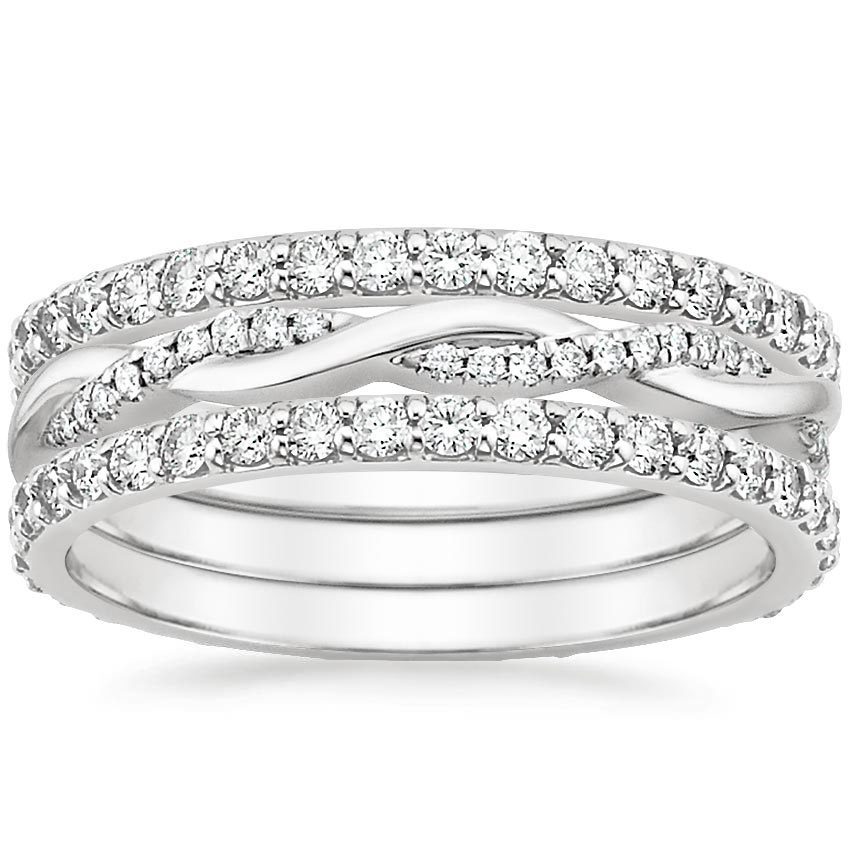 The easiest way to go about finding amazing stacking rings is to look for rings that are sold together as a curated ring stack. These rings have been carefully planned and crafted by expert designers, so you know they're guaranteed to make an impression! They look great when worn alone or stacked together; either way they are an ideal way to add a little something extra to your everyday look. These rings usually come in threes, but you can always add more!
Popular Ring Stack Ideas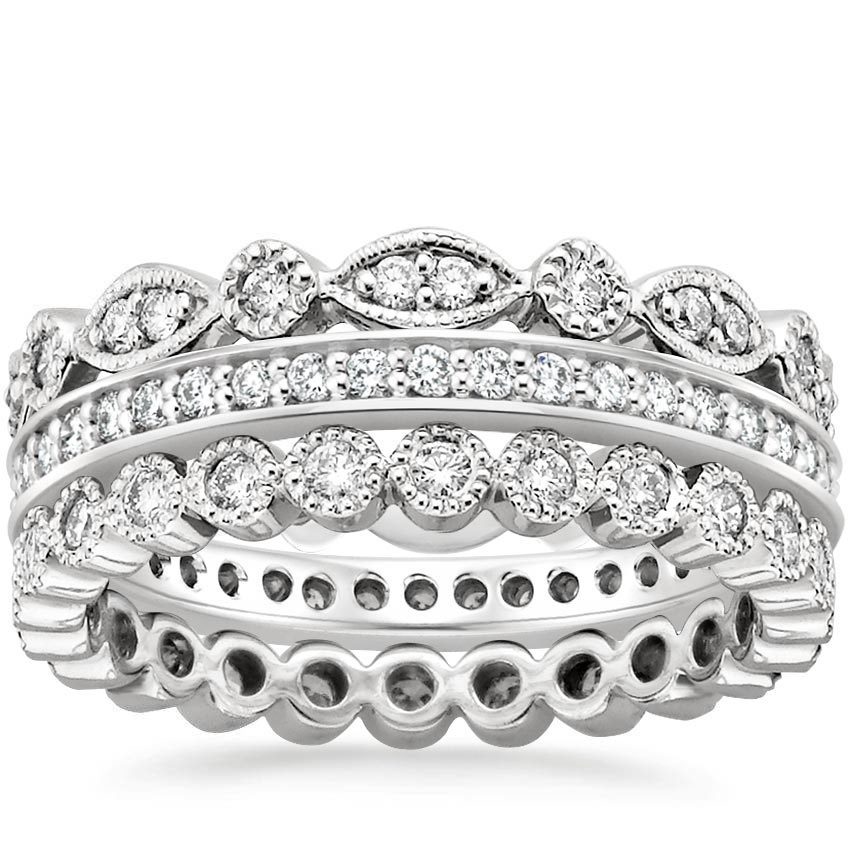 A very popular style is to stack multiple thinner rings—sans engagement ring or statement ring. This is a great choice for when you are participating in activities or working with your hands and you don't want to risk damaging your engagement ring. Our expert stylists suggest these combinations!
Stack three whisper thin rings in yellow, white, and rose gold.  Mixed metals are ideal for a contemporary look!
Bezel and Flush Set Rings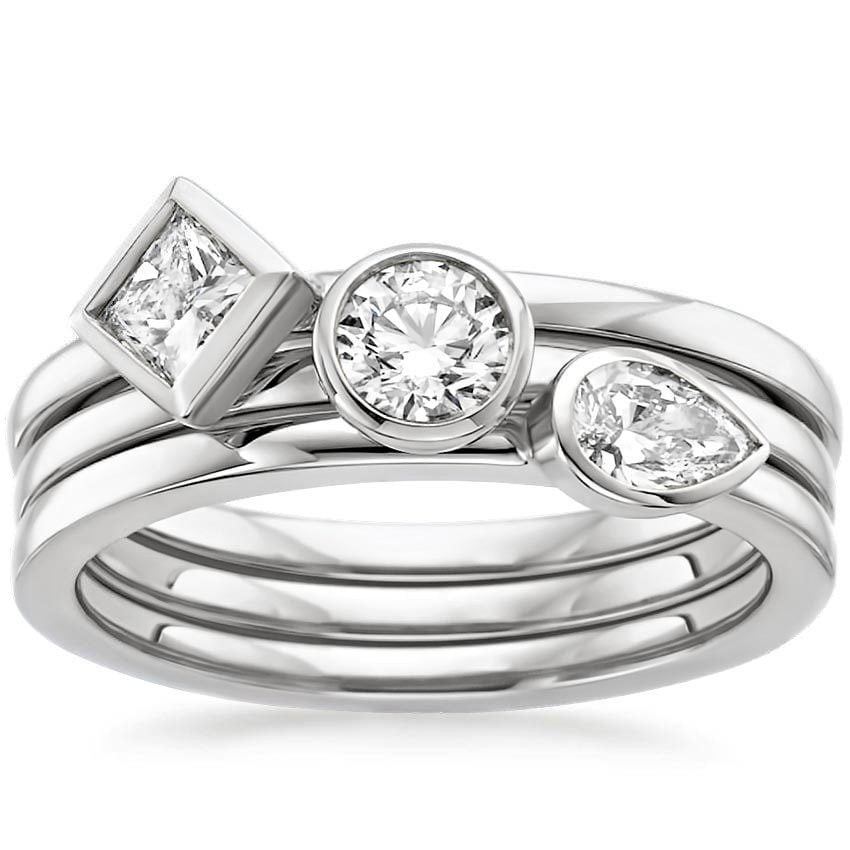 One way to make a big statement with stackable rings is to stack multiple bezel and flush set rings together. Bezel rings feature gemstones that are fully encircled by a thin border of precious metal, holding them securely in place. The individual bezels are then connected, creating a diamond band with a unique scalloped edge.  Stacking round, marquise, and oval bezel bands against each other or a straight edge ring creates stunning visual contrast. We adore bezel set rings, and we believe they make the best rings for active women!

Colored Gemstone Ring Stacks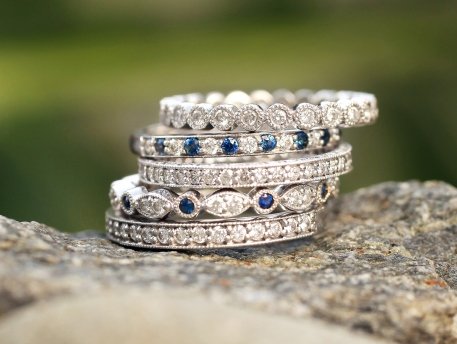 Change things up by adding some colored gemstones to the mix! Pair a stunning channel set sapphire band with a prong set diamond ring for a stunning contrast of rich blue stones and glittering diamonds! Another way to bring color into your ring stack is to choose a loose unique colored gemstone and create a beautiful statement ring. If you want a truly jaw dropping look, create three bezel or semi-bezel set colored gemstone rings and stagger the center stones!

Brilliant Earth Tip
If you are wearing your ring stack with an engagement ring or a statement ring, think of the rule of thirds. The most desirable designs do not have their focus point right in the middle, but rather at the one-third mark.  So if you are wearing five, six, seven, or more rings, place your main ring about a third of the way through!

Antique Ring Stacks
If you are looking for a showpiece, take a look at our stunning antique rings. Ring stacks can often have a vintage look, so adding a true one-of-a-kind antique ring is a great way to develop authenticity. Look for a ring with a straighter edge or a diamond that is set higher, allowing a band to sit flush against it (such as The Jennessa Ring).  Choose simpler bands to complement your antique ring—too many statement rings on the same finger begin to compete and impede your ability to bend your fingers!

Custom Design
If you have a very specific vision in your mind of what you want your ring stack to look like, contact our custom design team. Our designers have created thousands of beautiful, finely crafted custom rings over the years, and they will happily bring your vision to life. This is your chance to own rings that were literally made for each other. You can create the perfect antique look, a set of stacking bezel-set rings, or contoured rings that look like waves – the sky is the limit! Make your rings fit like puzzle pieces or make them artfully opposite. With custom rings, the world is your oyster—the pearls inside of them too!

Final Thoughts
Ring stacks are incredibly versatile and look stunning on everyone! Make it work for your personal style by stacking rings that you adore. What does your dream ring stack look like? Tell us in the comments or show us on Facebook or Twitter!