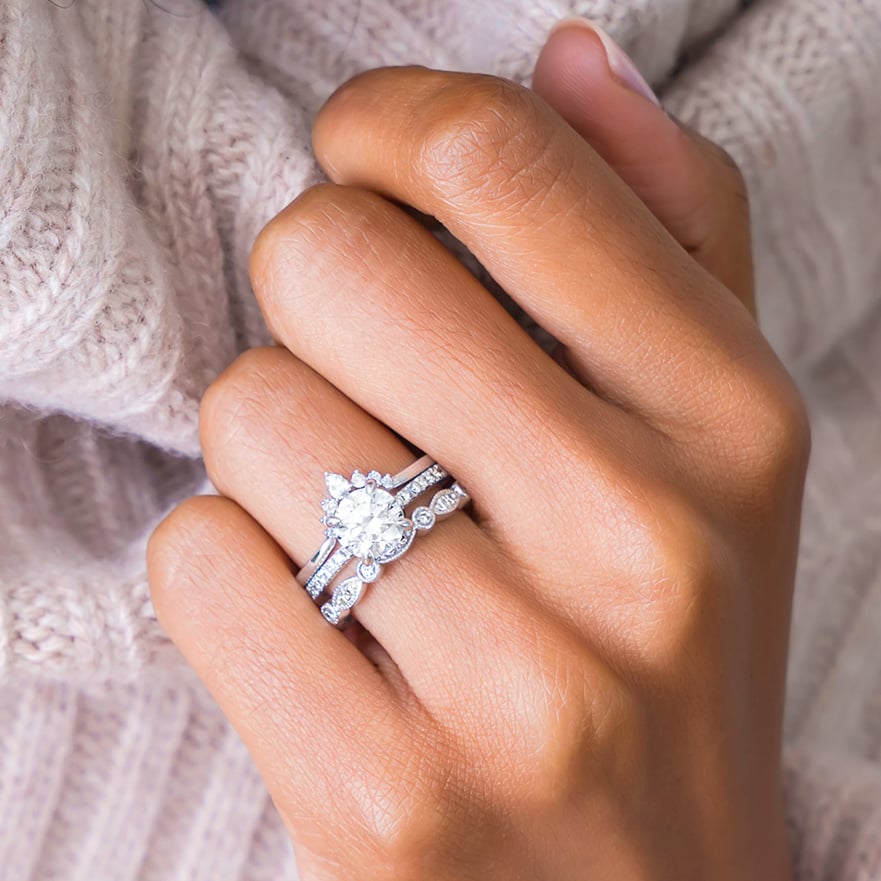 Stack on the sparkle! Diamond ring jackets and ring stacks are two of our favorite bridal jewelry trends.
Ring jackets (also frequently called ring wraps or ring enhancers) are two bands that rest above and below an engagement ring to showcase and add to your center gem's sparkle. Usually featuring unique diamond details and contoured silhouettes, these rings make excellent wedding bands or anniversary rings, since they are meant to be worn as a complement to an existing ring.
Similarly, ring stacks are a fun, contemporary way to add more overall sparkle to a bridal look or to simply wear stacked alongside other rings.
In celebration of this shimmering trend, we've pulled together some of our favorite styles below!
Crescent Nested Diamond Ring Stack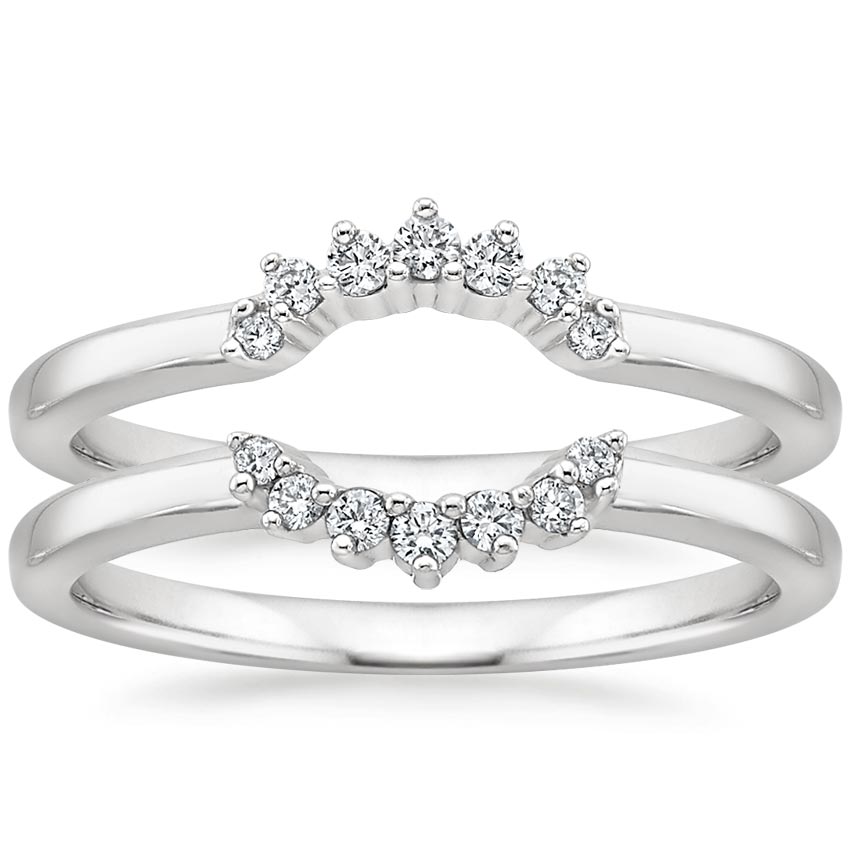 Sparkling diamonds adorn this set of sleek crescent-shaped rings. This stylish set has pairs perfectly with an engagement ring, but also has the flexibility and ease to individually stack the rings.
Flair Nested Diamond Ring Stack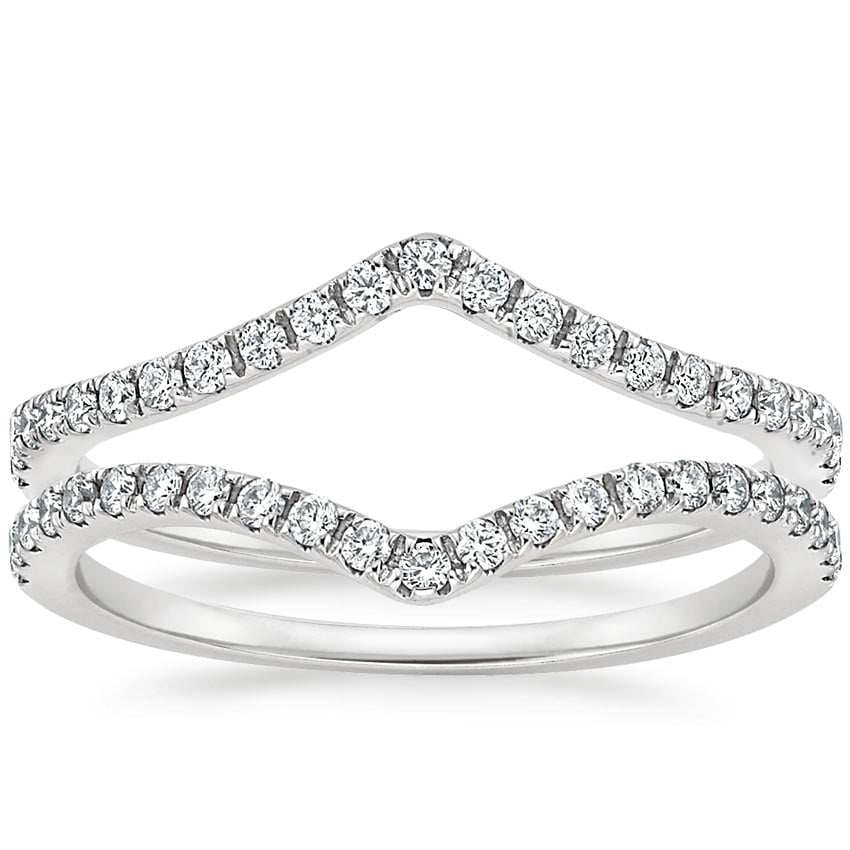 Shimmering scalloped pavé diamonds flow halfway down these bands, creating a subtly curved chevron shape. The sparkling curved bands work well with a variety of center diamond shapes and sizes.
Chevron Nested Ring Stack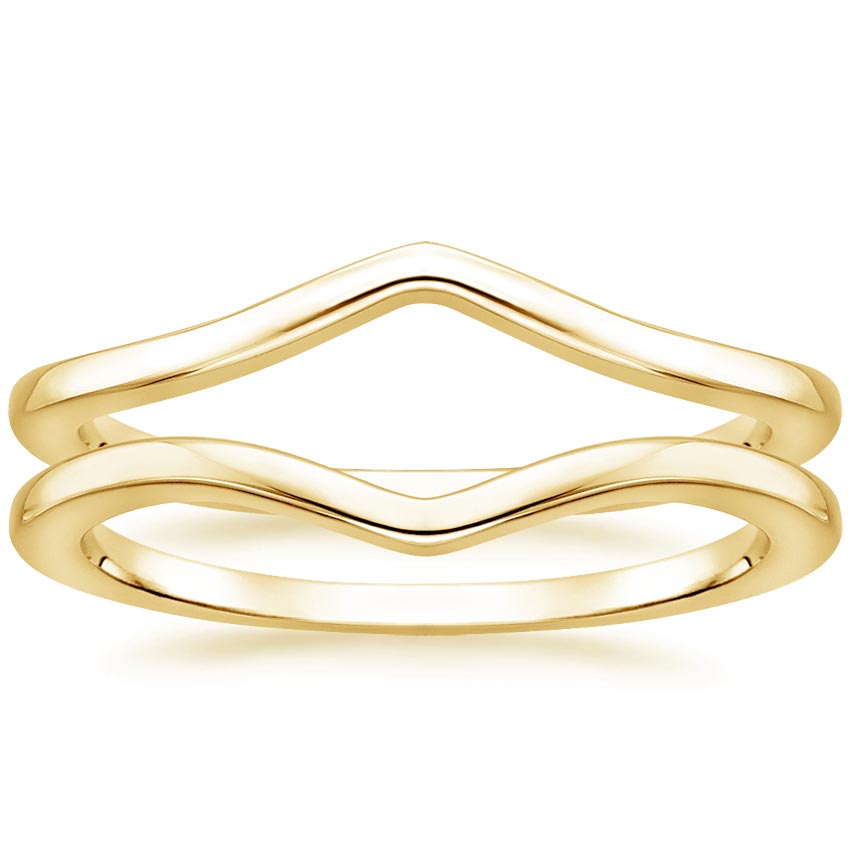 These rings feature smooth strands of precious metal that cascade down the finger creating curved chevron shapes. The sleek lustrous metal highlights your engagement ring's center gem for a clean and simply modern look.
Lunette Nested Diamond Ring Stack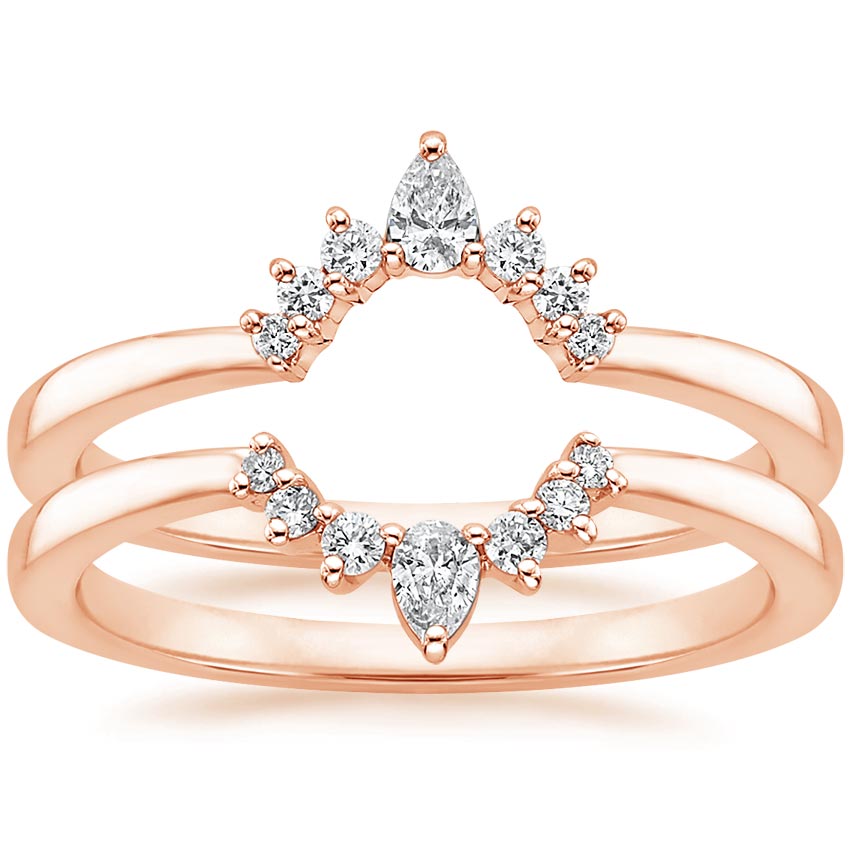 A fan favorite! Sparkling diamonds meet at a point in these sleek crescent-shaped rings.
Tres Diamond Ring Stack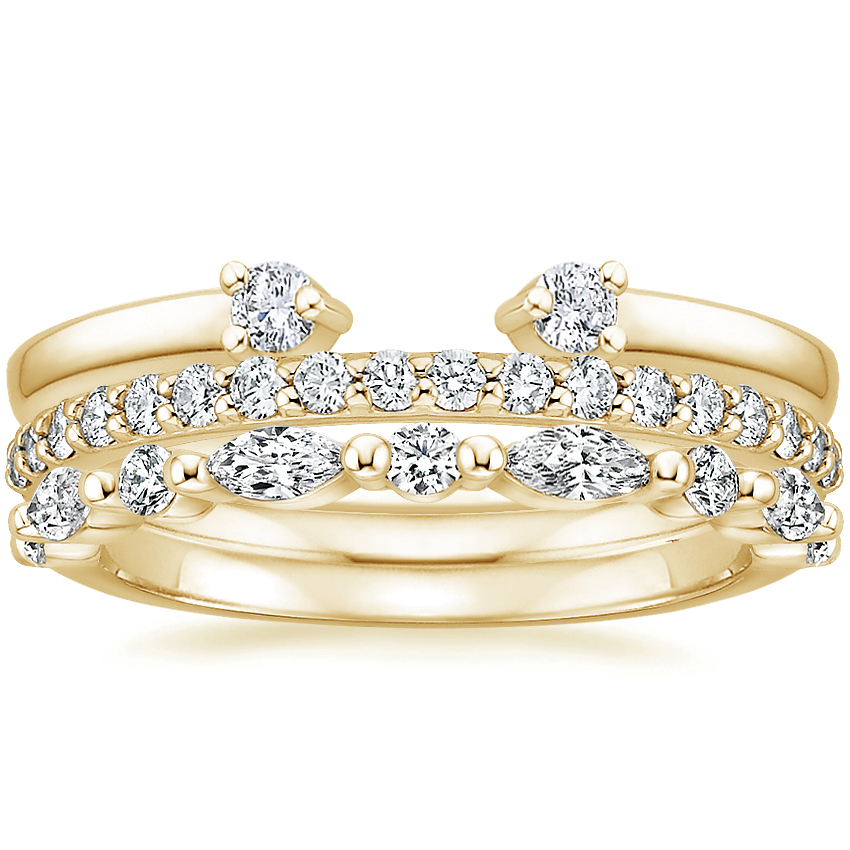 Sparkling diamond accents encircle the finger in this glamorous set of three stacking rings. This stack includes the Wren Diamond Ring, the Petite Shared Prong Diamond Ring, and the Versailles Diamond Ring – some of our favorite styles.
Gisele Diamond Ring Stack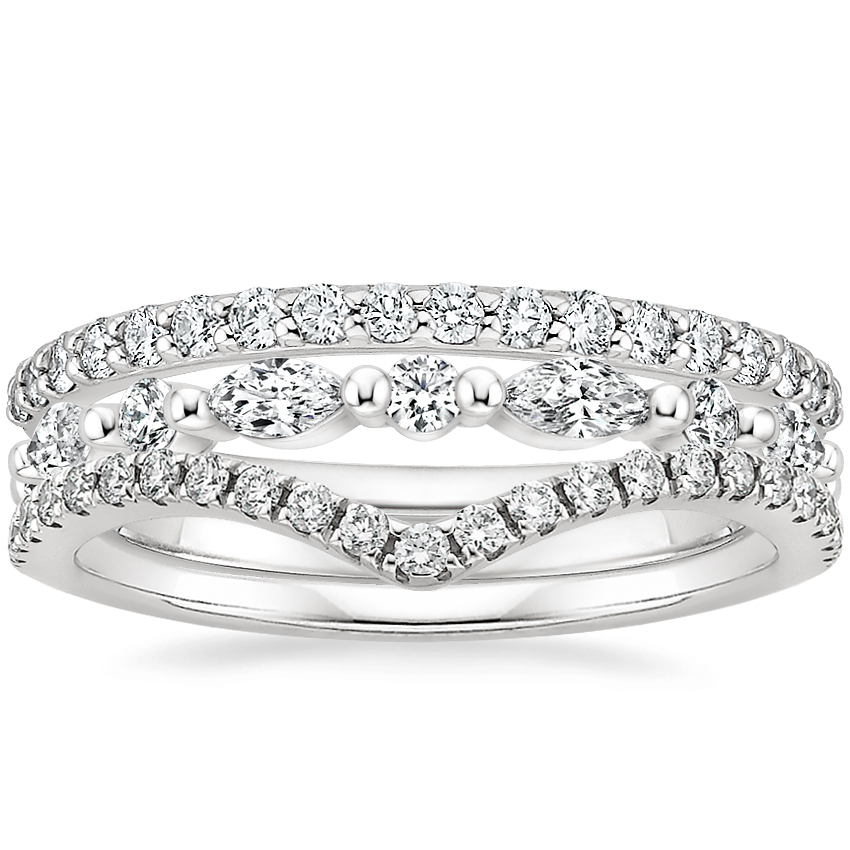 This eclectic but versatile set of stacking rings includes the chevron-shaped Flair Diamond Ring, making it great for pairing with fancy diamond shaped engagement rings.
Baguette Diamond Ring Stack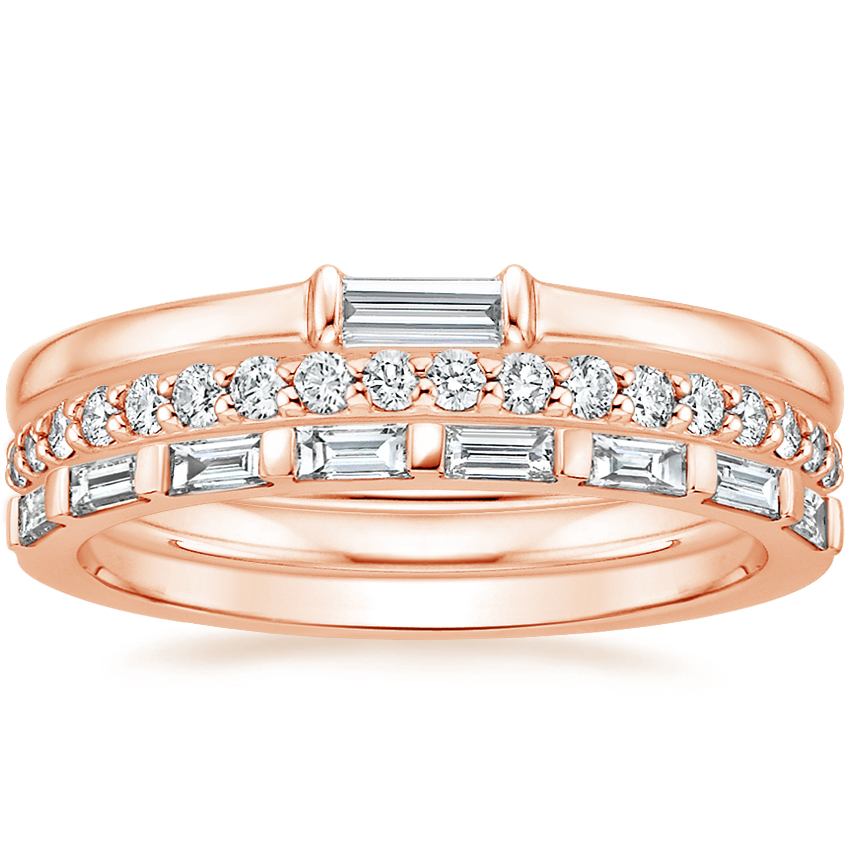 The sleek baguette diamond accents of this stack make it a great fit for both contemporary and Art Deco inspired styles. As with all our ring stacks, we suggest ordering a 1/2 size up for the best fit.
Twisted Vine Diamond Ring Stack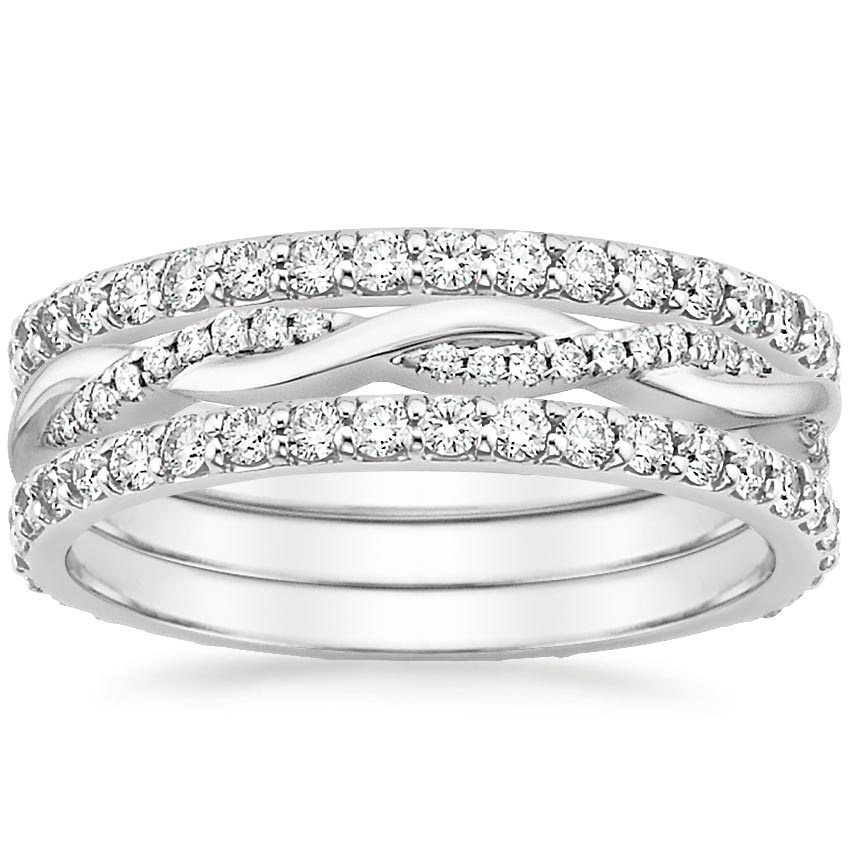 A sparkling shared prong eternity band sits on each side of our graceful Petite Twisted Vine Diamond Ring in this elegant set of stacking rings. These versatile rings can be worn individually or as a stack to create a beautiful nature-inspired statement piece.
Chevron Diamond Ring Stack
Three curved chevron rings, with either a lustrous precious metal finish or adorned with glittering scalloped pavé set diamonds, create a unique geometric look.
Final Thoughts
What do you think of this trend? Let us know your favorite styles on our Instagram, Facebook, Twitter, or in the comments below!