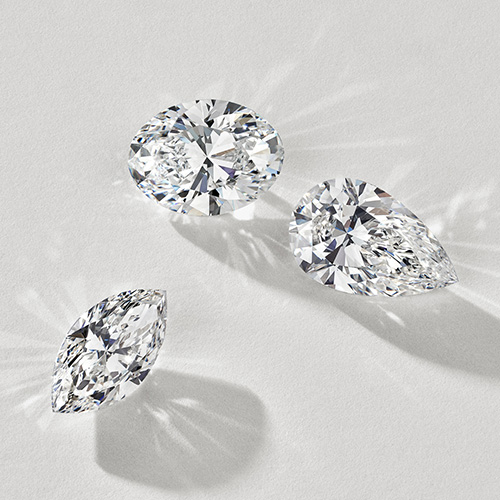 We are committed to going above and beyond industry standards to bring you the most environmentally responsible natural and lab grown diamonds. Since 2012, we've continued to grow our lab grown diamond assortment to ensure customers don't have to decide between quality and conscience. This year, we're taking a revolutionary leap forward with two new collections featuring the most ethical, planet first lab grown diamonds in the world.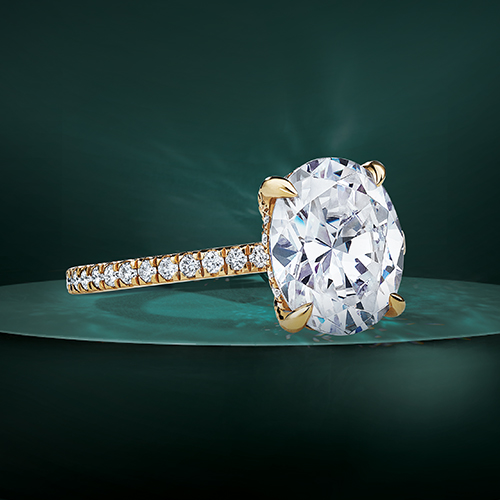 Lab Grown: Then & Now
2012: Lab Diamonds Beginnings
We have been pioneers in the lab grown diamond industry and are one of the first brands to bring the offering to our customers at scale. Through education around the composition, quality, and purity of lab grown diamonds, we helped to raise awareness that lab grown diamonds are a great alternative to natural diamonds. We were at the forefront of the lab diamond movement and are continuing to bring a best in class offering to our customers.  
2021: Sustainability Rated Lab Diamonds
In 2021, we raised the bar by becoming one of the first retailers to offer SCS Sustainably Rated lab diamonds. Each diamond within this collection is independently tracked and certified to meet the highest standards of ethical and environmental responsibility. Vendors and manufacturers are audited for safe and healthy working conditions, while the energy and emissions necessary to grow these lab diamonds are offset through investments in sustainability projects, making them carbon neutral.
2022: Truly Brilliant Lab Diamonds
In 2022, we launched a premium collection of diamonds (both lab and natural) chosen for their balance of traceability, sustainability, cut, color, and clarity, and we offer them in a variety of shapes and carat weights. The Truly Brilliant™ Collection is sourced from manufacturers who use sustainable production practices: facilities with green building certifications, wind and solar power, or the purchasing of renewable energy credits. 
2022: Responsibly Manufactured Lab Diamonds
The Responsible Jewelry Council certifies natural diamond manufacturers for safe and healthy working conditions — but there is not an established standard for lab diamonds. For years, we have been pushing the industry to include lab diamond manufacturers in their standards to no avail. So, in 2021, we created our own process and began evaluating working conditions at lab diamond manufacturers. At the end of 2022, 92% of our lab diamond manufacturers were audited for safe and healthy working conditions. This year, we aim to reach 100%.  
2023: 100% Renewable Energy Lab Diamonds
We are proud that Truly Brilliant™ lab diamonds are cut and polished with sustainable production practices, but we didn't stop there, and pushed to take sustainable production a step further. Since the growing portion of the lab diamond process uses the most energy, we're introducing a new collection to the market that uses 100% wind and solar energy in every step of lab diamond creation. From growing, to cutting, and finally polishing, lab diamonds from the 100% Renewable Collection use exclusively renewable energy. 
2023: Carbon Capture Lab Diamonds
A new era has arrived: we're launching the world's largest collection of planet first lab diamonds with The Capture Collection. This groundbreaking approach takes sustainability to new heights by capturing CO2 emissions and purifying the CO2 that is used to grow the diamond crystals in a chemical reactor. Once the rough diamond is fully grown, we cut and polish each diamond with 100% renewable energy. With The Capture Collection, we're creating the most ethical lab grown diamonds on the planet.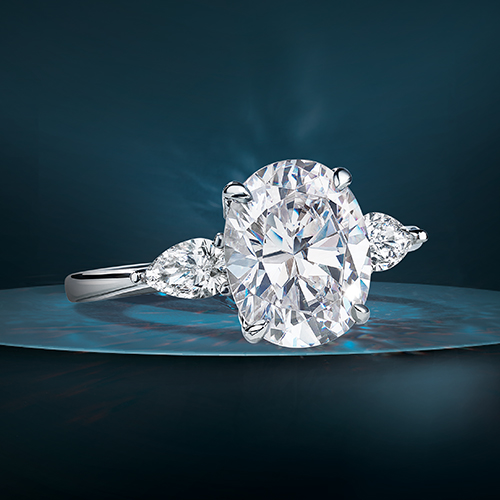 How Big is the Market for Lab Diamonds?
The lab grown diamond market continues to expand, showing no signs of slowing down. Our initial steps into the development of lab created diamonds have helped to lead the industry forward — as of 2022, National Jeweler reported that lab diamonds account for nearly 10% of the global fine jewelry market. 
What is the Future of Lab Grown Diamonds?
Lab grown diamonds are increasing in popularity due to their identical properties, quality and appearance to natural diamonds, their affordability, and the fact that they're produced without mining. Lab grown diamonds are here to stay. 
We continue to innovate and evolve the lab diamond industry and are constantly on the lookout for ways to make our offering even more responsible and sustainable.