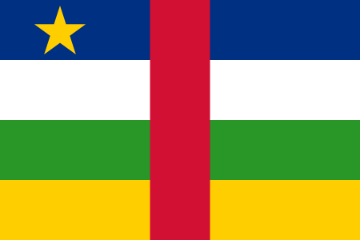 Violence over diamonds has erupted once again. This time, the location is the Central African Republic (CAR), a small impoverished country in the geographic heart of Africa. In the past month, fighting has flared up between two rebel militias. Both militias are seeking to control diamond-rich territory near the town of Bria, in the eastern part of the country. So far, the violence has left close to 50 people dead.
Why is this violence occurring? Some clues are available in a report issued in 2010 by the International Crisis Group, an organization dedicated to preventing deadly conflicts. The report, titled "Dangerous Little Stones," now looks prescient; it calls attention to the rising risk of diamond-fueled violence in the CAR. Read in hindsight, the report suggests that the recent outbreak of fighting is a result of years of inhumane conditions in the CAR's diamond mining industry. Diamonds are not the only cause of the rebel fighting, but they are a major contributing factor in a toxic brew of poverty, corruption, and ethnic tensions.
The CAR is home to about 100,000 diamond miners, most of whom use simple mining methods like panning or digging for diamonds. The majority of these miners never earn enough money to escape from poverty. Unfortunately, the CAR's government has not worked to improve this situation. Soon after taking office in a coup in 2003, President François Bozizé sacked the civil servants in his country's mining ministry and replaced them with members of his own Gbaya ethnic group. He has since used the country's diamond wealth to enrich his country's elite and reward his supporters. Systemic corruption and lack of investment in local communities means that little has been done to alleviate poverty for most people in the CAR.
No wonder, then, that rebel groups from excluded ethnicities have been taking up arms. In 2006, an armed group known as the Union of Democratic Forces for Unity emerged in the northeast. The purpose of this group is mainly to extort concessions from the central government. Another group, the Convention of Patriots for Justice and Peace, formed in late 2008. Both groups, according to the International Crisis Group, have been using violence to seize diamond wealth for themselves. And now, it seems, these armed militias are fighting each other to control valuable diamond mining areas.
In theory, there is an international mechanism for cutting off funding for the violence: the Kimberley Process, the international diamond certification scheme. The Kimberley Process has expressed concern about recent events in the CAR. Reportedly, it is beginning to investigate. However, the Kimberley Process has proven itself to be too tentative and divided to be effective. In other countries, such as Zimbabwe and Cote d'Ivoire, it has failed to stop the export of conflict diamonds. There is little reason to believe that the Kimberley Process will be more successful in the CAR.
So what can be done? Jewelry consumers, as well as jewelers, can choose diamonds from verifiable conflict-free sources, ensuring that they are not helping fund the violence. But equally important, the focus should not just be on stopping conflicts like these: it should be on preventing them. All of the causes of this violence were apparent to the International Crisis Group a year ago.  What is needed is a concerted, long-term effort by consumers and the diamond industry to make diamond mining more ethical, transparent, and humane.  If diamond miners are allowed to earn their fair share of the profits, if diamond mining communities start to feel a sense of hope, there will be less incentive for violence. And diamond-fueled civil wars might never begin in the first place.