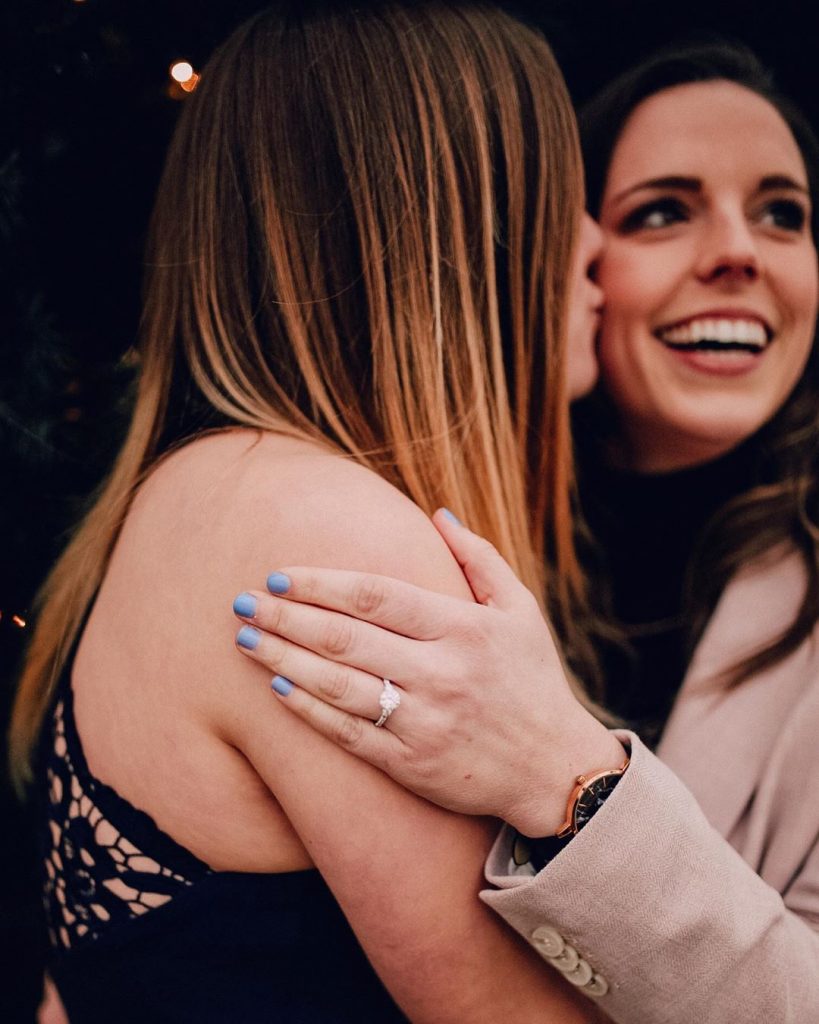 Social distancing doesn't mean we have to put our love on hold.
We're always inspired by your love stories, but during this time we're especially moved by our customers' proposals! We want to hear your #quarantineengagement stories. Send us a DM on Instagram for a chance to be featured.
Read on for some of the quarantine proposal stories we've heard so far!
Ammar & Nimra
View this post on Instagram
I had been planning to propose to Nimra somewhere around the Jersey City area since I know how much she loves the New York skyline. I wanted the New York skyline to be our background when I asked her the question, the question to spend our forever together. I had planned to get our families and friends together at a restaurant in Hoboken with the perfect skyline view. With the whole COVID-19 situation, our plans got cancelled and we couldn't exactly get our families and friends together, but it still didn't stop us from going over to Jersey City. We walked around until we found a spot to put our tripod and take a picture together – which was actually a video. Shortly after she thought we had taken the picture, I told her that I brought her here for another reason. I asked her to marry me…and yup, she said YES!! – Ammar Farooqi
Erin & Jim
View this post on Instagram
My boyfriend Jim had special plans of proposing mid April up in Connecticut and having both of our families meet for the very first time, including flying his grandparents in from South Carolina. On Friday March 20th he made the decision that because this was a tough, unknown time in the world and only seemed to be getting worse, he couldn't wait another day! We were having an intimate conversation about our future in our cozy apartment. I walked away for a moment and when I came back he had this smile from ear to ear and said "I don't want to wait another day" and got down on one knee and proposed (I had no idea this was happening)!!! I said YES! We are so thrilled and excited for our future. Though the world is seeing very sad and uncertain days, looking ahead and keeping positive is so important. Hoping to spread our light to everyone out there! – Erin Wosleger
Anika & Brittoni
View this post on Instagram
IT HAPPENED! I just wanted to send a big thanks for all your help with our engagement ring. Our trip to Mexico, where Anika planned to originally ask, got cancelled. Our house that is being built was delayed indefinitely, and we spent 24 hours wondering where we were going to move to after we cancelled our short-term Airbnb. In the end, Anika proposed, between shifts at the hospital in our new apartment. We've been through hell and back in our relationship, and we both couldn't agree more that mid-pandemic was all too fitting. Thank you so much again for all your help. Please stay safe, stay home, wash your hands, all that jazz!  – @_brittoni
Final Thoughts
We'd love to hear your love stories! Share your #quarantineengagement stories with us by messaging us on Instagram, or sharing on our Facebook or Twitter.