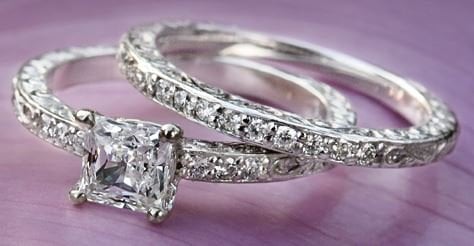 Though we can't all be Catherine, Duchess of Cambridge (aka Kate Middleton) on our wedding day, we can sure feel like we are! Princess cut diamonds are the second most sought after diamond shape, right behind the traditional round brilliant diamond, and for good reason! Princess cut engagement rings have classic sparkle, modern lines, and glamorous style all rolled into one, making it the perfect cut for those who want it all!

Princess Cut Origins

The modern round brilliant cut changed the world of diamond cutting forever when it was engineered in the early 1900s. This dynamic cut far outdazzled its predecessors—the old European cut, the old mine cut, the rose cut and the single cut. Jewelers then began to modify the round brilliant, maintaining its radiance while creating exciting new shapes.

Around the same time as the modified oval shape was being invented, a Los Angeles diamond cutter named Israel Itzkowitz was working to create an early iteration of the princess cut diamond. What he created was far more brilliant than square diamonds that had been available up until that point. The combination of a geometric diamond shape with the brilliance of a round diamond was born, and it would soon become a prevailing favorite.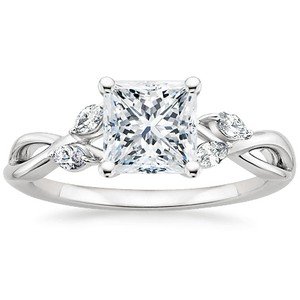 Benefits of the Princess Cut

Though round brilliant diamonds are still the most popular diamond shape, fancy shaped diamonds are increasingly sought after and have amazing advantages. The princess cut, for example, will appear larger than a round brilliant diamond of the same weight, especially if you opt for a shallower cut (which distributes the carat weight outward instead of downward, as is common with the round brilliant.) Princess cut diamonds also provide a higher yield from the rough cut diamond. This means that not as much of the diamond needs to be removed to achieve the desired shape, allowing the princess cut diamond to be slightly more affordable than round brilliant diamonds.

Princess Cut Engagement Ring Styles

Though princess cut diamonds look amazing with a vast number of ring styles, there are a few that truly enhance the beauty of the cut. The curving hand engraved scrolls of many antique style engagement rings create a stunning contrast to the sharp lines of the princess stone. Similarly, quite a few nature inspired engagement rings provide a pleasing juxtaposition to this modern stone. Curving vines of precious metal and diamond marquise buds give the appearance of wisteria crawling up the wall of a modern building, allowing two beautiful styles to fuse together to form something entirely new and entirely beautiful. A princess cut diamond also look gorgeous when paired with the looping knots of a Celtic engagement ring, perfect for anyone who wishes to blend their modern sensibilities with their Irish heritage.

A modern engagement ring setting obviously pairs well with a modern stone! If you love contemporary style and streamlined designs, consider a smooth bezel set ring or wide, flat band. Wide bands look great with princess cut gems because the lines of the diamond will sit parallel to the lines of the band, creating an uninterrupted line.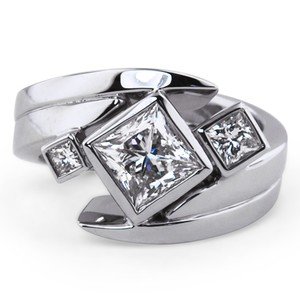 Brilliant Earth Style Tips: 

♦ Pair a princess cut diamond with a setting that features princess cut channel set side stones. Channel set side stones sit flush against each other, eradicating the spaces that usually exists between round stones and creating an endless row of sparkle.

♦ Request that your princess cut diamond be set at compass points, meaning that the corners are pointing north, south, east, and west. This is also a popular orientation for a diamond pendant setting.

♦ Custom design your own princess cut diamond ring! Princess diamonds look stunning when placed in a bypass setting, when a band of precious metal passes over the top and bottom of a stone, holding it securely in place. Speak with one of our custom design experts to create your dream princess cut engagement ring!

♦ The princess cut isn't just for diamonds! Consider a princess cut loose colored gemstone for a stunning pop of color.

Final Thoughts

Do you adore princess cut engagement rings? What is your favorite style? Let us know on Facebook, Twitter, or in the comments below!