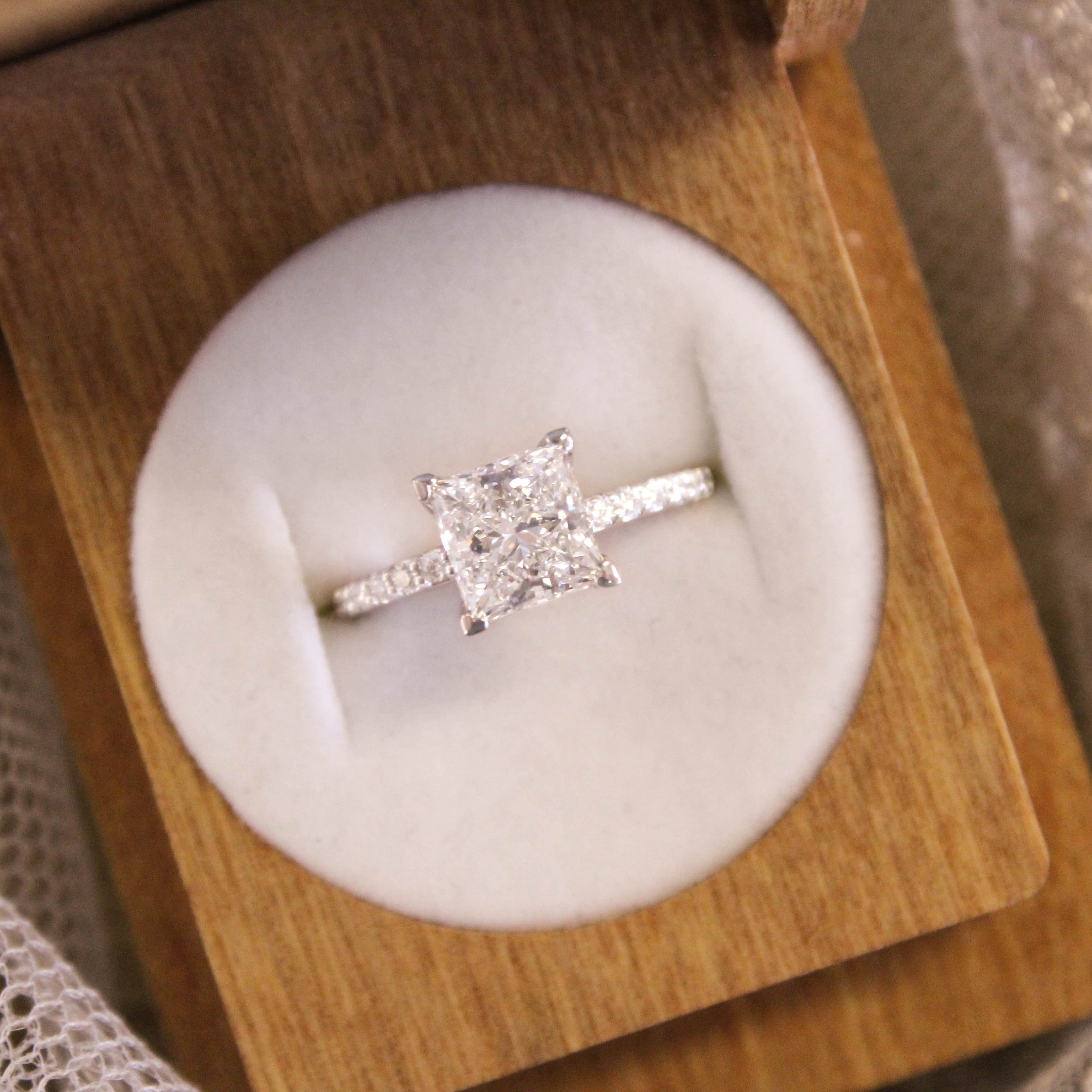 Though not all of us will be able to be part of a royal wedding in our lifetimes (cough, cough, Kate Middleton), we can all feel like real life princesses when it comes to our wedding days!
Princess cut diamonds are the second most sought after diamond shape, right behind the traditional round brilliant diamond, and for good reason. Princess cut engagement rings have classic sparkle, modern lines, and glamorous style all rolled into one, making it the perfect cut for those who want it all.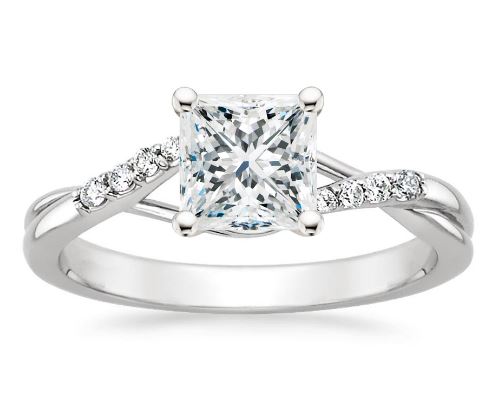 History of Princess Cut Engagement Rings
The modern round brilliant cut changed the world of diamond cutting forever when it was engineered in the early 1900s. This dynamic cut far outdazzled its predecessors—the old European cut, the old mine cut, the rose cut and the single cut. Jewelers then began to modify the round brilliant, maintaining its radiance while creating exciting new shapes.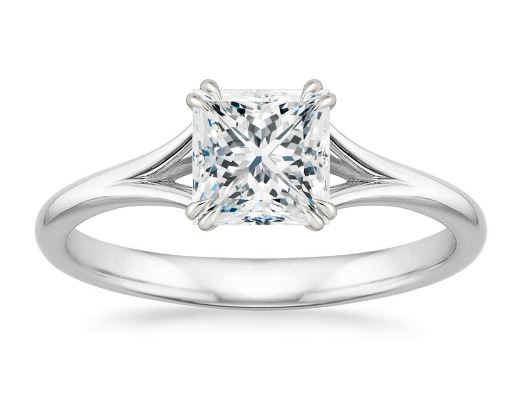 Around the same time as the modified oval shape was being invented, a Los Angeles diamond cutter named Israel Itzkowitz was working to create an early iteration of the princess cut diamond. What he created was far more brilliant than square diamonds that had been available up until that point. The combination of a geometric diamond shape with the brilliance of a round diamond was born, and it would soon become a prevailing favorite.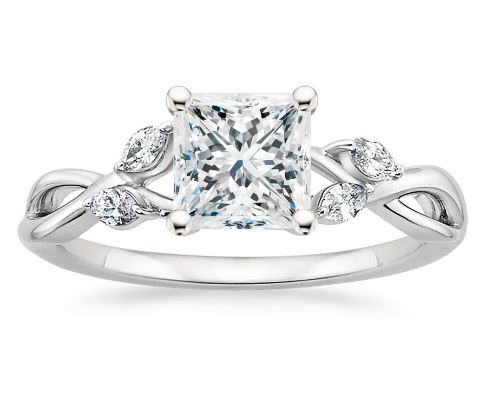 Benefits of Princess Cut Diamond Rings
Though round brilliant diamonds are still the most popular diamond shape, fancy shaped diamonds are increasingly sought after and have amazing advantages. The princess cut, for example, will appear larger than a round brilliant diamond of the same weight, especially if you opt for a shallower cut (which distributes the carat weight outward instead of downward, as is common with the round brilliant). Princess cut diamonds also provide a higher yield from the rough cut diamond. This means that not as much of the diamond needs to be removed to achieve the desired shape, allowing the princess cut diamond to be slightly more affordable than round brilliant diamonds.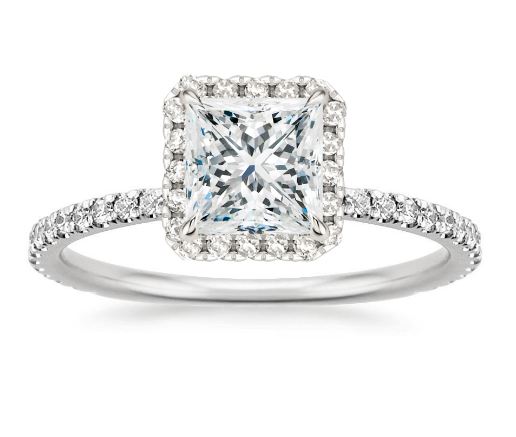 Princess Cut Engagement Ring Styles
Though princess cut diamonds look amazing with a vast number of ring styles, there are a few that truly enhance the beauty of the cut. The curving hand engraved scrolls of many antique style engagement rings create a stunning contrast to the sharp lines of the princess stone.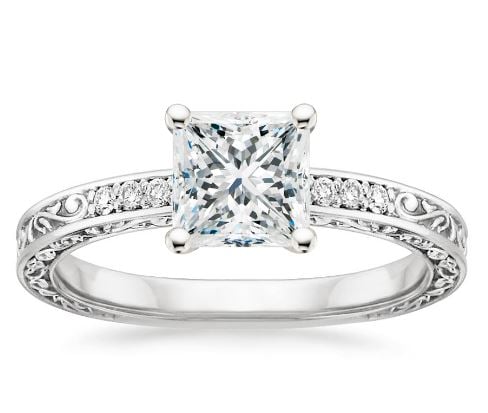 Similarly, quite a few nature inspired engagement rings provide a pleasing juxtaposition to this modern stone. Curving vines of precious metal and diamond marquise buds give the appearance of wisteria crawling up the wall of a modern building, allowing two beautiful styles to fuse together to form something entirely new and entirely beautiful. A princess cut diamond also look gorgeous when paired with the looping knots of a Celtic engagement ring, perfect for anyone who wishes to blend their modern sensibilities with their Irish heritage.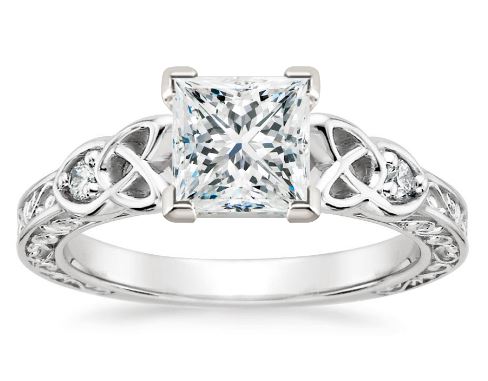 A modern engagement ring setting obviously pairs well with a modern stone! If you love contemporary style and streamlined designs, consider a smooth bezel set ring.
Rose Gold Princess Cut Engagement rings
The clean lines and angles of princess cut diamonds look all the more elegant against the warm glow of lustrous rose gold settings. These stunning square gems bring a modern allure to antique or contemporary rose gold engagement rings. The combination makes for a classic look that is truly distinctive.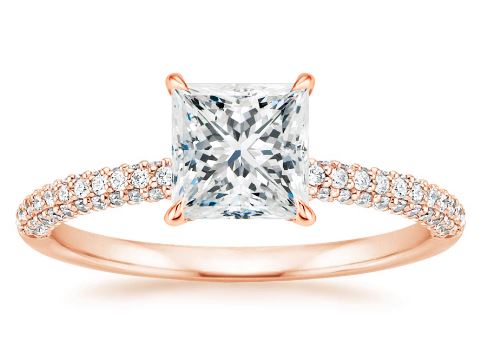 Princess Cut vs. Cushion Cut Diamonds
While both princess and cushion cut diamonds offer a squared center focal point to engagement ring settings, the two are very different. Cushion cut diamonds' soft, rounded edges lend to a more romantic feel. Derived from the old mine cut diamond, the shape has been refined over hundreds of years to get what we now know as cushion.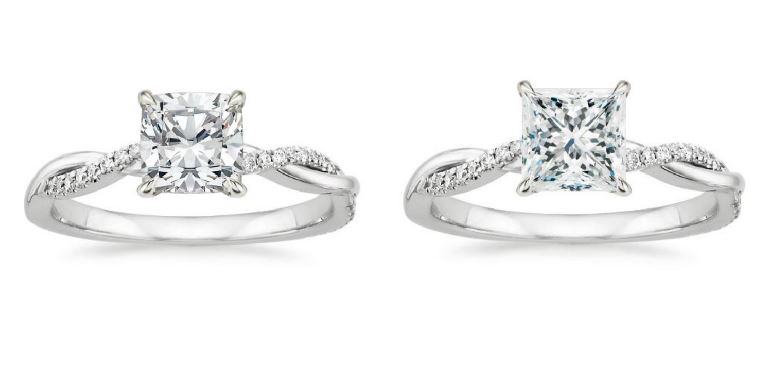 In contrast to the understated romance of a cushion cut, princess cut diamonds offer a more distinctive contemporary look to engagement ring settings. Possessing the sparkle of round brilliant diamonds in a clean square shape, princess cuts definitely make a statement. Both diamond shapes look uniquely gorgeous in many engagement ring settings and make for a timeless choice.
Brilliant Earth Style Tips:
Mix & match: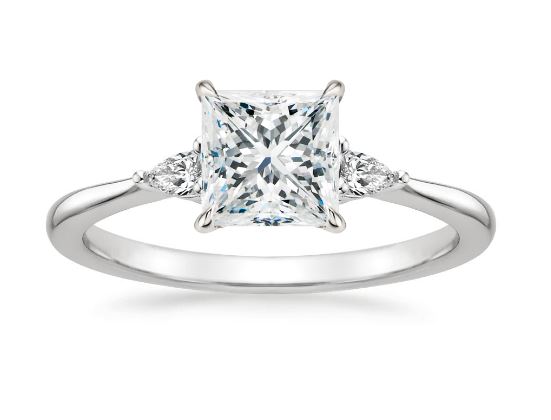 Princess cut diamonds look great against a number of other fancy shaped diamonds. Consider a three stone setting that includes anything from round, pears, and trillions to trapezoids.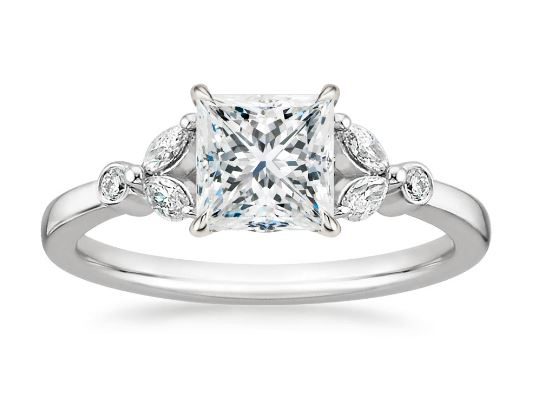 Princess cuts also look exceptional when set with colored gemstones accents. Pair a princess cut diamond with a setting that features sapphire accents, or choose to have a princess cut colored gemstone as the focal point of your engagement ring.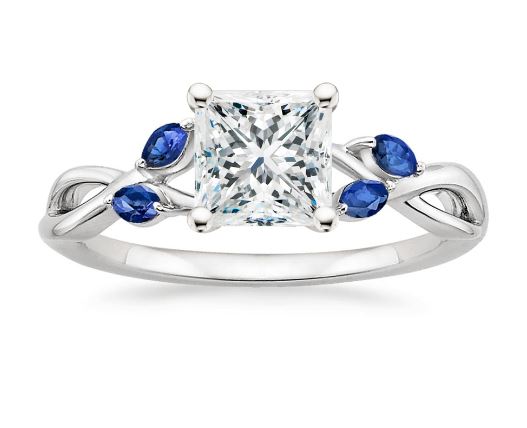 Change it Up:
Request that your princess cut diamond be set at compass points, meaning that the corners are pointing north, south, east, and west. This is also a popular orientation for a diamond pendant setting.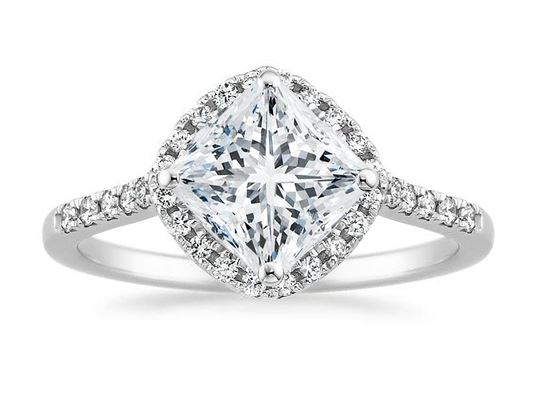 Get Geometric:
With more geometric designs trending now than ever before, setting a princess cut diamond with something that accentuates its crisp, bold lines might be the way to go. That could be a square halo or a petite squared solitaire band like our Petite Quattro for something classic.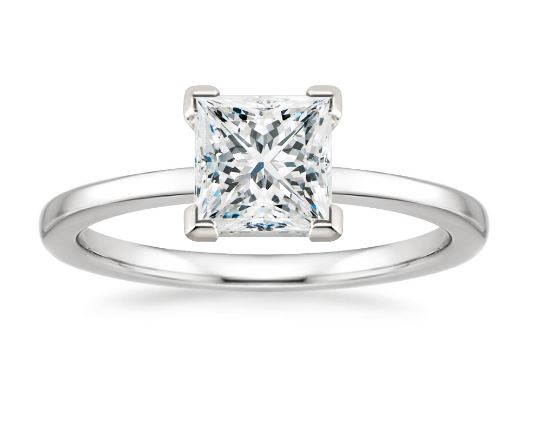 Final Thoughts
Do you adore princess cut engagement rings? What is your favorite style? Let us know on Facebook, Twitter, or in the comments below! For even more inspiration, explore princess cut bridal sets and recently purchased 2 carat princess cut diamond rings.