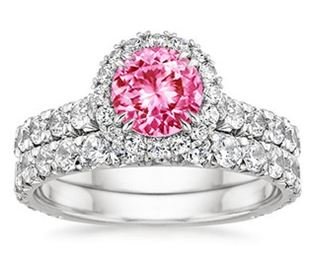 Everything is better in pink! From cottages to mopeds to pin cushions, an unexpected pop of pink always catches people's attention. Pink is for everyone, from girly-girls to tomboys—no one should be afraid to wear pink! This goes double for stunning pink sapphire jewelry.

Many people automatically associate the term "sapphire" with the traditional deep blue colored gemstone, but sapphires actually come in all colors of the rainbow—including all shades of pink! For women who adore pink, these glittering colored gemstones are a gift from above. They make lovely, feminine engagement rings, pendants, and earrings.

If you believe in pink, find out why pink sapphire jewelry is perfect for you!

What are Pink Sapphires?

All sapphires, including the pink variety, are a part of the corundum (a mineral) gemstone family. When trace elements combine with the corundum as the sapphire is forming, it creates an array of different colors. When the element chromium is present, it causes sapphires to take on beautiful pinkish hues.

Depending on the amount of chromium, pink sapphires range from light, translucent pinks to deeper hues with hints of purple, fuchsia, and red. There is a set point, however, when a pink sapphire contains so much chromium that it officially becomes a ruby. Sapphires and Rubies belong to the same gemstone family, and together they are amongst the most sought-after, desirable gemstones!

Another official gemstone that is actually a pink sapphire is the exotic Padparadscha. These gemstones are light to medium toned pinkish-orange sapphires that are mainly found in Sri Lanka. These incredible gemstones are extremely rare and highly valuable when they are natural and untreated!

Sapphires are a 9 on the Mohs Scale of Hardness—diamonds are slightly harder, at a 10—so they are a wonderful choice for women on the go. Comparatively, emeralds are much softer (7.5-8 on the scale), and require a gentler touch. Sapphires are also very easy to take care of! Simply brush them with soap and water and you are done. No special treatments are needed!


Pink Sapphire Engagement Rings

A pink sapphire is a wonderful choice for an engagement ring. These rosy gemstones look remarkable in a variety of settings! Natural settings such as the Willow Sapphire Ring or the Twisted Vine Ring make pink sapphires look particularly striking. Nature inspired rings feature wispy, curving tendrils and delicate buds, making a center sapphire look like a bright pink peony blooming on the vine.

If you are looking for a fun, unique engagement ring, a pink sapphire in a halo setting is a great choice. The combination of a rich pink center gemstone surrounded by bright, glittering diamonds is absolutely stunning. Whether you love diamond-studded halo settings that are thin and elegant or bold and dazzling, there is a halo that you will adore. If you are looking for a mix of glamorous style and nature-inspired elements, consider the Lotus Flower Ring. This ring features a stunning pink sapphire encircled by a scalloped halo, creating the appearance of a brilliant flower.

If you want to show off a stunning pink sapphire all on its own, a classic setting is the way to go. Simple bezel-set or prong-set solitaires bring the focus straight to the vibrant color! Pure, simple bands made of platinum, white gold, or yellow gold make a stunning backdrop for the perfect pink sapphire.

Loose Pink Gemstones
Pink sapphires come in a stunning variety of colors, giving you the ability to choose the sapphire that's perfect for you! Simply choose a loose colored gemstone and set it in any of our stunning engagement ring settings for a truly unique ring! If you happen across a stunning pink heart sapphire, pair it with one of our Celtic designs for a gorgeous Irish engagement ring. Or, if you would like a completely custom design, incorporate a pink sapphire heart into a custom Claddagh ring! Our jewelry experts have designed thousands of custom rings for men and women, and they would love to help you create your perfect pink sapphire ring!

Pink Sapphire Earrings and Pendants

You don't need to be in the market for an engagement ring to enjoy the stunning brilliance of pink sapphires! These blushing gemstones are also available as stud earrings and pendants! Whether your pink sapphire studs are pure and simple or encircled by a halo of radiant diamonds, they will always frame your face in light and color! Create a complete sapphire set with a necklace like the pink sapphire twist pendant! This gorgeous pendant features a half carat round pink sapphire in a luxurious twist of pure, 18k white gold.

Final Thoughts

What's your favorite pink hue? Do you love light, subtle colors or bold, passionate pinks? Let us know on Facebook, Twitter, or in the comments!