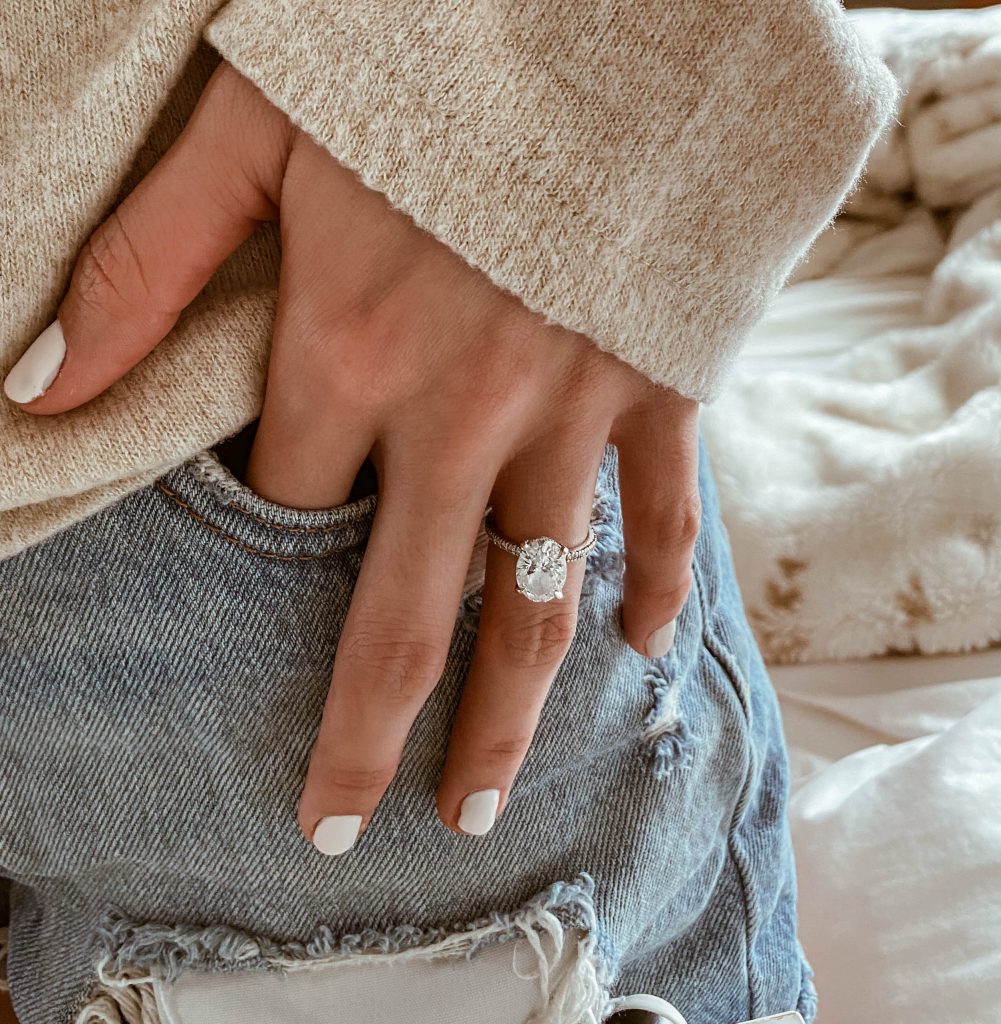 Lab created diamonds are becoming an increasingly popular choice when it comes to engagement rings. Not only are they sought after for their beauty, but they also make for a responsible choice given that no mining is required. They're often more affordable than natural mined diamonds of comparable size.
Lab diamonds are man-made diamonds that consist of actual carbon atoms arranged in the characteristic diamond crystal structure. We often get asked, "do lab diamonds look different than natural diamonds?" To answer that question, lab grown diamonds have the same physical, chemical, and optical properties as mined diamonds. This means that lab diamond engagement rings will look visually identical to rings set with mined diamonds — even experts will not be able to distinguish between a lab diamond ring and natural diamond ring using only the naked eye.
Below are our most popular ring settings for lab created diamond engagement rings:
Luxe Ballad Lab Diamond Ring
This classic lab created diamond engagement ring features sparkling scalloped pavé diamonds that extend three-fourths of the way around the ring. The center lab grown diamond appears to float above the delicate band.
Waverly Lab Diamond Ring
This dazzling seamless halo lab diamond ring features lab diamond accents encircling the center gem, adorning the band, and sparkling on the gallery. At Brilliant Earth, our lab created diamond rings can also be set with lab diamond accents.
Four-Prong Petite Comfort Fit Lab Diamond Ring
Petite and delicate, this classic four-prong solitaire lab created diamond ring setting has a rounded inside edge for increased comfort.
Elodie Lab Diamond Ring
You can't go wrong with a classic! Choose a round lab grown diamond and 18K yellow gold for a time-honored style.
Aria Lab Diamond Ring
Classic simplicity defines this delicate setting, which features a thin precious metal band that gently tapers towards a pear-shaped lab diamond accent on each side of the center gem.
Final Thoughts
Would you choose a lab created diamond engagement ring? Which lab diamond ring is your favorite? Let us know on our Instagram, Facebook, Twitter, or in the comments below.