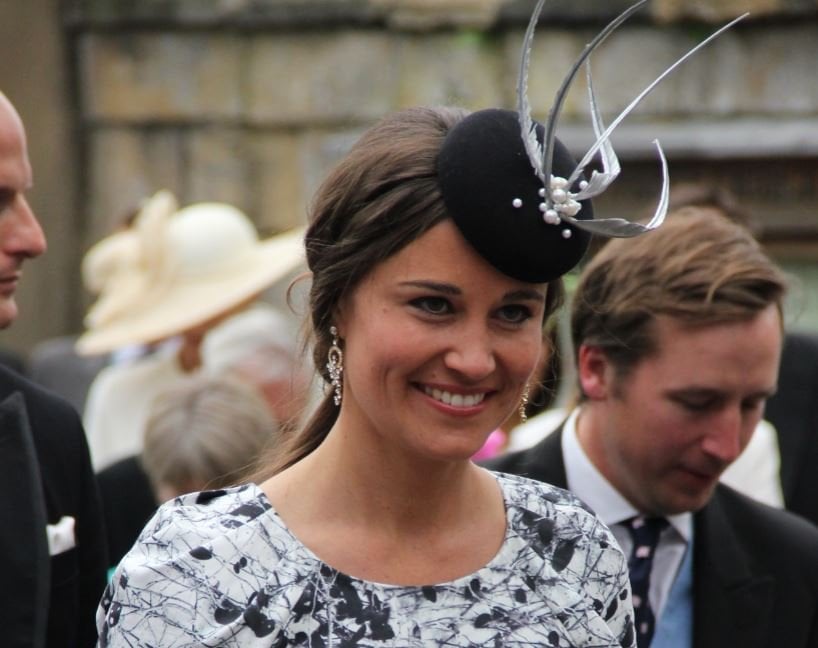 The most buzzed about bachelorette in Britain, if not the world, is no longer eligible.
After enduring years of gossip magazines breathlessly speculating about whom she would marry, royal sister Pippa Middleton is officially engaged. Those same magazines are reporting that her fiancé, aristocratic hedge fund manager James Matthews, proposed in a traditional manner (asking her parents for permission first) and that Duchess Catherine is thrilled for her little sister.
Of course, the aspect of this story we're interested in is the engagement ring! Although Pippa hasn't discussed her new ring in the press, she hasn't been shy about wearing it around London. Photos reveal her engagement ring to be a vintage-inspired halo design with a distinct Art Deco-era feel. It appears to be an asscher cut diamond in a bezel setting, surrounded by an octagonal halo of sparkling round diamonds. The jewelry experts who have weighed in on the issue say that it looks to be about 3.5 carats in size.
If you love Art Deco-style engagement rings, asscher-cut diamonds, or halo engagement rings like Pippa's, we think you'll adore one of these similar designs:
The Circa Ring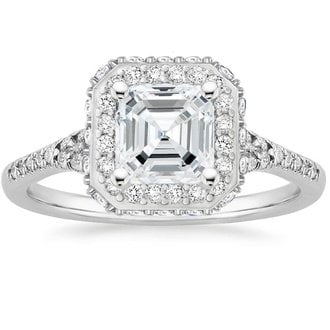 With a glittering diamond halo set in an octagonal frame around an asscher cut center diamond, the many diamond accents on the Circa Ring create a glamorously eye-catching look fit for a royal sister.
The Vienna Diamond Ring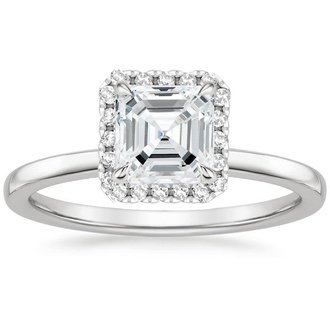 Less ornate and overtly Deco-influenced than Pippa's ring, the Vienna Diamond Ring is a sleek and more contemporary take on her vintage-inspired design.
The Waverly Diamond Ring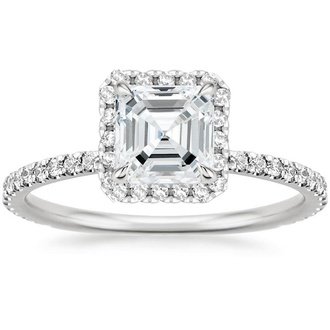 Beautiful scalloped pavé diamonds grace the halo and shank of the Waverly Diamond Ring, creating a lavishly spectacular feel that, when paired with an asscher cut center diamond, is distinctly similar to Pippa's Deco-inspired sparkler.
The Enchant Halo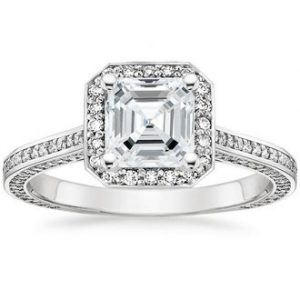 The Enchant Halo Ring combines unabashed glamour with lots of vintage detailing. Pavé set diamond accents sparkle from three sides of the band, the pierced filigree gallery reveals surprise diamonds, and a double claw-prong setting adds a designer touch.
Malia Diamond Ring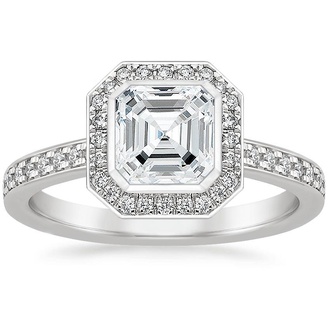 An intricate halo of pavé-set diamonds embraces and accentuates the center bezel-set diamond of this gorgeous ring. Diamond accents along the band and a chic open gallery add a truly dazzling effect.
Luxe Sienna Halo Diamond Ring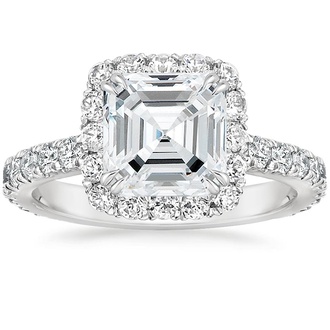 In the glamorous Luxe Sienna Halo Diamond Ring ring, French pavé set diamonds in the halo and along the band show minimal metal and maximum sparkle.
Final Thoughts
What's your favorite thing about Pippa Middleton's engagement ring? Let us know on Facebook or Twitter, or in the comments!
PHOTOGRAPH BY TheMatthewSlack, DISTRIBUTED UNDER A CC-BY 2.0 LICENSE.