There are tried and true ways to personalize an engagement ring, from engraving your initials inside the band to designing an entirely unique custom ring. But design choices offer less expected, secret little ways to give an engagement ring personal meaning.
You can incorporate aesthetic elements that are rich with sentimental significance for you as a couple but which won't be obvious to the outside world. Consider these ideas to give a personal touch to your engagement ring, while sticking with a classic and timeless overall look:
Color Connotations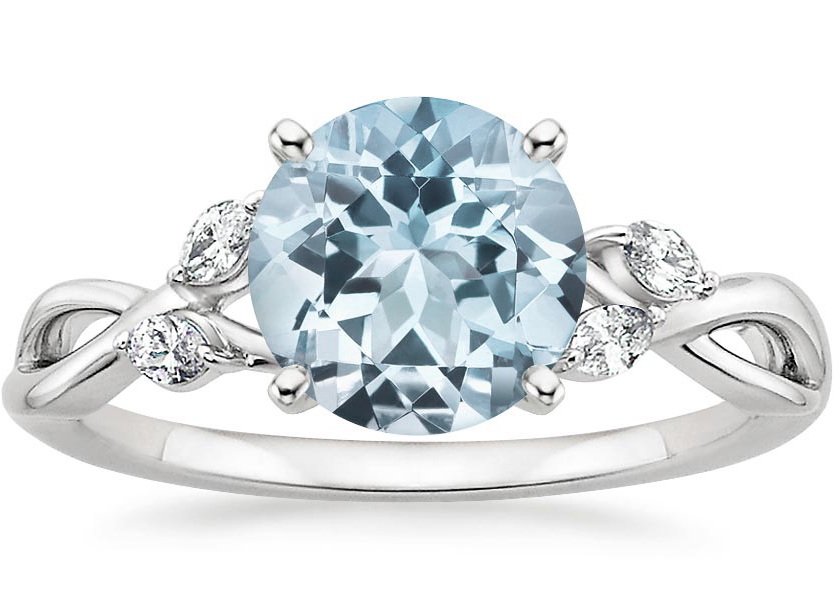 Choosing a gemstone in a color with significance to the bride or to you as a couple will strongly imbue the ring with personal meaning without making a major statement to the outside world. You might select the bride's or the groom's birthstone, for example an aquamarine engagement ring (such as the Aquamarine Willow Ring, above) for a March birthday, a sapphire engagement ring for a September birthday, or an amethyst engagement ring for a February birthday. Depending on how it would look, you may even be able to incorporate both of your birthstones into one ring—the Sapphire Willow Ring with Lab Emerald Accents includes both birthstones of a September-May couple.
Thinking beyond birthstones, you might choose a gemstone in a color that evokes a special place—a teal sapphire if you both love the ocean, emerald if your best moments take place camping in the woods, or rosy morganite if your favorite vacation as a couple was spent on the pink sands of the Bahamas.
Meaningful Numbers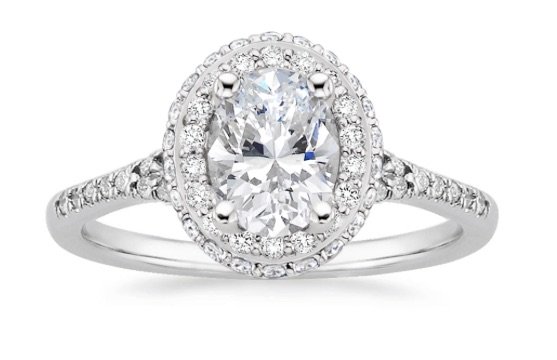 Another way to subtly give an engagement ring extra personal meaning: Look for a ring featuring a number of gemstones that is relevant to your relationship. If you've been together for six years you might choose a ring with three accent diamonds on each side of the center gemstone (one accent diamond for each year of your history, the center gemstone to represent your future). Or if the anniversary of your first date is on the third of the month, a three-stone engagement ring would be a sentimental choice. This is even an option if your anniversary is the thirtieth day of the month, if you can select a halo engagement ring featuring thirty accent diamonds (the precise number of accent diamonds on a halo ring will depend on the diameter of the center gemstone—we can help you achieve the right number). The Circa Engagement Ring, above, is one eye-catching option.
Sentimental Seasons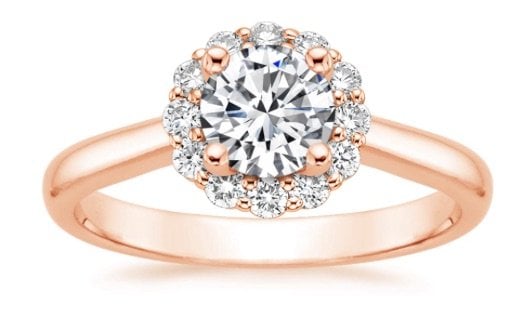 You might choose a ring design evocative of the season when you met. The Willow Ring calls to mind the leaves and curving exposed vines of fall, while the Venus Ring inspires thoughts of summer beach days spent together. A floral ring design represents the blossom-filled months of spring, even more so when in rose gold, as seen above in the Lotus Flower Ring. And any diamond ring featuring lots of pavé diamond accents in icy white gold or platinum (think the Waverly Ring) resembles the dazzling white of a snowy winter day.
Secret Gemstone Messages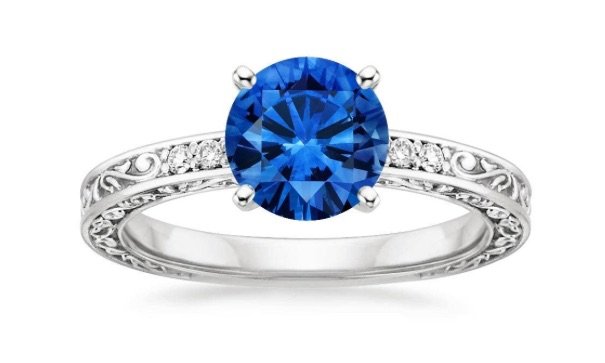 In England, France and other parts of Europe in the early nineteenth century aristocrats used a "language of gemstones" to spell out meaningful words in jewelry, using the first letter of each gemstone name. One popular example was "Dearest," spelled out by a diamond, emerald, amethyst, ruby, emerald, sapphire and topaz. While modern couples are unlikely to want such multicolored gemstone jewelry as an engagement ring, you might choose a gemstone that begins with your first initial, or the first letter of a pet name or of a word that has special meaning to you as a couple. Think a sapphire ring (like the Sapphire Delicate Antique Scroll Ring, above) if your name is Sam or hers is Stephanie, an antique ruby ring if your last name starts with an R, or a gemstone that shares a first letter with your favorite place, favorite musician or poet, your religion, or any other shared passion.
Final Thoughts
Will you personalize your engagement ring in a subtle or secret way? Let us know on Facebook or Twitter, or in the comments!