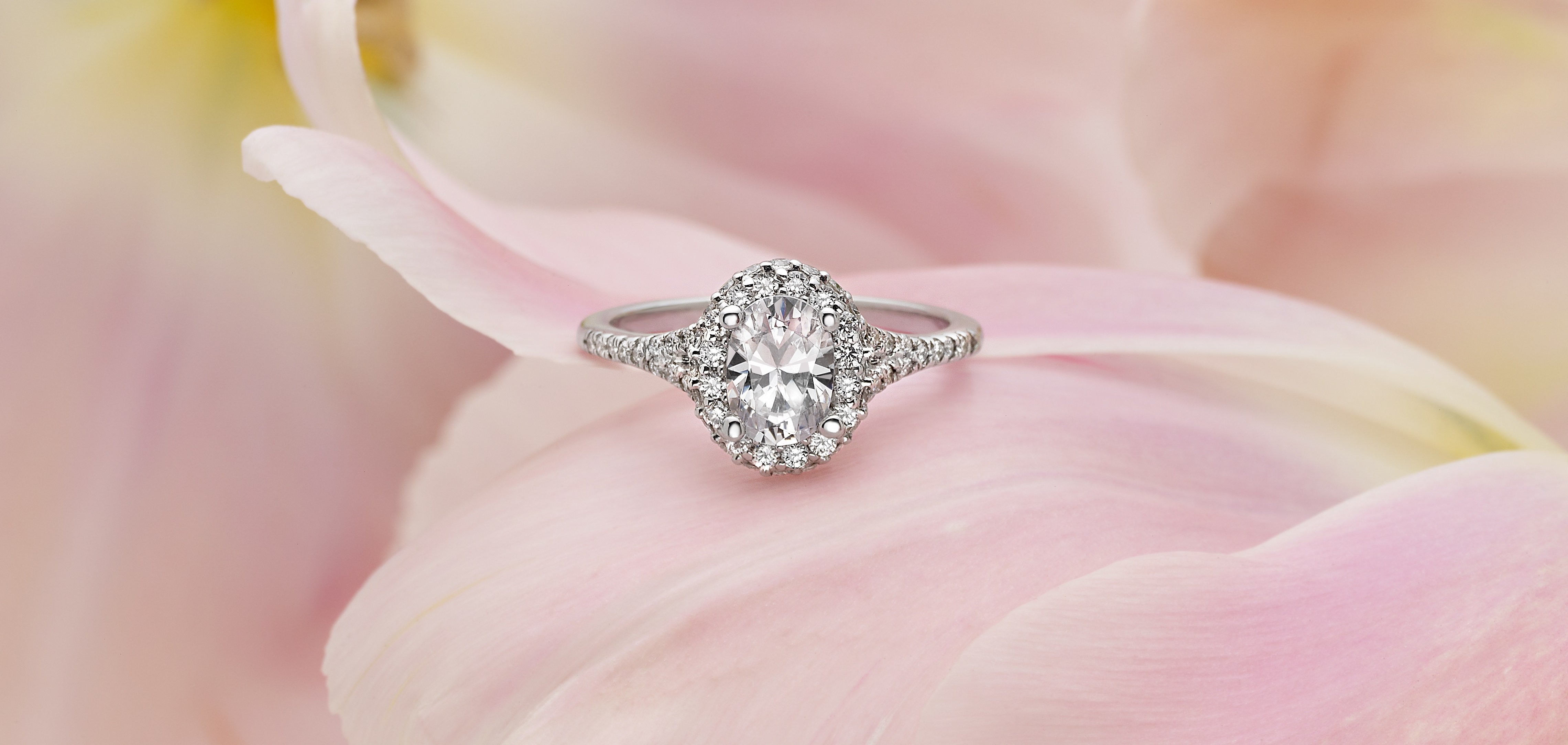 Oval cut diamonds are a scintillating twist on the classic round brilliant, falling somewhere between a round and marquise cut in shape. Oval cut diamonds are highly versatile and remarkably elegant.

What Sets Oval Cut Engagement Rings Apart
Though round diamonds are known to emit the most fire and brilliance, oval diamonds are a close contender. We recommend you choose an oval cut engagement ring if…
You are in love with the sparkle of a round diamond but you're looking for something unique.
You are on a budget. The oval cut maximizes surface area, meaning you can get a larger looking diamond for a lower price!
You want to make your hands appear longer. The oblong shape of oval diamonds make a woman's fingers appear slender and graceful. Marquise and pear shaped diamonds serve a similar purpose.
You want a ring that exudes elegance and sophistication.
Oval Length to Width Ratio
Length to width ratio is an important diamond characteristic to understand if you are searching for the perfect oval diamond. When viewing a diamond from above, take a look at how long it is versus how wide. For an easy example, look at princess cut engagement rings. Ideal princess cut diamonds should have a length to width ratio of 1, meaning it is as wide as it is long—a perfect square.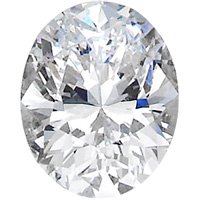 Oval cuts are a little more complex. Oval diamonds with a length to width ration of 1.3 or less are still slightly rounded while a ratio of 1.6 provides a more oblong look. There is no "wrong" shape, so go with whatever appeals to you! If, however, you are looking for the most traditional oval cut, try to aim for a length to width ratio between 1.3 and 1.6.

Recommended Settings for an Oval Cut Diamond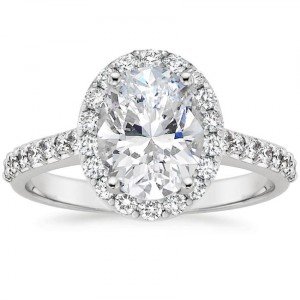 Oval cut diamonds look beautiful in a variety of settings, but a few truly stand out. Fancy halo diamond rings make oval diamonds look extraordinary. A stunning halo of pavé-set accent gems makes the center stone appear much larger. If you want to make it even more spectacular, look for an oval halo setting that features a split shank diamond band. If you really want to think outside the box, consider setting your oval cut diamond sideways so that the length is parallel to the band.  This style looks particularly unique and stunning when the sideways oval diamond is bezel-set. This is a great engagement ring option for active women!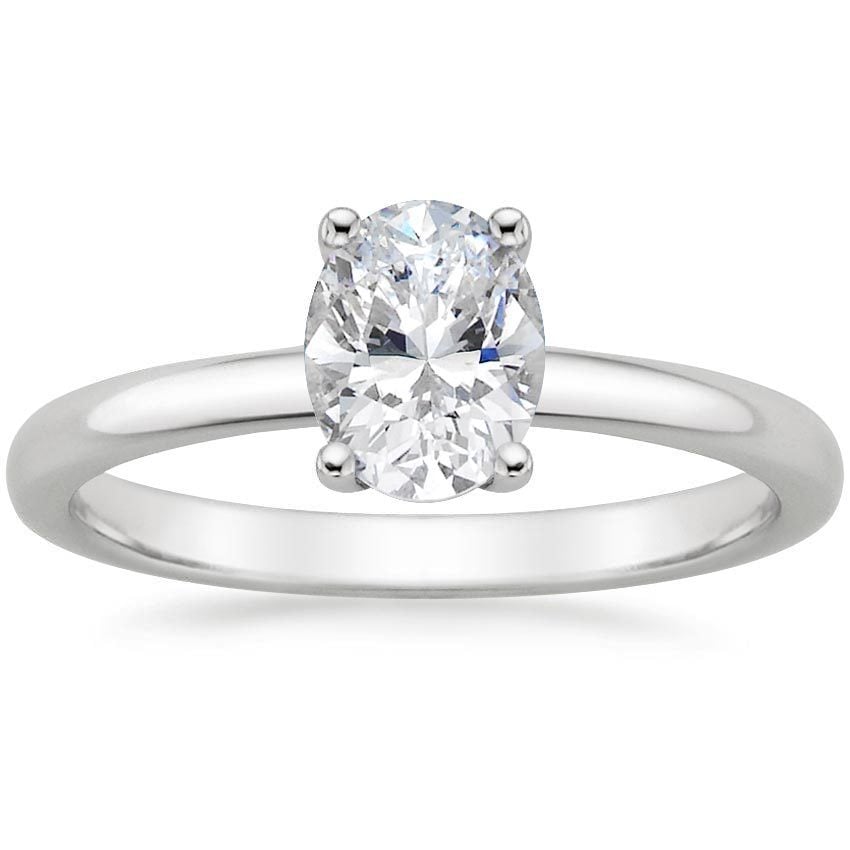 However, if you want all of the focus to be on your elegant oval diamond, choose a simple, clean solitaire setting with a slim band.
Antique Oval Cut Engagement Rings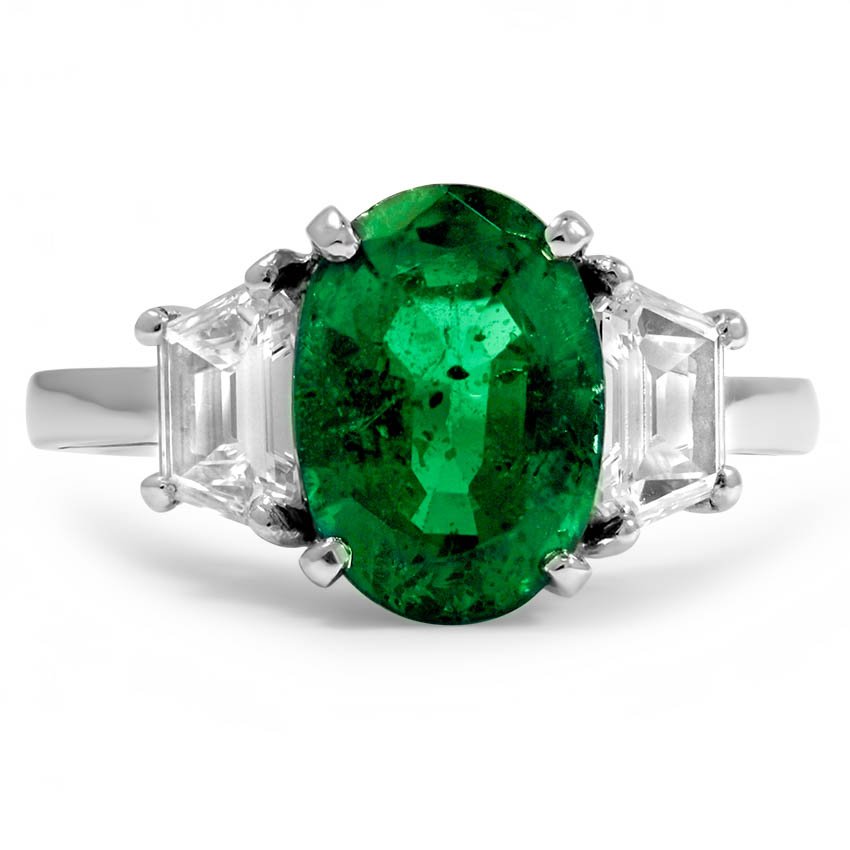 Modern oval brilliant diamonds (an elliptical variation of the more common round brilliant) were not invented until the 1950s. This means that brilliant oval cut diamonds can be found starting in the Retro era of the 1960s. Fondly referred to as "cocktail jewelry," the Retro era often features fun, statement-making rings with stunning oval diamonds.
Oval shaped diamonds, however, have been around for much longer than this. The oval diamonds in antique engagement rings may display less fire and brilliance than modern brilliant cuts, but they are sometimes preferred for their warmer, more romantic glow. Oval diamonds and other oval shapes were particularly popular during the Victorian era.

Oval Colored Gemstones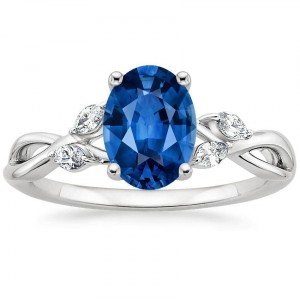 Oval cut gems are in no way limited to diamonds! Some of the most beautiful rings—new and antique—feature oval shaped colored gemstones. An oval shaped birthstone makes a beautiful anniversary, graduation, or birthday gift for your loved ones. Our favorite oval cut gemstones are deep blue and light yellow sapphire engagement rings, particularly in a halo setting. The rich colors and oval shape are magnificent when surrounded by a halo of pure white diamonds.

Oval Accent Gems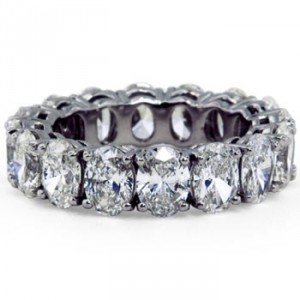 Ovals are undoubtedly lovely as center stones, but they also serve as gorgeous accent gems. If you're looking for something a little different, why not custom design an engagement ring that has a band made of bezel set oval diamonds? Or create an unusual halo of oval accents? Let your creativity run wild with beautiful oval cut accent gems!

Oval Cut Celebrity Engagement Rings
Many celebrities love oval cut engagement rings as well! Our favorites are Blake Lively's feminine (yet giant!) oval stunner and Kate Middleton's classic sapphire halo. Ovals are popular with celebrities because they can come in very large sizes but still look elegant and proportionate.
Final Thoughts
With their elegance and flattering qualities, oval cut engagement rings are a wonderful choice for any bride, and they are sure to endure in the future. Do you love oval cut engagement rings? Let us know on Facebook, Twitter, or in the comments below!