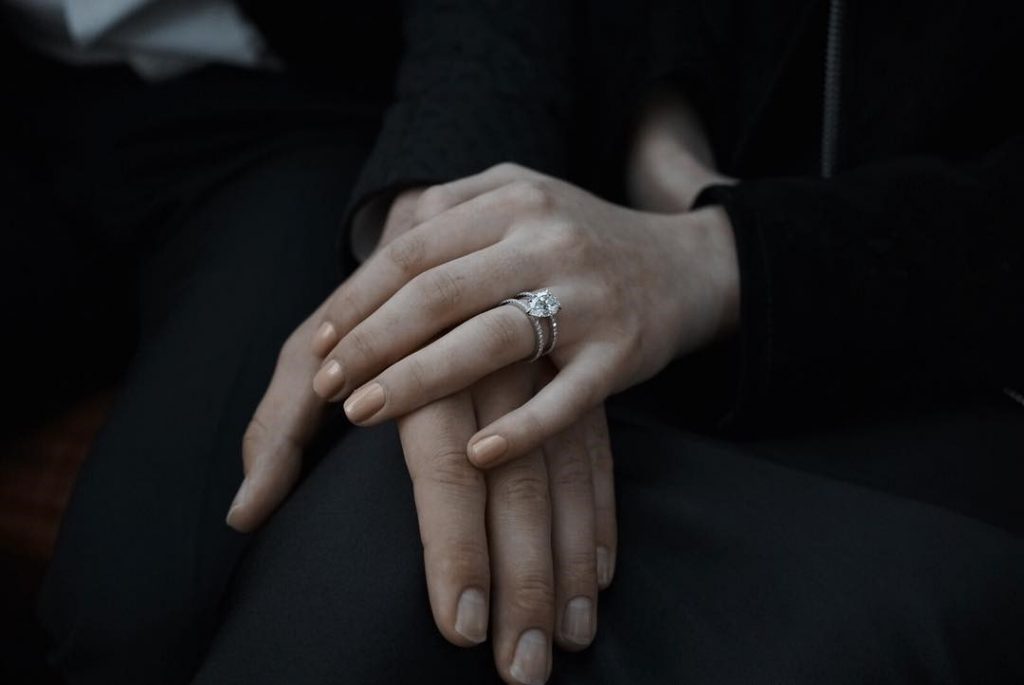 Here at Brilliant Earth, we love following celebrity couples, and frankly, who doesn't! Research firm SEMrush recently shared some of the most searched for celebrity couples, those still together and those who have come and gone. We've taken inspiration from this research and looked back at some of our favorite celeb couples and the unique engagement ring styles they've rocked.
In celebration of Valentine's Day, here's a list of America's top 10 favorite couples and the engagement rings they've popularized!
10. Beyoncé and Jay-Z
It's no surprise that Queen Bey and her husband Jay-Z rank on a most searched celeb couple list. Music industry royalty as individuals, together they make the ultimate power couple. Although the two originally got matching tattoos instead of wedding rings, when Jay-Z did put a ring on it, he chose a split shank style ring featuring a whopping emerald cut diamond, estimated to be between 18 and 24 ct. and valued at $5 million! You can copy Bey's style by setting our Fortuna Diamond Ring with an emerald diamond.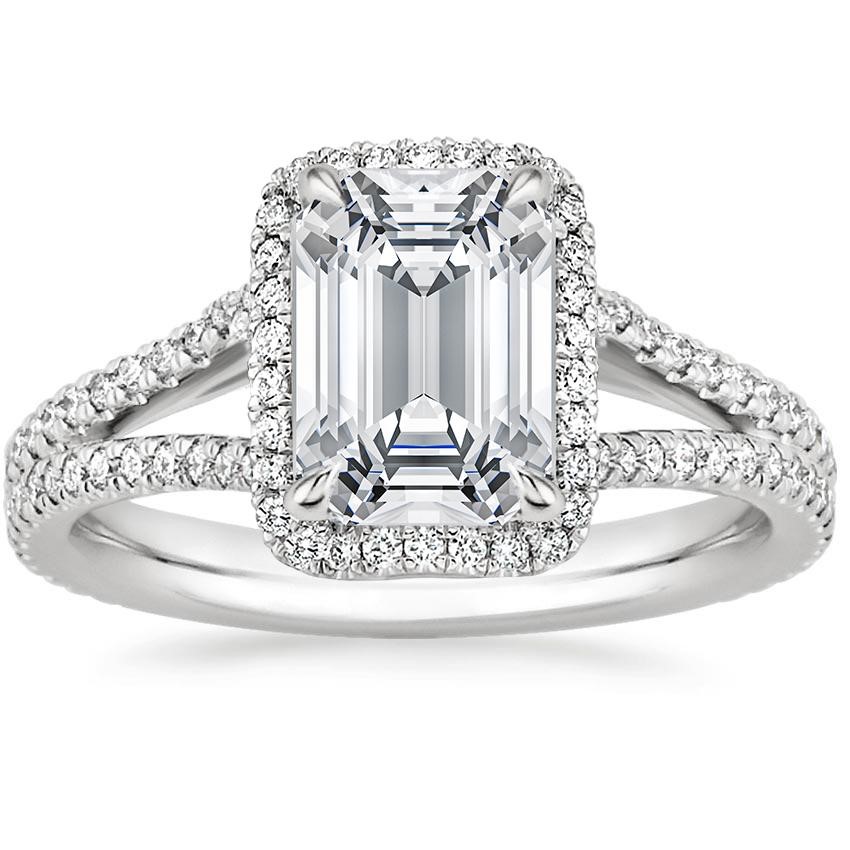 9. Kate Middleton and Prince William
A different kind of power couple, the ninth most searched celebrity couple is Catherine, Duchess of Cambridge and her husband, Prince William, the Duke of Cambridge. As most people interested in the royals know, William proposed to Kate in 2010 while on a trip to Kenya which his mother's gorgeous sapphire halo engagement ring. Sapphire and other colored gemstone engagement rings have been a growing trend among royals and celebs alike, and we don't anticipate it slowing down anytime soon! Create your own sapphire ring worthy of a royal on our website by setting a large oval sapphire in a halo ring setting.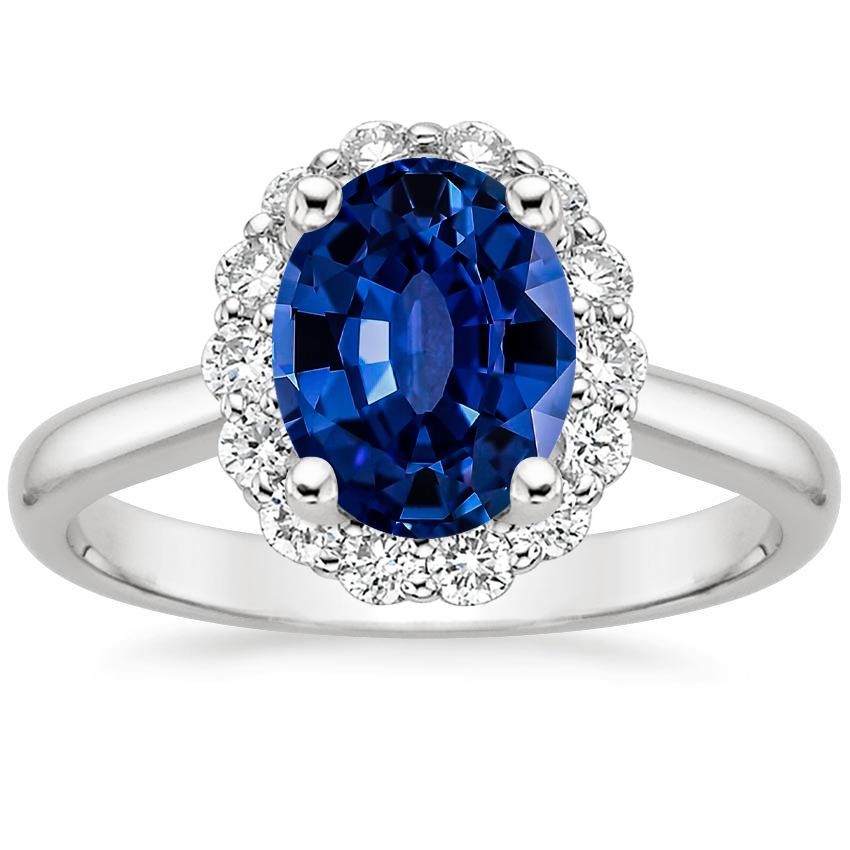 8. Jennifer Lopez and Alex Rodriguez
J Lo has met her perfect match in A-Rod, and the ballplayer popped the question with an enormous emerald cut diamond ring, ringing in at about 10 cts. In addition to Jenn's stunning ring we've seen other celebrities rocking the emerald cut look, including Jennifer Lawrence, Beyoncé, and Amal Clooney. Her ring also features tapered baguette accent diamonds, a trend we anticipate in 2020.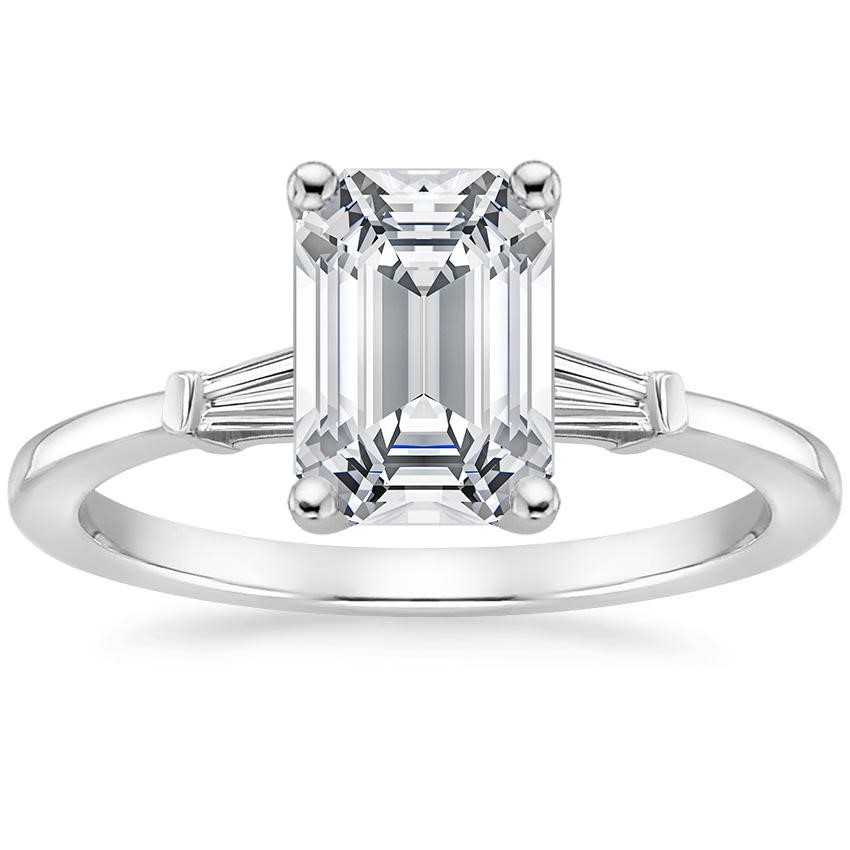 7. Mila Kunis and Ashton Kutcher
Who doesn't love Jackie and Kelso together?  This aspirational couple's story is so compelling because of the seemingly fated nature of their relationship – Ashton was Mila's first kiss, both on screen and in real life! Additionally, their open and good natured sense of humor around their relationship makes them a fan favorite celebrity couple. Classic platinum solitaire rings like Mila's will never go out of fashion, and continue to be some of our most popular engagement ring styles.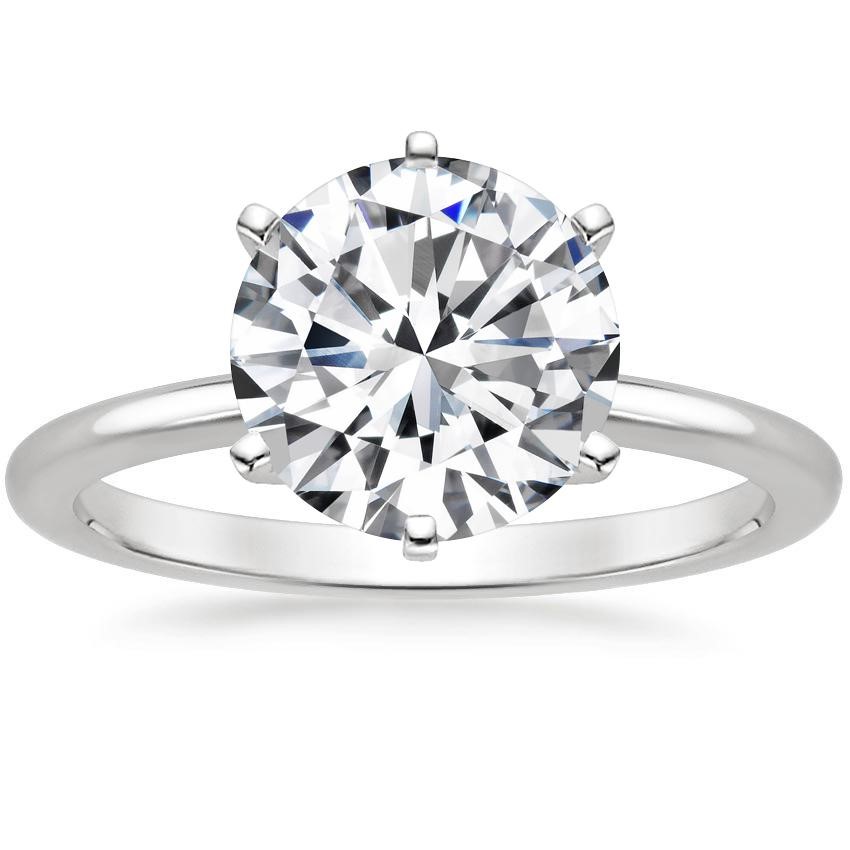 6. Joe Jonas and Sophie Turner
Congratulations to the Game of Thrones actress and Jonas Brother, who just announced they are having their first baby! The two began dating back in 2016 when Joe slid into Sophie's Instagram DMs. This Millennial intro, as well as their secret Las Vegas wedding at A Little White Wedding Chapel officiated by an Elvis impersonator, are just some of the reasons this couple is so relatable and beloved. This "Jonas Sister" sports a pear shaped double pavé banded halo engagement ring, highlighting the recent popularity of fancy cut diamonds. For a similar style, consider our Linnia Halo Diamond Ring with a pear shaped center diamond.
5. Justin Bieber and Hailey Baldwin Bieber
The newlyweds have finally settled down after knowing each other for over 10 years, and Justin put a giant oval cut diamond ring on it. Large oval diamond engagement rings are hugely popular at the moment, and we believe it's in no small part due to Hailey's gorgeous ring.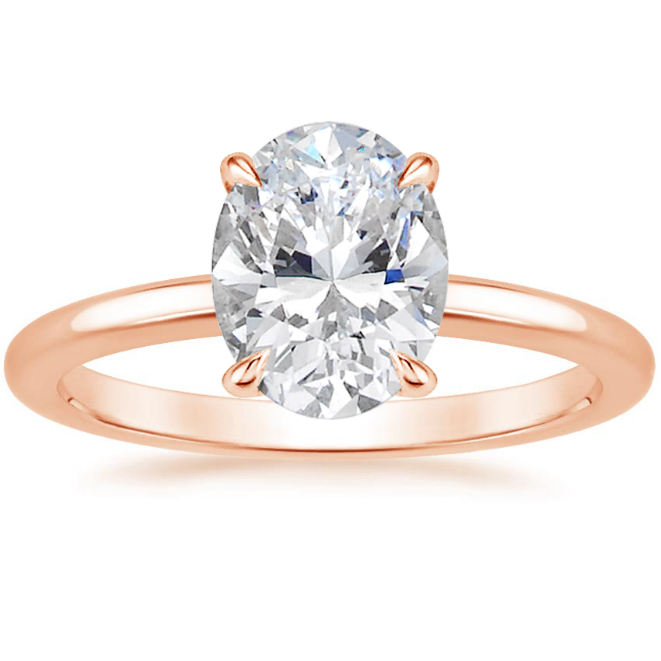 4. Blake Lively and Ryan Reynolds
Did you know that Blake Lively's ring may have inspired Hailey Baldwin's ring? In 2012 Hailey tweeted "If my ring isn't as big as Blake Lively's I don't want to get married." Looking at the two, it's easy to see the similarities. Blake's gorgeous engagement ring embodied trends that have endured since their marriage back in 2012: large oval center diamonds, pavé diamond bands, and rose gold. Her oval diamond weighs in at about 12 ct., and its slightly pink hue shows off the rising trend of colored diamond and colored gemstone celebrity engagement rings.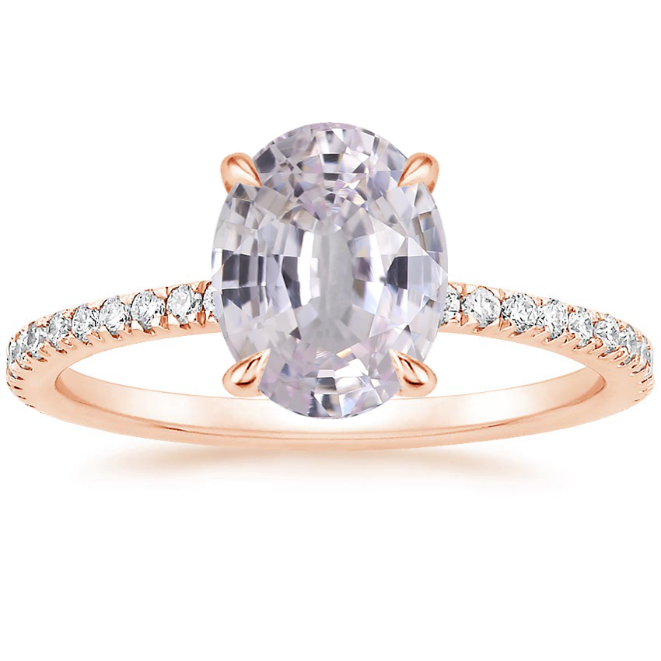 3. Prince Harry and Meghan Markle
Beating out their royal in-laws Kate Middleton and Prince William by 130% more searches, Meghan and Harry have a love story people are totally fascinated by. An American actress marrying a prince is like something out of a Disney movie or romance novel, and the story continues to resonate with people. Three stone engagement rings have had a resurgence in popularity since Meghan received one from Harry – which includes two heirloom diamonds from his mother, Princess Diana, and a center cushion diamond from Botswana. Meghan updated her original yellow gold engagement ring to one with a thinner band covered in pavé diamond accents, in a similar style to our Lyra Diamond Ring.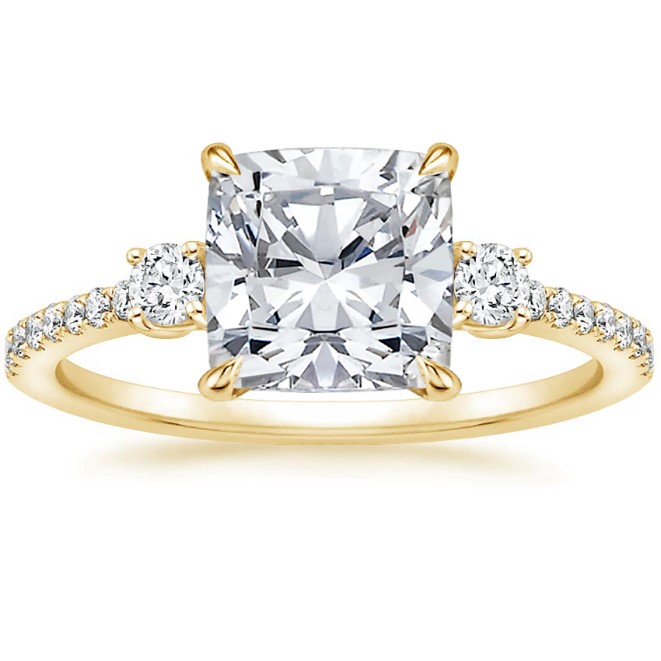 2. Brad Pitt and Jennifer Aniston
Although being split for over a decade, the interest in this iconic celebrity relationship has only seemed to grow as the duo have been (platonically) spotted together over the past year. The former couple first revealed their engagement after only a few months of dating, when they went onstage at a Sting concert in 1999 with Jennifer wearing a beautiful, swirling engagement ring similar to our Venus Diamond Ring setting.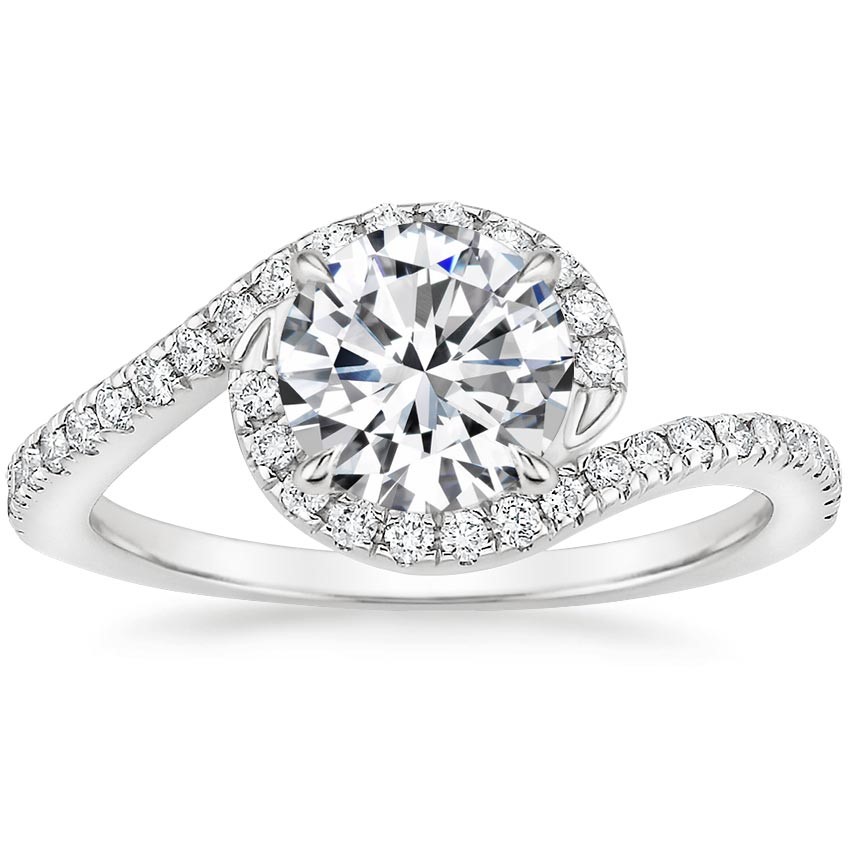 1. Kylie Jenner and Travis Scott
Despite their relationship ending back in October 2019, the couple was searched 338% more than Kylie's sister Kim and her husband Kanye West, making them the top of the list. Although the couple has been frequently rumored to be engaged or secretly married, this was never confirmed in their over two-year relationship. However, with Kylie sporting a huge diamond ring on the all-important ring finger throughout their time together, it's not a stretch to guess that this could have been an engagement ring. The ring Kylie has been spotted wearing features an elongated cushion cut or emerald cut diamond, majorly on trend among celeb couples.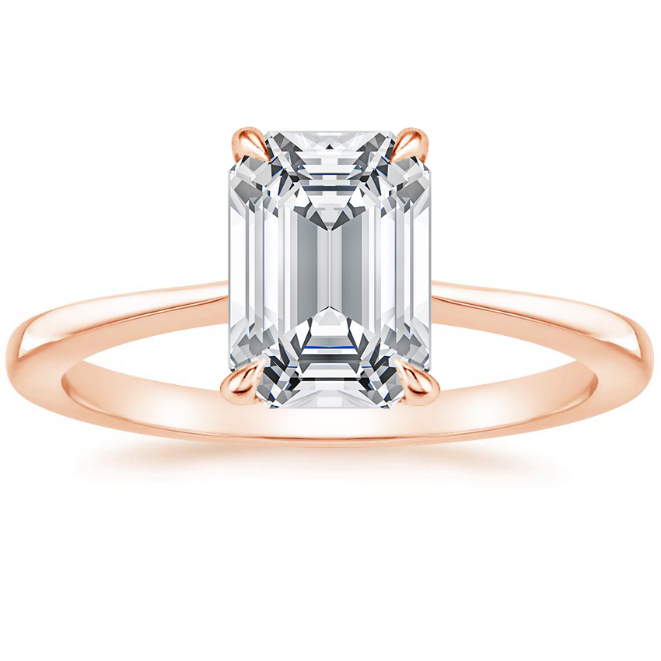 Final Thoughts
Do you have a favorite celebrity couple? Let us know on our Instagram, Facebook, Twitter, or in the comments below!