Mariah Carey is engaged to walk down the aisle for the third time, and with each successive commitment her engagement rings get more show-stopping!
In January Australian businessman James Parker gathered Carey's nearest and dearest to a private dinner in New York, then as they looked on he proposed to the singer with a 35 carat diamond ring, which Vogue points out is roughly the size of Beyonce and Kim Kardashian's rings combined.
Mariah's engagement ring, which is reportedly worth between 7.5 and 10 million dollars, was designed by Wilfredo Rosado, a jewelry designer friend of Carey's. The eye-popping center diamond is balanced by an elegant design. Rosado told Vogue, "I wanted to give her something super sophisticated and something that took away all of the embellishments that a lot of people use when they design engagement rings these days. But it is epic. It's an epic ring for an epic time in her life."
Although very few women will wear a diamond engagement ring that large (or would want to, since you'd need a full-time security detail!), the ring's beautiful proportions and designer details are features that would look dazzling on non-celebrities. These five glamorous engagement rings evoke Mariah's headline-making design, on an attainable scale:
The Tapered Baguette Diamond Ring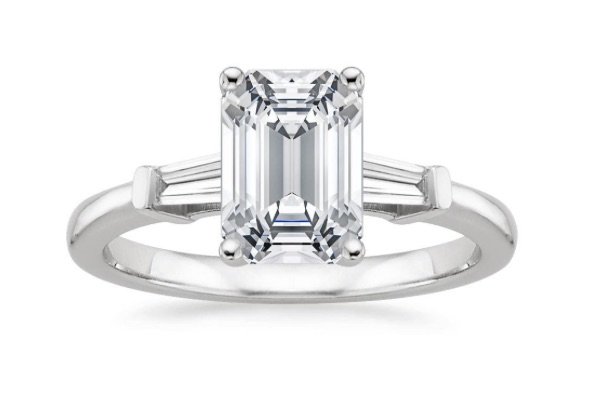 Mariah's ring features tapered baguettes framing the center diamond in geometric elegance and subtle sparkle. The Tapered Baguette Diamond Ring is a similar design with a timeless beauty.
The Riviera Ring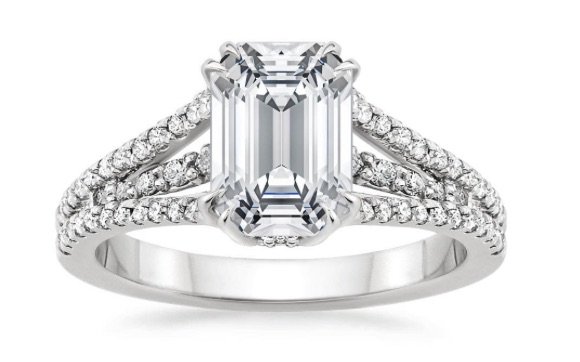 Mariah's huge diamond is secured by delicate "double claw prongs," so-named because they resemble animal claws gently grasping the center gemstone. The Riviera Ring also employs a double claw-prong setting to showcase the center diamond, while surrounding the setting in the shimmer of three strands of scalloped pavé diamonds.
The Audrey Ring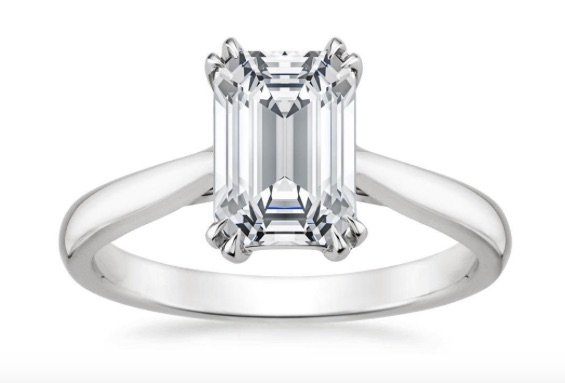 If you love the double claw-prong setting of Mariah's dazzling diamond but prefer a solitaire setting, you'll be drawn to the Audrey Ring. A classic solitaire with a band that gently tapers to create a very feminine look as it approaches the center diamond, the ring's double claw-prongs are a designer detail that sets it apart.
The Fortuna Ring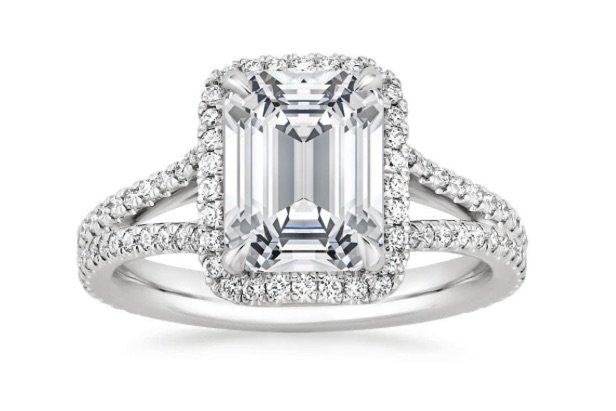 You can make any diamond appear just a little bit more like Mariah's massive one by choosing a halo setting that surrounds it in sparkling accent diamonds, which creates the visual illusion of a larger center gem. The Fortuna Ring is a halo design featuring claw prongs that evoke Mariah's setting, and two rows of glittering diamonds on a split shank band.
The Embrace Ring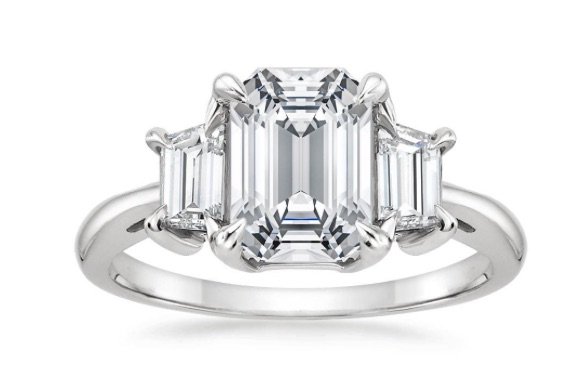 A classic three stone design is combined with the chic detail of claw-prong settings in the Embrace Ring. The side diamonds are a distinctive trapezoid shape, and the overall effect is both contemporary and very glamorous.
Final Thoughts 
What do you think of Mariah Carey's engagement ring, and of these other designs that have a similarly glamorous look? Let us know on Facebook or Twitter, or in the comments section!