When you slip a luxury engagement ring onto your finger, you may find that you feel different. Your mood lifts. You stand up straighter. You have a sudden urge to get dressed up. These side effects are only heightened when your girlfriends do double- and triple-takes upon seeing your ring for the first time.
Luxury is synonymous with glamour and timeless beauty. But don't worry—despite these lofty associations, luxury engagement rings are highly attainable! When it comes to engagement rings, luxury isn't necessarily about price – it's about quality, craftsmanship, and design.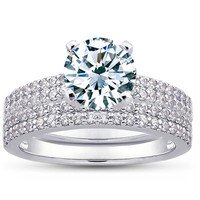 A luxury engagement ring is designed and handcrafted by expert jewelers who are skilled in making rings look and feel truly special. This is why luxury cannot be defined by a specific style. Instead, luxury craftsmanship can be seen in diamond detailing, glamorous settings, or the traditional diamond solitaire engagement ring.
Luxury Diamond Accents

Adding diamond accents to your ring is a great way to show fire, brilliance, and, of course, incredible luxury. It isn't the number or size of diamond accents that make a ring luxurious—instead, it is whether the diamond accents are designed in a way that amplifies the beauty of the center diamond. Diamond accents, whether they are pavé, prong, or channel set, can make or break a ring.
"Pavé" is the French word for "cobblestoned," and is an apt description for the closely set diamonds that lend incredible sparkle to an engagement ring. Pavé diamonds beautifully highlight a center gemstone, making it appear larger. Prong set diamond accents are another stunning option. This setting uses the least amount of metal, which allows more light to reach the diamond. When diamond accents are applied to an engagement ring with a sense of artistry, a true luxury engagement ring is born.
Luxury Engagement Ring Settings

A unique setting can add instant drama to an engagement ring. Our glamorous, modern, and halo engagement rings utilize brilliant diamond accents and distinctive designs to exemplify luxury engagement rings.
Glamorous Engagement Rings

Our Glamorous Collection features stunning rings that are far from traditional. These rings truly stand out from the crowd due their astonishing sparkle and eye-catching designs. Their diamond accents curve and flow with the contours of the rings, making the center diamond shine with incredible brilliance. Whether they feature rows upon rows of pavé diamonds, delicately formed infinity symbols, or a center stone framed by two large accent diamonds, our Glamorous Collection radiates luxury and style.
Halo Engagement Rings

Accent diamonds create an intricate, luminescent backdrop for a center diamond of any size. Halo rings are becoming more and more sought after due to the incredible "halo" of light they produce. Halo engagement rings feature a center gemstone encircled by smaller pavé diamonds, and look lovely with a wide variety of diamond shapes. Halo rings are becoming increasingly sought after because the circle of diamonds makes a center diamond appear even brighter and larger.
Classic Luxury Engagement Rings

If you are allocating more of your budget to a stunning center diamond, you can forgo the aforementioned accent diamonds and glamorous engagement ring settings in favor of the clean, classic look of diamond solitaire engagement rings. Just like Audrey Hepburn and Grace Kelly, classic icons are sometimes the greatest symbols of glamour and luxury.
Luxury With a Conscience

Brilliant Earth provides the highest quality jewelry originating from ethical sources and mined using socially responsible practices. We believe in awareness, respect, and community, and we offer luxury engagement rings with those values at heart. This is the final element of luxury—when you slip on your ring, you can rest easy knowing that your diamonds are as pure as your love.
Final Thoughts on Luxury Engagement Rings

No matter the style you desire or the size of your budget, everyone can achieve a luxurious look by keeping an eye on quality and artistry. Expertly set diamond accents can create a divine glow, while glamorous settings will show off luxury craftsmanship. Or, if you want all eyes on your stellar center diamond, a clean, sleek solitaire is the way to go. Luxury is created behind the scenes, when an engagement ring is designed and crafted by expert jewelers who love their craft. Whether you're coveting a solitaire diamond ring or a glittering halo setting, you can design your own luxury engagement ring today!