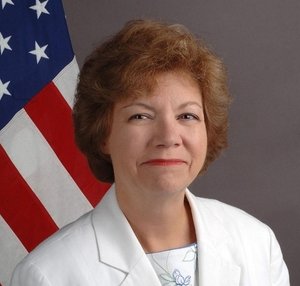 If you've ever shopped for an ethical diamond – and you really, really wanted to be sure you were buying a diamond with reliably ethical origins – well, we understand how confusing a process that can be. Peeling past all the layers of "conflict diamond" mumble jumble is kind of a hard thing to do.
How hard? Well, the next time you walk into a jewelry store to shop for a diamond, you might want to bring with you some of the world's top international reporters. And you might want to have some of the most influential people in the diamond world sitting right there in front of you to answer questions. For about 45 minutes.
That's apparently what it takes to clarify the standards used by the Kimberley Process, the international diamond certification scheme, when evaluating whether a country's diamonds deserve its "conflict free" certification and stamp of approval.
As we shared in a prior story, we visited the State Department in Washington, D.C. a few weeks ago for the Kimberley Process's annual plenary conference. Diplomats from more than 75 countries – along with representatives from the diamond industry and civil society groups – were gathered together for what is supposed to be the year's most important even in the fight against conflict diamonds. We do not have a formal role in the Kimberley Process, but we attended parts of the plenary as media members.
Thinking back to that event, there's one memory that stands out. It's how confused reporters were at the press conference on the last day. But before we get to that, we should go over the main news to come out of the plenary – the failure of the Kimberley Process to expand the "conflict diamond" definition.
Presently, the only diamonds technically considered "conflict diamonds" by the Kimberley Process are diamonds that finance rebel groups in war-torn countries. Gillian Milovanovic, the American diplomat chosen by the U.S. government to act as Kimberley Process Chair in 2012, worked all year to build support for expanding that definition.  Her idea was to broaden it to include a greater range of situations in which diamond mining is linked to violence – such as when government soldiers kill, torture or rape diamond miners, as happened not long ago in Zimbabwe.
We supported this proposal, but regrettably even this very limited adjustment was not acceptable to all Kimberley Process countries. At the concluding press conference, Milovanovic announced that the U.S. proposal had failed to win the necessary support.
Sitting next to Milovanovic at the press conference were leaders from various Kimberley Process constituencies, each of whom made brief remarks: Alan Martin, representing the civil society wing of the Kimberley Process; Eli Izhakoff, representing the diamond industry, and Welile Nhlapo, the South African diplomat who will serve as Kimberley Process Chair in 2013.
Martin by far was the most critical. In his opening comments, he expressed disappointment at the Kimberley Process's failure to broaden the conflict diamond definition.  He also talked about the issue of revenue transparency. His group, Partnership Africa Canada, recently issued a report finding that Zimbabwean dictator Robert Mugabe and his cronies have stolen at least $2 billion worth of diamonds in the past four years. Unfortunately, the Kimberley Process has basically ignored this theft. Martin expressed that he was "troubled" by the Kimberley Process's "failure to enshrine revenue transparency as a basic ingredient of good governance in the diamond sector."
Next came the question session – and the puzzlement.
Assembled in front of Milovanovic were some of the most sophisticated reporters in the world. Many of them cover the State Department on a daily basis and write stories that appear in newspapers from Paris to Kuala Lumpur. But even they seemed baffled at what the Kimberley Process does. Or rather, how little it does.
The first questioner, from Reuters, asked Milovanovic to respond to Martin's criticisms. Milovanovic was conciliatory, but expressed disagreement with Martin on the revenue transparency issue. "Revenue transparency is not part of the Kimberley Process so frankly I cannot consider that it is a failing or weakness of the Kimberley Process to enshrine that particular matter given that it is not within the mandate of the Kimberley Process," she said, with the caveat that the issue did deserve to be addressed outside the Kimberley Process.
A reporter from the Associated Press, pushed back. "Couldn't a change in definition of "conflict diamond" make it [revenue transparency] part of your mandate?" he queried. "Isn't that part of what the civil society is trying to get at, trying to get you to do?"
"Actually civil society has never talked about making revenue transparency part of the conflict diamond definition," Milovanovic responded. "It's a separate issue. It's a related issue regarding ethical industrial practices and ethical practices and transparency of government, but it's not a conflict diamond definition issue."
(Martin later agreed that civil society had never sought to make revenue transparency a component of the conflict diamond definition.  But he insisted that revenue transparency should still be a core component of Kimberley Process requirements – essentially pointing out that for the KP to break the link between diamonds and violence, it must ensure that diamonds are not easy to steal and smuggle.)
With confusion in the air, a reporter from the AFP, a French news agency, sought to get a better sense of why some countries had stood against broadening the conflict diamond definition. "Was it the idea that some countries didn't want it expanded to include human rights abuses possibly, labor issues, environmental exploitation and things like that?" she asked.
Milovanovic now realized that some of the reporters in the room were lost. She suggested the reporter visit the Kimberley Process web page to get some basic facts down. She also explained that although she had wanted to broaden the conflict diamond definition a little to include more situations of diamond-related violence, she had never sought to make it so expansive.
"The focus [of the Kimberley Process] is exclusively on the issue of conflict, and conflict which is related to diamonds," she explained. "It is not on general human rights issues in a given country, it is not on the revenue transparency issue, it is not on environmental degradation, it is not on child labor, it is not on all of these things."
The press conference finally ended, after about 45 minutes of statements and questions, with the reality of the Kimberley Process finally dawning on reporters. What they realized is this: the Kimberley Process is not a comprehensive diamond certification scheme. On most of the serious issues facing the diamond industry today – human rights, environmental degradation, and labor issues – it enforces no standards at all. Its own leaders disagree on the importance of stopping diamond smuggling.   And it has even been unable to agree on a very simple proposal advanced by the United States – that when governments kill diamond miners, the related diamonds should be called "conflict diamonds."
Of course, none of this is intuitive. After all, the Kimberley Process's full name is the "Kimberley Process Certification Scheme." Almost every diamond shipment in the world receives a Kimberley Process certificate when exported across an international border. And every year, the Kimberley Process assembles representatives from most of the world's governments, from the diamond industry, and from civil society groups all in one room.
Surely so many people could not be so involved in an international mechanism that does so little? Surely such an elaborate global certification scheme would not be established, only to enforce virtually nothing of substance? Or could it?
Actually, yes. It just takes a bit of explaining.