Congratulations to Kat Dennings and Andrew W.K. on their engagement!
The WandaVision actor and the rocker announced their engagement on Instagram with the cute caption, "Don't mind if I do". The engagement came only a few weeks after the couple publicly announced that they were together, surprising many of their fans!
Kat's stunning ring is in line with celebrity engagement ring trends we have been seeing in 2021 including elongated fancy shaped center stones and step cut accent diamonds. Her unique ring appears to feature a dazzling oval or elongated cushion diamond flanked by two graduating sets of baguette diamonds. Demi Lovato, Paris Hilton, and Bethenny Frankel have all also received diamond rings with center stones embraced by tapered baguettes or trapezoid accent diamonds in the last year, proving this is a look that is here to stay! Geometric accent stones like the ones featured in Kat's dazzling ring are reminiscent of the Art Deco era but with a modern twist.
Love the look of Kat Dennings' engagement ring? See some of our recommended rings inspired by her look.
Embrace Diamond Ring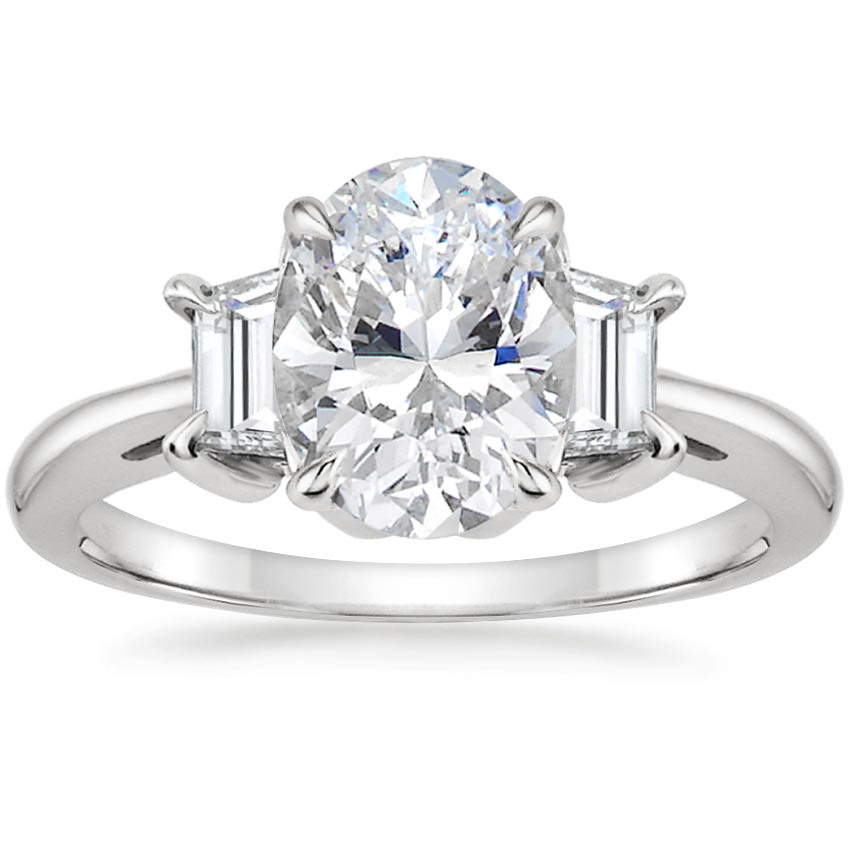 Like Kat's ring, this Art Deco inspired piece features large step cut accent diamonds flanking the center gem. A distinctive trapezoid-shaped diamond sits on each side of the center gemstone in this captivating and contemporary three stone ring.
Piper Diamond Ring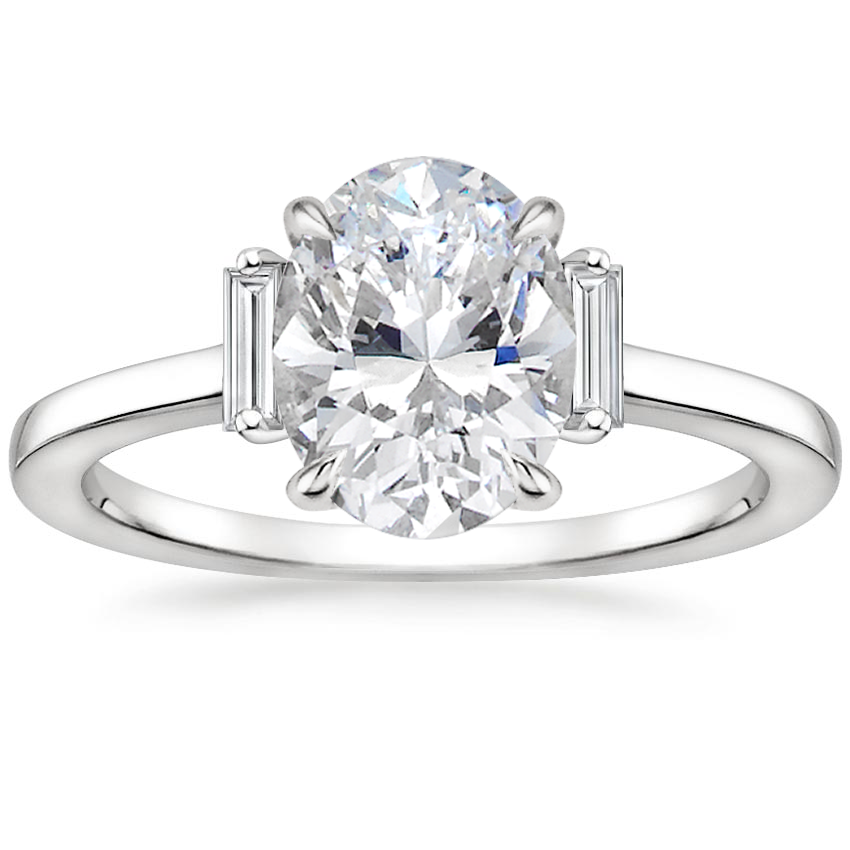 Sleek and modern, baguette diamonds are prong-set and vertically aligned in this elegant ring, brilliantly framing the center gem. With a delicate band, this ring evokes classic beauty.
Harlow Diamond Engagement Ring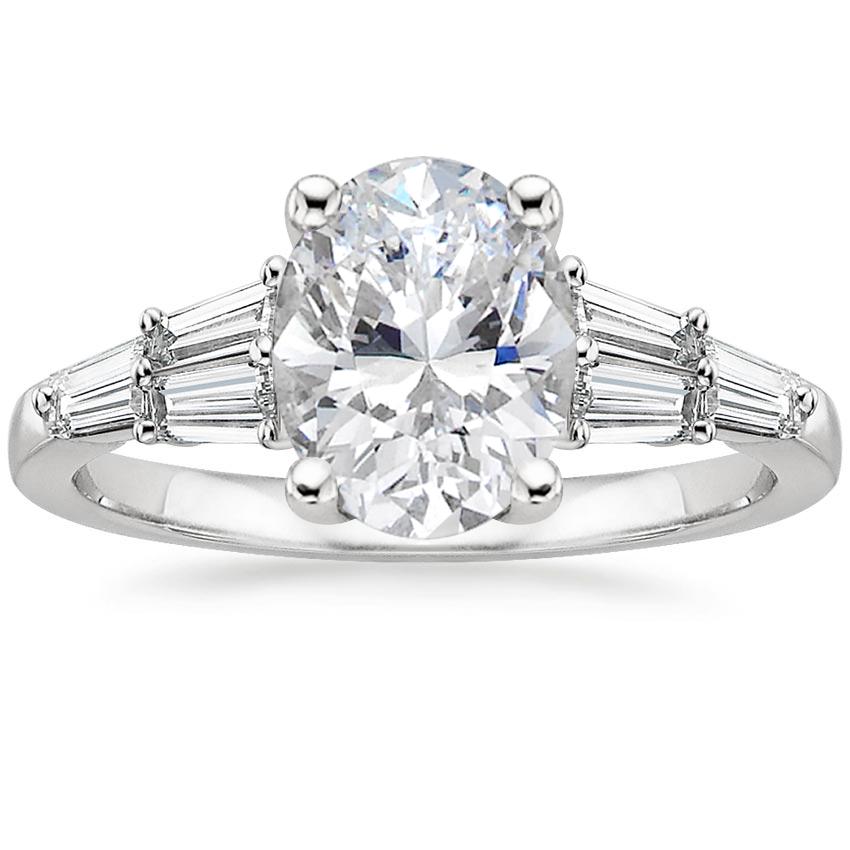 Levels of captivating tapered baguette diamonds adorn the shoulders of this stunning ring, brilliantly framing the center gem and exuding a look of chic sophistication.
Nadia Diamond Engagement Ring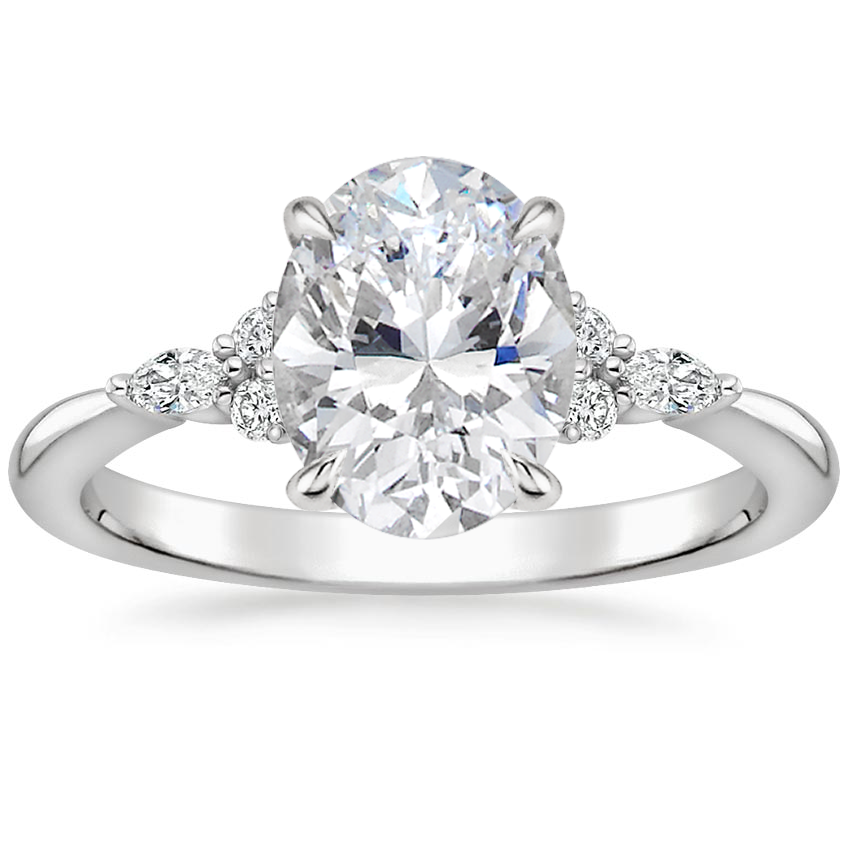 While this ring does not feature baguette diamonds, it does have two levels of accent diamonds radiating from the center gem just like Kat's ring. This elegant ring features a dazzling cluster of round and marquise-shaped diamonds that rest upon the shoulders of the gently tapered band. The center gem is held by four claw prongs as it sits upon a slightly open gallery.
Petite Versailles Diamond Engagement Ring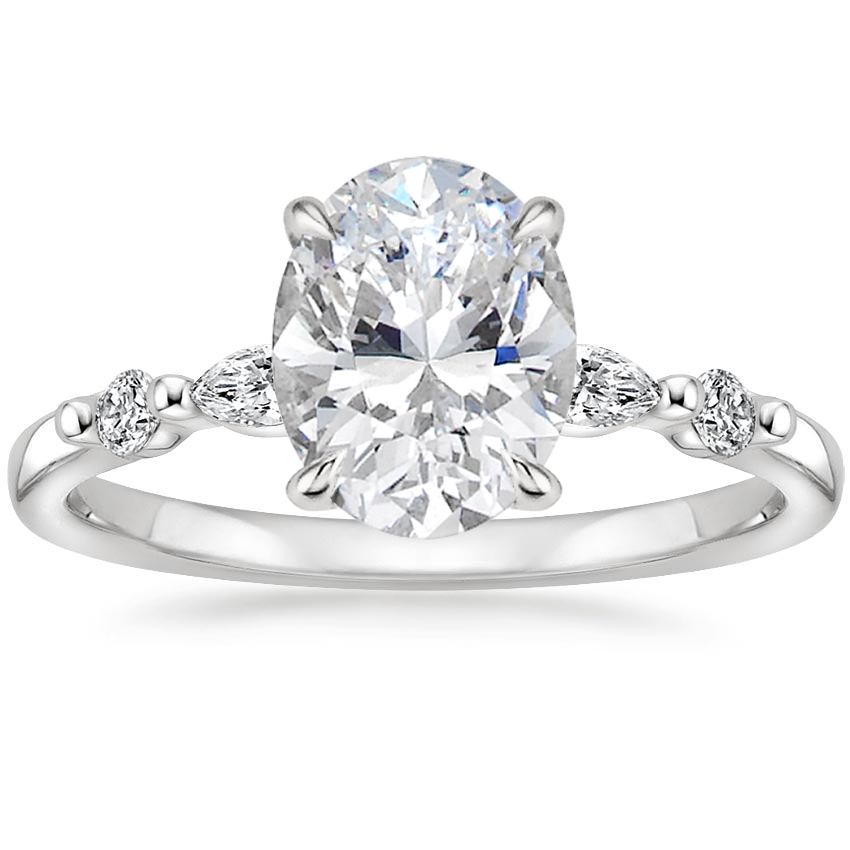 Again, this diamond ring features two sets of accent diamonds, including sparkling round and elongated marquise diamonds in this chic and distinctive engagement ring.
Quinn Diamond Engagement Ring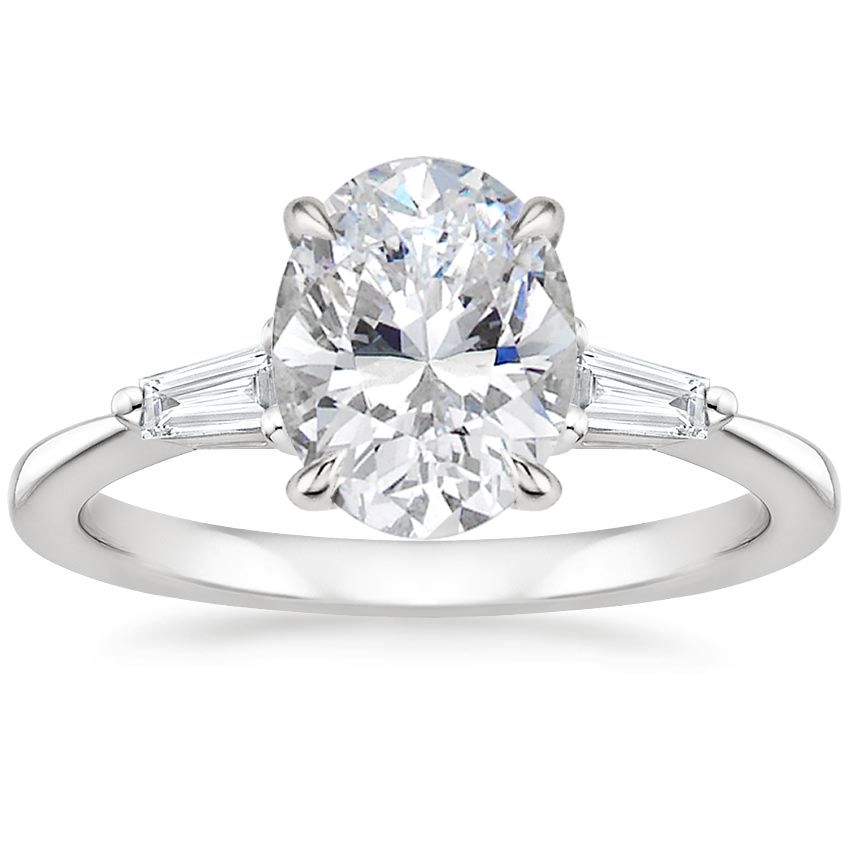 A true classic, captivating tapered baguette diamonds are prong set in this elegant ring, brilliantly framing the center gem.
Luxe Tapered Baguette Diamond Engagement Ring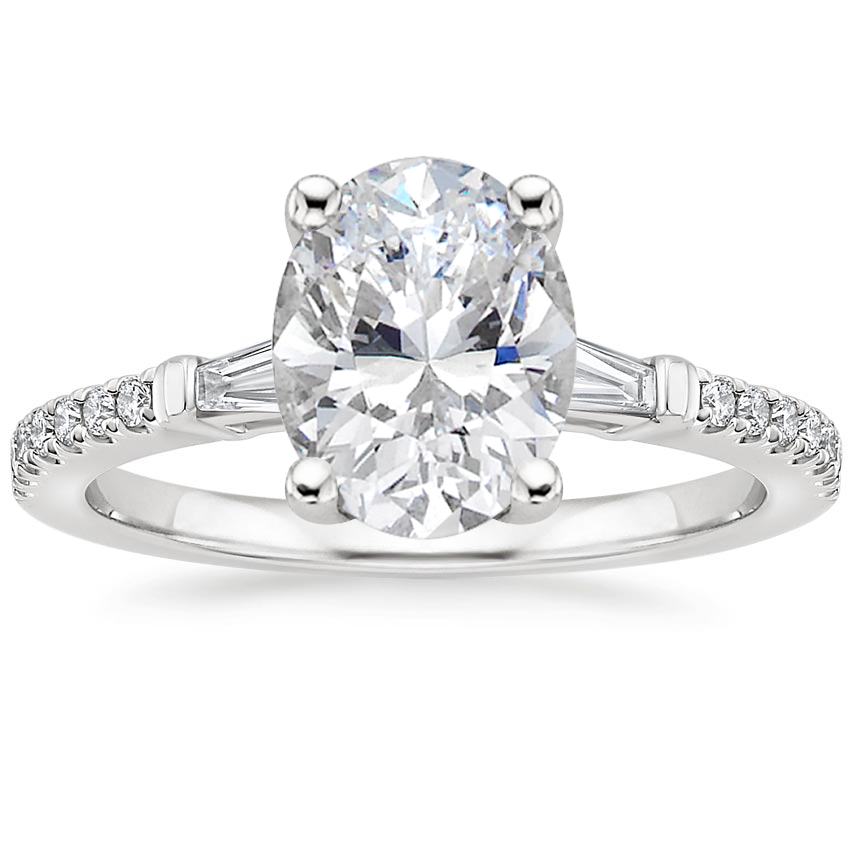 Two beautiful baguettes are set at either side of a stunning gemstone in this elegant, chic ring. Diamond accents continue half of the way around the band for a classic and understated look of glamour.
Esprit Diamond Engagement Ring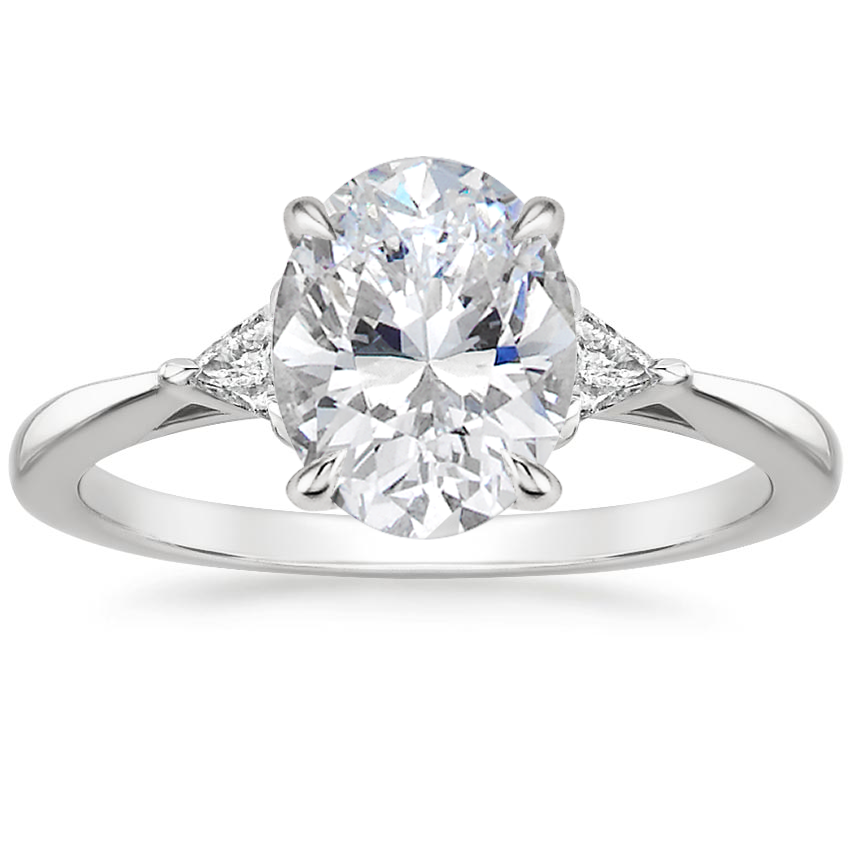 A modern geometric take on the three stone engagement ring, captivating trillion shaped diamonds brilliantly frame the center gem in this ring. The petite band gently tapers and secures the gems within elegant claw prongs.
Final Thoughts
Which of these unique diamond rings is your favorite? Let us know in the comments below, or on our Facebook, Twitter, or Instagram!