Brilliant Earth's expert jewelry design team is excited to introduce many new styles that have been lovingly designed exclusively for the Brilliant Earth collection. For those of you who adore Irish engagement rings we have expanded our collection of Celtic rings with two stunning new styles inspired by the Emerald Isle. In addition to a variety of new women's engagement rings, we now offer three new men's wedding ring styles!

Explore our timeless new styles and find your dream ring!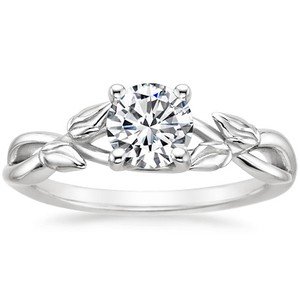 Budding Willow Ring


The Budding Willow is the newest addition to the Willow Diamond Ring family. Those who love the pure sheen of precious metal will love the wispy vines and beautiful buds of the Budding Willow. This nature-inspired ring creates the perfect subtle backdrop for a stunning center diamond.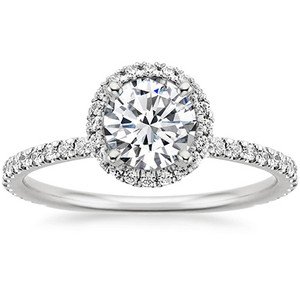 Waverly Diamond Ring


This sparkling halo setting is a tribute to the round brilliant diamond. The Waverly features stunning micro- pavé diamonds on the halo, the band, and the gallery, making this engagement ring glitter from every angle. The diamond studded gallery gives the illusion of a large diamond floating on the band—a truly spectacular style!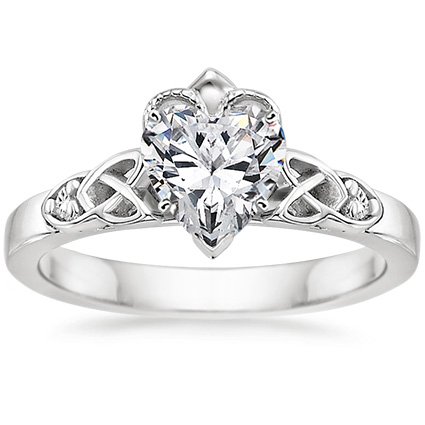 Celtic Claddagh Ring


The classic Irish Claddagh design is symbolic of love, friendship, and commitment. It's little wonder why so many people adore this stunning style. We have taken a classic element of Celtic art—the diamond studded Celtic knots—and combined it with the regal crown of the Claddagh. To turn this ring into the quintessential Claddagh ring, consider choosing a heart shaped center diamond. The Low Profile Wedding Ring pairs perfectly with the Celtic Claddagh Ring, which we offer as a matched set.






Verona Ring


We love hand engraved styles! The Verona is a stunning vintage-style engagement ring that truly focuses on the details—a soft chevron pattern and subtle milgrain give this ring a delicate beauty. You also have the option to create a matching set with the Verona Wedding Ring.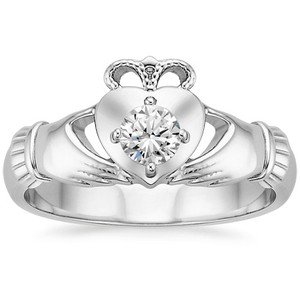 Claddagh Diamond Ring


Our second new Claddagh design is slightly more traditional than the first. A classic Claddagh features two hands clasping a heart adorned with a regal crown. Our modernized version includes a sparkling round pre-set diamond at the center of the heart, adding a touch of Brilliant Earth sparkle. There are many legends surrounding the conception of this design, but its true origin remains a mystery.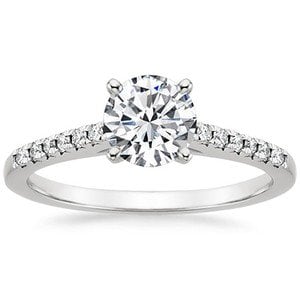 Sonora Ring


Dazzling French pavé diamond accents and a lofted prong-set center gem are featured in this stunning engagement ring. The elegant cathedral archway is adorned with twelve glittering side stones, giving the ring an architectural profile.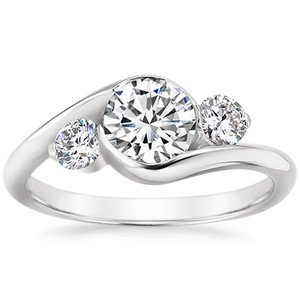 Cascade Three Stone Ring


The Cascade family of rings is a stunning collection of modern wavelike designs. We have taken our sought after Cascade Ring and added two glittering diamonds to create this modern three stone ring! The curving waves of precious metal secure the center stone and the side diamonds truly make this ring shine! Some believe that three stone rings represent a couple's past, present, and future, making the Cascade Three Stone Ring a romantic symbol of your relationship.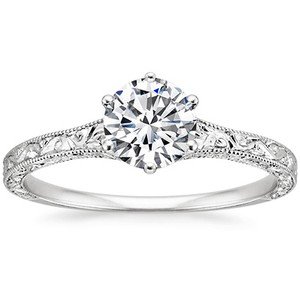 Intricate hand-engravings and subtle borders of milgrain adorn this sensational vintage-inspired ring. The elegant band gently broadens toward the brilliant center gem, producing a stunning effect. The matching wedding band is adorned with floral-inspired hand engravings and milgrain borders, creating a refined, romantic style.  Together they form a stunning matched set!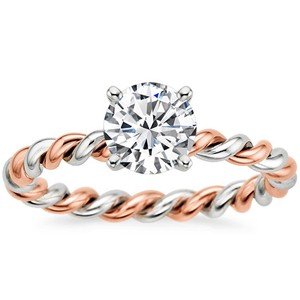 The Melody ring is a stunning two-toned solitaire that features two beautiful strands of precious metal twisted together. It is available in two combinations: white and yellow gold, or white and rose gold. The Melody features an optional wedding band for a stunning cohesive look!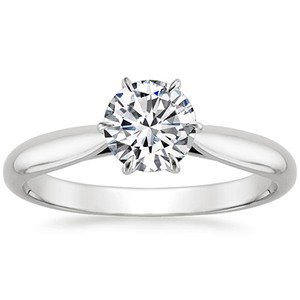 This dazzling six-prong solitaire features clean, classic lines and delicately tapered shoulders arching toward the center gem. This ring can be paired with a number of stunning wedding bands, such as the 2mm Comfort Fit Ring, the Starlight Diamond Ring, or the Shared Prong Diamond Ring.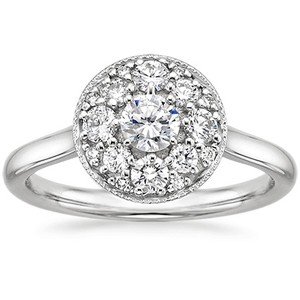 Cluster Diamond Ring


We love the unique beauty of vintage-inspired cluster rings, so we're especially excited to introduce this distinctive design to our collection. This glittering ring features a pre-set round brilliant diamond encircled by sixteen accent diamonds, creating the illusion of one large brilliant gem. Subtle milgrain details give the ring a refined elegance as the smooth, simple band allows the cluster to take center stage.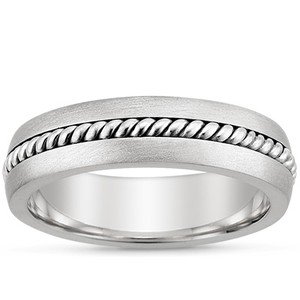 Entwined Inlay Wedding Ring


We have also recently introduced several classic and contemporary styles to our collection of men's wedding rings. The first is a distinctive ring that features a modern matte band with an inlaid twisting strand of high gloss precious metal. The Entwined Inlay Wedding Ring comes in platinum, white gold, yellow gold, and a special two-toned version that offers a white gold matte band and a yellow gold inlaid twist. This style is perfect for men who appreciate a subtle detail!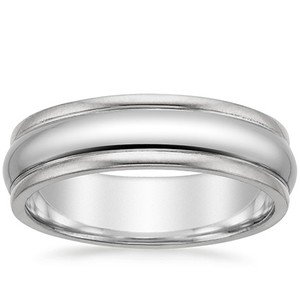 The Tundra Ring


Our second new men's style is a sophisticated band that features comfortable rounded edges and gentle curves. This style comes in a range of metal options as well, including white gold, yellow gold, platinum, and a two-toned version. The Mixed-Metal Tundra Ring features an alternating yellow gold-white gold-yellow gold pattern, creating a multifaceted wedding ring.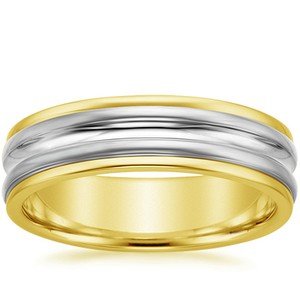 Mixed Metal Alpine Ring


Our final men's style is an extraordinary mixed metal ring that features a grooved white gold center surrounded by rich yellow gold. Two toned rings never go out of style and they are very versatile! If a man has a mixed metal wedding ring and he also wears a metal watch or the occasional cufflinks, he will never have to worry about wearing different metals. A yellow gold watch with a white gold ring will look amazing if the ring has a touch of yellow gold included. The Alpine Ring is a handsome choice!






Let us know what you think
about our growing collection of ethical origin wedding and engagement rings! Tell us in the comments and share your favorites on
Facebook
,
Twitter
, or
Pinterest
!