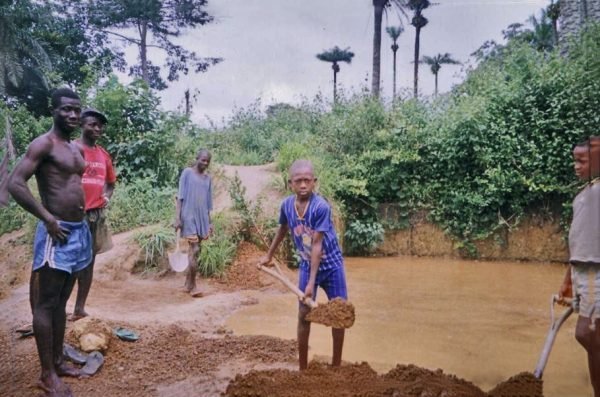 A new report from human rights watchdog Swedwatch has revealed that human rights abuses, including child labor and sexual abuse, are widespread in the diamond mines of the Democratic Republic of Congo (DRC).
Swedwatch's in-depth investigation is the first of its kind in years, underscoring that these issues often do not get the reporting they deserve. Building consumer awareness is crucial to fostering change in the jewelry industry, and we commend Swedwatch for shining a light on these abuses.
Through interviews with miners and aid workers in the DRC, Swedwatch found that thousands of children are believed to work in the DRC's diamond mines. Children often begin working around 10 years old due to extreme poverty, frequently to pay for food and school expenses. By the age of 14, most have dropped out of school to work fulltime in the mines. Girls in the mining areas are especially at risk and face sexual harassment, rape, and sexual exploitation. Forced marriage is common in mining families where girls as young as 12 years old may be sold by their parents as wives to older men who work in the mines. As the Swedwatch report states, "a daughter is considered goods, merchandise, that can be sold."
The DRC is the world's third-largest source of rough diamonds, and its exports are labeled "conflict free" by the Kimberley Process, the international certification scheme for conflict free diamonds. How is it possible that diamonds tied to human rights violations are labeled conflict free? The answer is in the KP's limited definition, which only indicates that diamond sales do not fund a rebel movement against a recognized government.
Swedwatch has joined Brilliant Earth and non-profits like Global Witness in highlighting that the KP's current definition is ineffective. We call on the KP to update its definition to fit the reality of the situation—otherwise, as cases like the DRC and others make clear, it will not be able to prevent diamonds associated with human rights abuses from reaching consumers.
While the KP needs to change, more has to be done in the industry. We believe in a traceable supply chain whereby diamonds are tracked from their origin. Companies should investigate their supply chains to promote transparency and prevent human rights abuses in diamond mines beyond deferring to the KP alone. As the first jeweler to obtain third party verification of the origin of our diamonds, Brilliant Earth is leading this effort with our Beyond Conflict Free Diamonds.
Consumer awareness is also crucial to transforming the diamond industry. If consumers demand to know where their diamonds come from, it creates pressure on the industry to increase transparency and accountability around diamond sourcing. By staying informed and demanding better, we can transform the industry and create a brighter future where children no longer work in mines.