"The scariest moment is always just before you start."
Stephen King, On Writing.
Though it may be a matter of opinion, some say that the wedding vows are the heart and soul of a wedding. This is the moment that everyone has been waiting to see, particularly if you are a notoriously private or introverted couple. A great vow will, for a brief moment, allow your family and friends to experience and understand the love that you have for your partner. No pressure!
Unless you choose to elope, you will likely say your vows in front of a large group of people. Keep in mind, however, that every person in attendance cares about you, so there is no need to be nervous! If you are sitting in front of a blank screen (or piece of paper) and you feel the anxiety creeping up on you, just take a deep breath and follow our helpful wedding vows guide.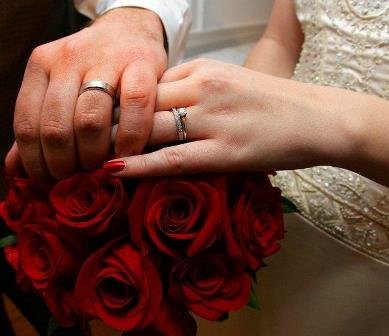 Before You Write
Find Out if Writing Your Own Wedding Vows Is an Option
Some religious ceremonies require you to use traditional vows, so make sure you get a definite answer before you start writing. Talk to your officiant and discuss your options. Don't show up at your ceremony only to find out that you can't say your heartfelt vows.
Have a Wedding Vows Discussion with Your Partner
Having this discussion doesn't mean that you have to reveal your vows to your partner before the ceremony, but you should definitely take the time to address certain issues. You can start the conversation by figuring out how long you want your vows to be, and set a time limit (one minute is a great goal). You generally should keep your vows on the shorter side, especially if you are having a longer ceremony in general. You should then determine what tone your vows should take. If you make them humorous while your partner's are serious, you run the risk of someone getting upset. Similarly, set rules as to whether anything shouldn't be mentioned in front of all of your friends and family members, such as embarrassing moments or a big announcement. Try not to start your marriage in the doghouse!
Give Yourself Time
Don't start writing your vows the day before the wedding. You will be extremely busy (and most likely nervous!) at that time, which isn't the best mindset to write them in. Start writing at least two weeks in advance so that you will have time to revise.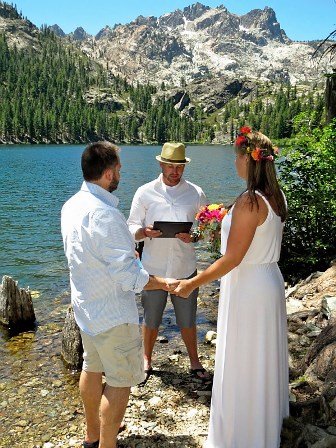 As You Write
Think Back on Your Relationship
Create a timeline or jot down your memories of dates, important events, and how your feelings have grown over time. This exercise will help spark your memory and give perspective on your relationship. Great writing is emotional for both the writer and the reader, so think back on the moments that made you laugh, catch your breath, or gave you butterflies in your stomach.
Then Think About it from Your Partner's Point of View
In addition to being an expression of love, wedding vows are promises for the future. What do you think will make your partner happy over the years? Create a list of heartfelt promises, like x, y, z. You can even throw in some cute or funny promises if it suits you, such as swearing not to watch football on their birthday or keeping to your side of the closet.
Try Not to Borrow Quotes
Though this is a matter of personal preference, this is one time when borrowing famous quotes might not be appropriate. It might sound nice, but unless the quote or passage has a special meaning to both of you it might appear as though you are letting someone else do all of the work! Your speech should be your words to your spouse. They don't have to be on par with great literature or poetry, but they do have to come from the heart. Simple words can be powerful when there is strong emotion driving them.
After you Write
Edit Your Work
Spelling doesn't matter for obvious reasons, but content is the bread and butter of the vows. To make sure you get them right, don't write a first draft and consider yourself done. Writers often step away from their own work for a time so that they can return to it with a fresh mind. If you re-read your vows a couple of days later, you might find sentences that don't sound right, or you might reconsider saying something that is too personal. Revisit your work at least two times. This is why giving yourself at least two weeks to write your vows is a good idea. Your wedding vows are incredibly important, so make sure that you give them the effort they deserve!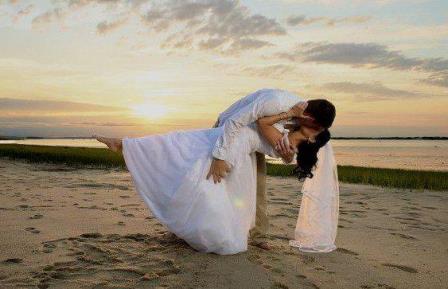 Practice Makes Perfect
Say your speech to the mirror a couple of times so that you can time yourself and hear how your vows sound out loud. Imagine that you are someone else and you're hearing them for the first time. If you are confident in your memorization ability, go ahead and say your vows from heart—but we still recommend keeping a few little flash cards in your pocket (if you have pockets) or with the best man or maid of honor. There's no shame in forgetting the words, particularly in what is usually a high stress situation. You have been planning the small details of your wedding for a very long time, so when the moment actually comes it's difficult to trust your emotions or your brain's functionality. Sometimes all you can remember to do is smile and say "I do!" Note cards are a perfect backup idea.
Final Thoughts

Our last piece of advice is this: Wash, rinse, and repeat! Don't let this be the last time you give each other vows. It's a great idea to write new vows once in a while, or repeat your old ones if they still apply. Relationships change over time, and reaffirming your love and devotion is always a beautiful thing.