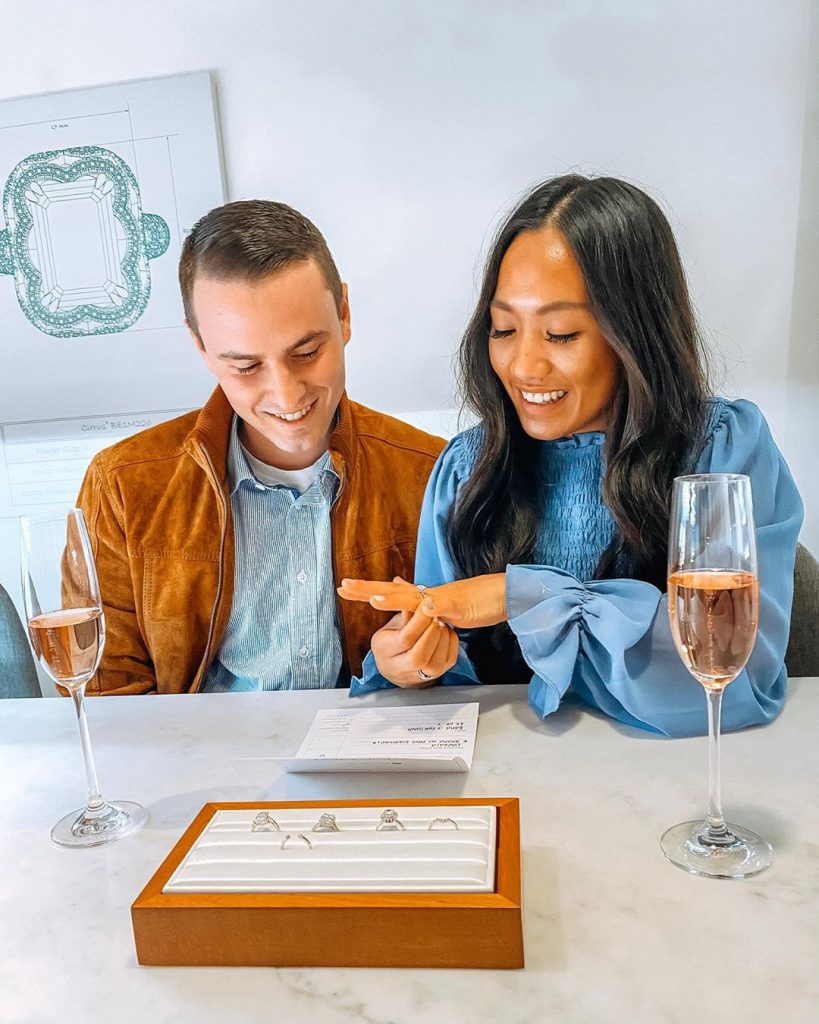 A few months ago, we had several Instagram influencers visit our showrooms to learn about diamonds and gemstones and to shop for their favorite fine jewelry styles.
Our jewelry specialists spoke with them in private consultations about diamond education, including how to approach the 4 C's of diamonds, and showed them the styles they were most interested in. You can get a free private jewelry consultation too! Book a virtual visit on our website with one of our non-commissioned jewelry experts.
Read on for the styles these influencers were loving the most:
Natalie was loving the nature inspired looks of our Sunburst Diamond Ring and Magnolia Branch Diamond Pendant. "Sunburst halo diamond rings" were a trending search on Pinterest at the beginning of the year, and we anticipate this sunny style will stay a fan favorite for the way the "rays" of diamond accents highlight and add brilliance to the center diamond or gemstone. The Magnolia Branch Diamond pendant is a lovely choice for everyday wear with shimmering accent diamonds resting within beautifully sculpted lustrous silver magnolia blossoms.
Trent Garrett came to our showroom excited to learn about diamonds! On his Instagram he wrote, "I have found a diamond in the rough at @brilliantearth. Not only did their 'appointment only' approach help me feel comfortable and at ease while searching for the perfect stone but EVERYTHING is ethically sourced! Their diamonds and precious stones originate from vetted mine operations and they use recycled precious metals for ALL of their rings. They really know how to leave a light carbon foot print in style!" He favored classic pavé diamond engagement ring styles, including our Luxe Ballad Diamond Ring and Viviana Diamond Ring.
Jasmine loved the look of our Demi Diamond Ring, which features a hidden halo of diamond accents below the center gem. Secret halos and other surprise diamond accents are one of the biggest trends we're seeing in 2020 so far, and we anticipate this look will continue to stay a popular choice for those who are looking for subtle details that add special interest and unique character to their diamond engagement ring.
Final Thoughts
What do you think of these influencers' top picks? Let us know your favorite style in the comments below or on our Instagram, Facebook, or Twitter!