Do you remember a time when brides would have to drag around stacks of dog-eared wedding magazines and bulky planning binders? Those days are long past (wait, wasn't that just the '90s?). The advent of the internet and mobile devices has made it so that the weight of information is only as heavy as the device you use to access it. Up until a few years ago, however, there was still the issue of how to discover and organize all of that information. Then along came a little website named Pinterest.
For brides (and some grooms!), Pinterest has become a hub of excitement, inspiration, and creativity. It allows you to find a direction and create a vision for the wedding of your dreams.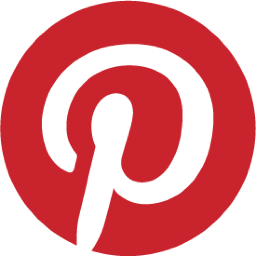 What is Pinterest?

Pinterest is where everything amazing and wonderful on the internet is organized. It is a digital pinboard where people can store their favorite things all in one place.
Let's break it down into some vocabulary:
Pin:
A pin can be anything you find on the internet or any of your own original content. Pins can be inspirational quotes, a picture of a sunset, a recipe, DIY instructions, pictures from a photo shoot, a funny video—anything really!
To create a pin, you can use the Pin It Bookmarklet (which you install on your bookmarks bar), a Pin It widget (a button that many sites provide so that you can pin content with ease), or you can upload content straight from your computer. Clicking pinned images takes you back to the original website where it was pinned from, so you can get more information about the product or idea you're coveting.
Board:
A board is where you can collect similar pins. Boards can be very specific, such as "Hydrangea Arrangements," or they can be very broad, like "Wedding Ideas." You can create as many boards as you want and organize them however you want!
Following:
In addition to finding your own, you can also view other people's pins. "Follow" someone and their new pins will all show up on your homepage.  If you like something that has been pinned, you can "repin" that image to one of your own boards, which allows all of the people that are following you to see it as well. This is how pins spread across Pinterest, allowing you to find cool new things easily.
Pinspiration:
When someone is inspired by something they saw on Pinterest—for example, if they baked a summer blackberry cake or organized their finances in a new way—it is called "pinspiration."  Pinspiration is the cause of a recent burst of communal creativity that has inevitably spilled over into the wedding planning category.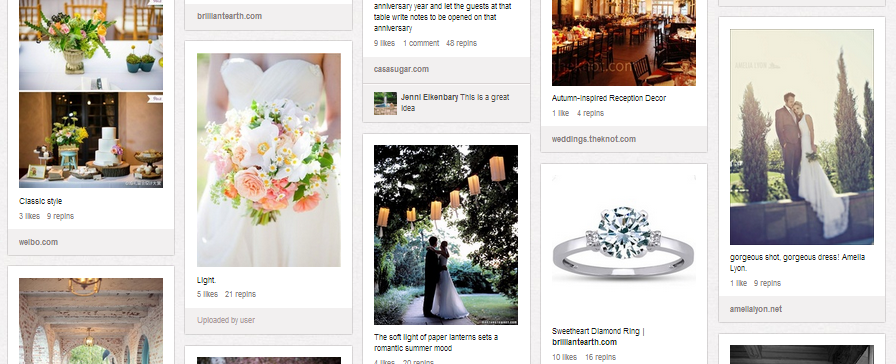 Weddings on Pinterest

"Weddings" is one of the main categories on Pinterest. Future brides (or hopeful girlfriends!) have collected thousands of wedding related pins for you to browse.  For wedding pinspiration, start by browsing the most popular pins in the Wedding category and follow your favorite wedding magazines, bloggers, and wedding-related companies for more never-ending pinspiration!  Then it is time to create some boards of your own!
Here are some board ideas to start with (in logical wedding order): My Ring, Favorite Dresses, Bridesmaid's Dresses, Possible Venues, Wedding Color Palette, Delicious Food, Decoration, Amazing Cakes, Fabulous Flowers, Wedding Emergency Kit Necessities, Big Day Hairstyles, Must Have Wedding Poses, and Homemade Gifts.
When it comes to Pinterest boards, the sky is the limit!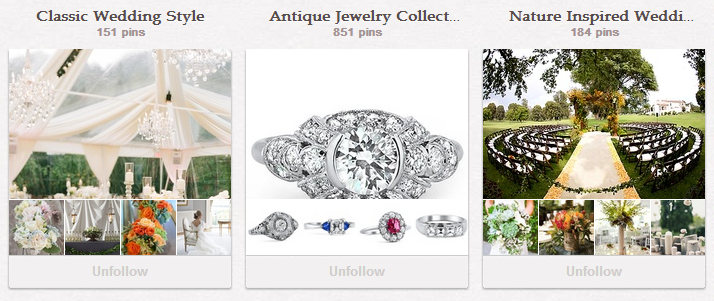 Pinterest is a great tool for the overwhelmed bride. There are so many wedding options and styles available that some brides are frozen in place and unable to make decisions. If you're not sure exactly what style you like, creating these boards is a great way to identify patterns. You may notice that all of your pins have green and blue in them, so that should probably be your color scheme. Or perhaps you love ceremony spaces that have fairy lights hanging from the rafters, so you may want to search for a venue where that is an option. The more you pin, the easier it will be to narrow down what you love and what you don't. This is a great way to share ideas with family and friends and to keep in touch with vendors.
It's also a good idea to use boards as a checklist. Create boards right away—even if they remain empty for a while—so that you don't end up forgetting anything until the last minute. For example, create a board for bridesmaid gifts and another for groomsmen gifts so that you don't forget to thank these important people! As you find cool gifts online or overhear things they love you can slowly fill up the boards with ideas.
Pinning on a Budget

One of the best things about pinning your wedding is the number of DIY opportunities. Many couples love DIY activities for a variety of reasons:  they can be great bonding experiences, they tend to save precious dollars, and they give your wedding a personal touch. For example, you can find tutorials on how to create your own unique save-the-date cards, brooch bouquets, guest gifts, and much more. Like-minded brides on Pinterest make discovering budget-friendly ideas easy!
Bringing in the Professionals

Though Pinterest is an incredible tool, not every bride is capable of planning her wedding without help. Actualizing your vision takes a great deal of amount of time, effort, and DIY skill. Maybe you don't have time to find antique birdcages, spray paint them white, and fill them with candles. Or perhaps the thought of wrapping one hundred wedding gifts by hand is making you consider eloping. To solve this problem, many brides are using Pinterest in conjunction with wedding planners. Wedding planners make sure that the details—those things you adored on Pinterest—are all in place. Pinterest allows you to share your vision with your wedding planner in an easy, visual way.  This allows you to focus on the amazing fact that you're getting married!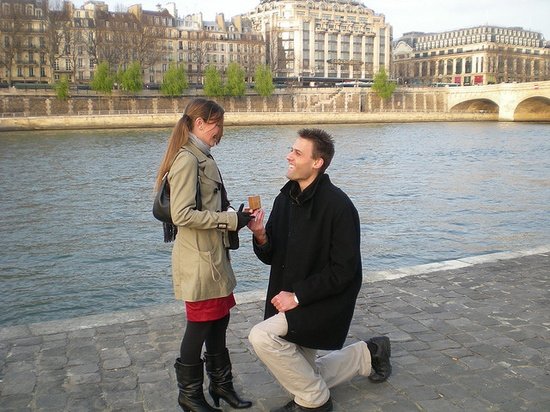 Brilliant Earth on Pinterest

Here at Brilliant Earth, we absolutely adore Pinterest. On our page we have boards dedicated to our latest engagement ring styles, eco-friendly wedding ideas, classic wedding ideas, and more. For those brides that prefer a little vintage flair, we keep our antique jewelry board updated with our latest one-of-a-kind estate rings. And for those looking for a touching story, we have a board that is filled with some of our customer's unforgettable engagement photos.
Final Thoughts

So go start pinning! Pin some things you can afford, pin some things you can't; pin some things that are classic, pin some things that are just for fun; pin some things that are new, old, borrowed, and blue. Pin what you like, and have fun doing it!