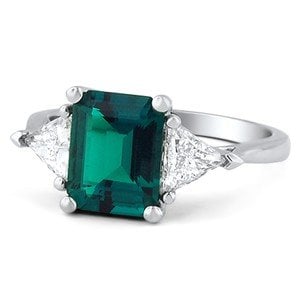 Pantone's Fall 2013 Fashion Color Report was just released, and we happened to notice an interesting trend: three out of the ten hues that colorists predicted would be popular this fall were stunning shades of green!

Emerald was an obvious choice (seeing as how Pantone named it the color of the year) but Linden Green and Deep Lichen Green were also chosen. These two muted earthy greens serve as the perfect contrast to emerald's bright, bold style.  Expect to see green everywhere this fall, from weddings to makeup to fashion!

Pantone spoke with top fashion designers about their signature colors, and Pamella Roland—a premier designer for Neiman Marcus—told Pantone that moss green is her signature color because, "it is unexpected and has a depth and richness that I love." Hervé Léger chose malachite, an emerald green, "because of the richness of nature it represents; a garden of urban expression, exposed by nature's palette. Green represents life."

If you adore this versatile color, discover the many green gemstones that can be transformed into a piece of jewelry that you'll forever adore!

Green Sapphires
Sapphires are composed of the mineral corundum, and they gain their stunning colors through the infusion of "impurities," which are other elements such as iron, chromium, and titanium. Green sapphires gain their green color from trace amounts of iron. They come in a wide range of greens, from light yellowish-green to soft mossy greens to greens that might even be mistaken for emeralds! With such a wonderful variation, there are numerous green colored gemstones that closely match Pantone's Linden Green and Deep Lichen Green!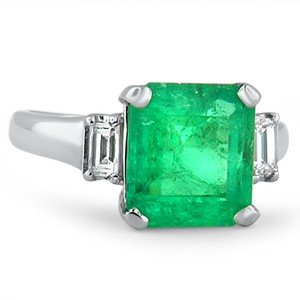 Green Emeralds

If you are looking to create a unique piece of jewelry, you might want to consider the most revered green gemstones of all: emeralds! These iconic gems are lush and engender a sense of vitality and youth.

Emeralds are highly sought-after gemstones, and they create classic engagement rings. In fact, emerald engagement rings seem to be a trend with stars including Halle Berry and Olivia Wilde. These celebs may be taking a cue from fashion icon Jackie Kennedy, whose emerald engagement ring was truly unique.

Emeralds are classic gemstones in that they never go out of style. Gorgeous antique rings that boast deep, vibrant emeralds are living proof! If you are looking for a way to immortalize the year 2013, create a stunning piece of emerald jewelry.

Green Semi-precious Gemstones

A gorgeously green semi-precious gemstone is the mysterious peridot. There are several reasons why peridot is a beautiful choice:

♦ Peridot has a vibrant green hue at a lower price point.
♦ Peridots are ethical gemstones that are mined right here in America.
♦ Peridot is August's birthstone!
♦ A version of peridot came to earth in a meteorite—they're extraterrestrial gems!
These gemstones make gorgeous pendants and stud earrings, and they pair beautifully with diamonds. These gorgeous pieces make wonderful gifts.
The Perfect Setting

Once you've chosen your ideal green gemstone, make sure to pair it with a beautiful setting that compliments its unique color! We recommend settings that are handcrafted from recycled precious metals such as platinum, white gold, and palladium. These white metals are great if you want to highlight the beauty of a green gemstone. Keep in mind, however, that deep green emeralds and rich yellow gold is one famously regal combination! For green gemstone settings, we recommend the following:

♦ Three stone rings are a highly sought after design for green gemstones. A center diamond with two emerald accents is a classic style, though the inverse is beautiful as well!

♦ Halo style rings look stunning with green gemstones. Surround an emerald or green sapphire with a dazzling halo of diamond accents for a glamorous engagement ring.

♦ Choose a fancy shaped stone to make your ring stand out. Oval, cushion, or pear shaped gemstones will give your ring a truly unique appearance.

♦ Look for nature-inspired styles, such as rings that feature diamond buds, twisting vines, or floral engravings. A touch of green will bring a botanical ring to life!

Green Irish Engagement Rings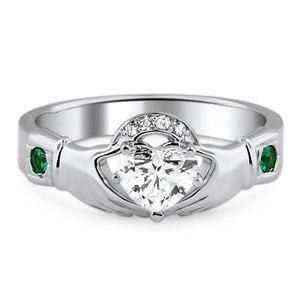 Everyone knows that when St. Patrick's Day rolls around, you can't go outside without being smothered in green. Green clothing, green temporary tattoos, green beer, and more! This is a day when everyone who loves Ireland or Irish culture gathers to celebrate an entire nation! Have you ever wondered why Ireland is known as the Emerald Isle? This rainy nation is famous for its mild climate and great quantities of precipitation, both of which result in thick green flora. NASA shows the Emerald Isle from space as proof!

Many who love classic Irish engagement rings such as the Claddagh ring or Celtic knot ring can make their choice reflect the Emerald Isle by choosing green gemstones! You can choose an emerald heart as the center of the Claddagh, or you can set any shaped emerald in a stunning Irish-inspired setting. If you want a traditional center diamond, emeralds and other green gemstones serve as lovely accents, adding a colorful finishing touch.

Final Thoughts

What shade of green is your favorite? Will you be wearing Pantone's greens this fall? Tell us on Facebook, Twitter, or in the comments!