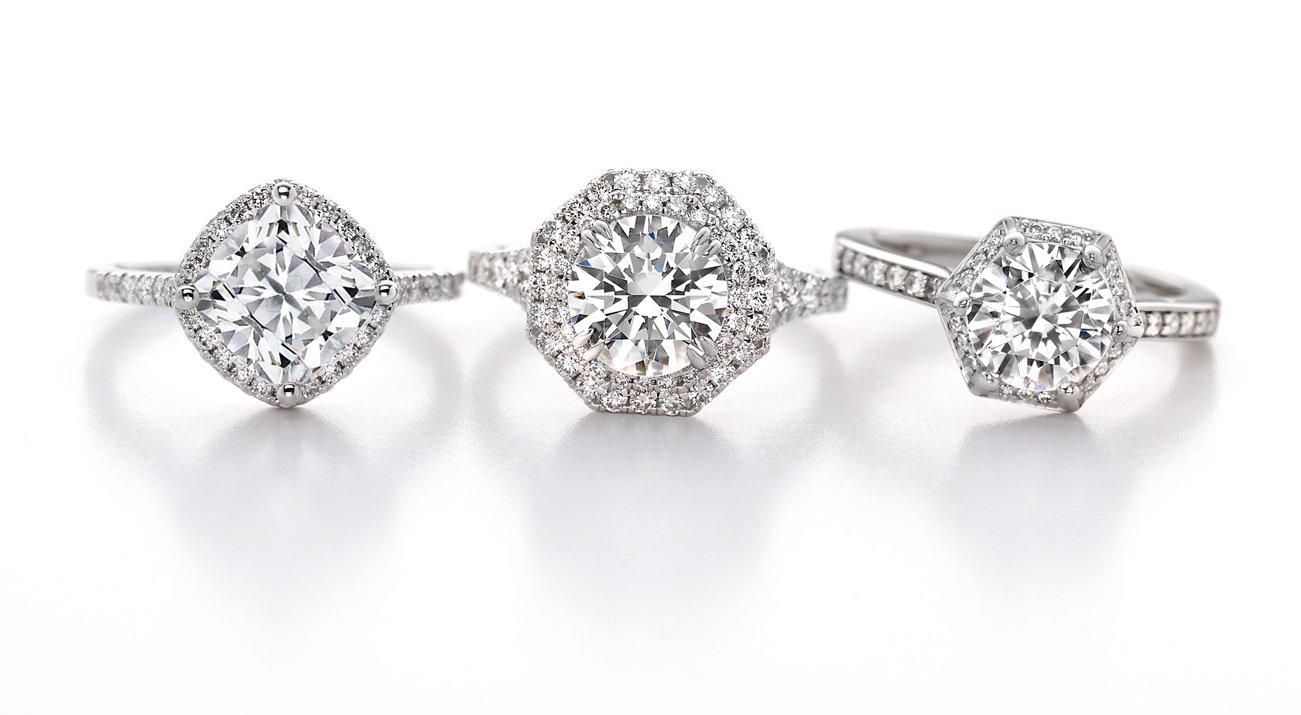 We have to start by saying that the woman you adore is going to be ecstatic when you propose!
The engagement ring will be a beautiful bonus. But there are a few things you can do to ensure that you select a ring she'll be crazy for both now and for decades to come. Here are a few engagement ring buying mistakes that men often make so you can avoid them:
They don't research her tastes
Surprising her with an engagement ring can be a very romantic move, but if you select a ring without doing your research you risk buying one that's far from her ideal. Start by asking her close friends what type of ring she might like—if you trust those friends to be discreet. Pay close attention to the type of jewelry she wears (Does she prefer white gold or yellow gold?  Feminine and ornate designs or clean-lined modern ones?). Finally, if she uses social media like Facebook, Instagram and Pinterest, snoop around to see if she follows any fine jewelry brands, and take note of the ring designs they feature.
They don't cover their tracks
If you research rings online the websites you are looking at are likely to target you with online advertisements later. If you ever share a computer with your girlfriend, you better believe she'll notice those engagement ring ads!  So do your browsing on a private computer or mobile device, or use your browser's "block cookies" feature so you can online shop anonymously.
They guesstimate her ring size
Most engagement rings can be resized but when you propose you want the ring to be as close as possible to a perfect fit. You might ask your girlfriend's friends if they know her ring size, or sneakily borrow one of her rings and compare it to our Ring Sizing Guide. It is also helpful to know that the most common ring size for women is 6-6.5, so a ring that size is a fairly safe bet—if she has large or small hands then go a size up or a size down from that.
They spend more than they can afford
Don't listen to any "rules" about how much you should spend on an engagement ring, other than that you should spend an amount that feels comfortable to you. Check out our recent post 8 Ways Guys Can Save on an Engagement Ring and contact us if you would like advice on discovering the perfect ring within your budget.
They don't require a return or exchange policy
Only work with jewelers who will offer you a free return or exchange if she doesn't like the ring—it will remove anxiety from the process if you know that nothing is set in stone. Brilliant Earth offers free returns and resizes for 30 days.
Final Thoughts
What do you think are the big engagement ring mistakes to avoid?  Let us know on Facebook or Twitter, or in the comments section!