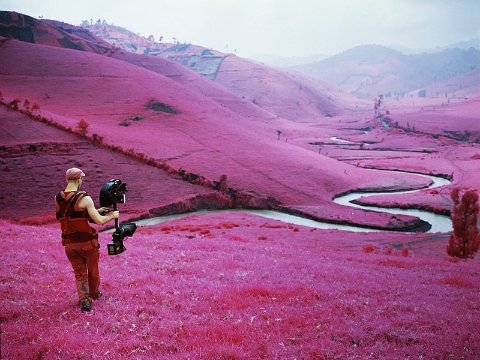 A provocative new film shows the civil war in the Democratic Republic of Congo in a distinctive light – a pink one. Although it's a technique rarely seen before on the big screen, the approach of the film is, in some ways, one that we're familiar with at Brilliant Earth.
Filmmaker Richard Mosse shot the film, which is called "The Enclave" and debuted recently at a Venice arts festival, using a vintage Kodak film called Aerochrome. The technology reveals the infrared light that is all around us but that is invisible to the human eye. Because chlorophyl reflects infrared light, the effect of the technology is to make green plants take on a pink or purplish hue. During World War II, the film was used by Allied forces to identify camouflaged enemy soldiers in vegetated landscapes.
Mosse says he decided to take the Aerochrome film technology to Congo – where gold and other minerals have been fueling a tragic civil war – because he thought it would be fitting to show an unseen war in unseen colors. The civil war in Congo is almost a forgotten conflict, even though it is one of the deadliest wars in history. Since 1998, the war has left more than 5.4 million dead, both from violence and from the associated problems of disease and starvation. One million people have been displaced and over 200,000 women have been raped. "But we don't really hear anything about this ongoing humanitarian disaster," Mosse says in the video below. "So in that sense it's this hidden, unseen problem and unseen conflict."
Clips from the film show tall pink grasses swaying in the wind, pink valleys and hills beneath puffy white clouds, grayish dirt roads and dark rivers flanked by pink vegetation, and rebel soldiers posing defiantly against the pink landscape. All of this is startling to the eye, and strangely beautiful – but that's intentional.
Mosse believes that beauty is one of the best ways to capture people's attention and get them to care about political problems. "If you're trying to make people feel something, if you're able to make it beautiful then they'll sit up and listen," he says. He also recognizes a related principle: simultaneously presenting beauty and tragedy can startle people into questioning their ethical commitments. People begin to think about their own perceptions of beauty and whether something can be enjoyed as beautiful if it also represents suffering. The contrast between the beauty of the Congo landscape and the tragedy afflicting it gives power to his film.
These are ideas that, at Brilliant Earth, we think about a lot and that are embedded in our social mission. Jewelry, probably more than almost any other object, is meant to be beautiful. And the beauty of jewelry is what provides us an opportunity to communicate with our customers about unseen and rarely discussed social and environmental problems in the developing world. It is by dedicating ourselves to making beautiful jewelry and discussing ethical issues in terms of jewelry that we are able to reach consumers who otherwise might not learn about issues like the civil war in Congo. In this sense, we have a way of reaching the public that is unique – and that would be difficult to replicate if we were a regular human rights group.
We also think that the power of our message is reinforced by the wide gap between the beauty of jewelry and the blood, sweat, and tears that often go into its production. Just as Mosse's film startles the viewer by showing soldiers with guns patrolling a beautiful pink landscape, we continually try to show the stark contrast between where jewelry comes from and what it looks like.  Our goal is get consumers to think about whether a wedding or engagement ring can or should be appreciated for its beauty if its gold has been mined by a child or if its center diamond has funded the brutal regime of Zimbabwean President Robert Mugabe.
The parallel between our social mission and Mosse's film isn't perfect. Unlike the film, whose purposes are mainly artistic, we don't just want to pose unsettling questions. We are also actively trying to resolve the paradox that results when a diamond engagement ring is linked to unspeakable human suffering.  Our goal is to provide jewelry that is truly beautiful, jewelry that our customers can feel proud to wear.  We give back to communities that have been harmed by mining for precious metals and gems. And ultimately, we aim to remake the jewelry industry – to ensure that every piece of jewelry is made with respect for people and the environment.