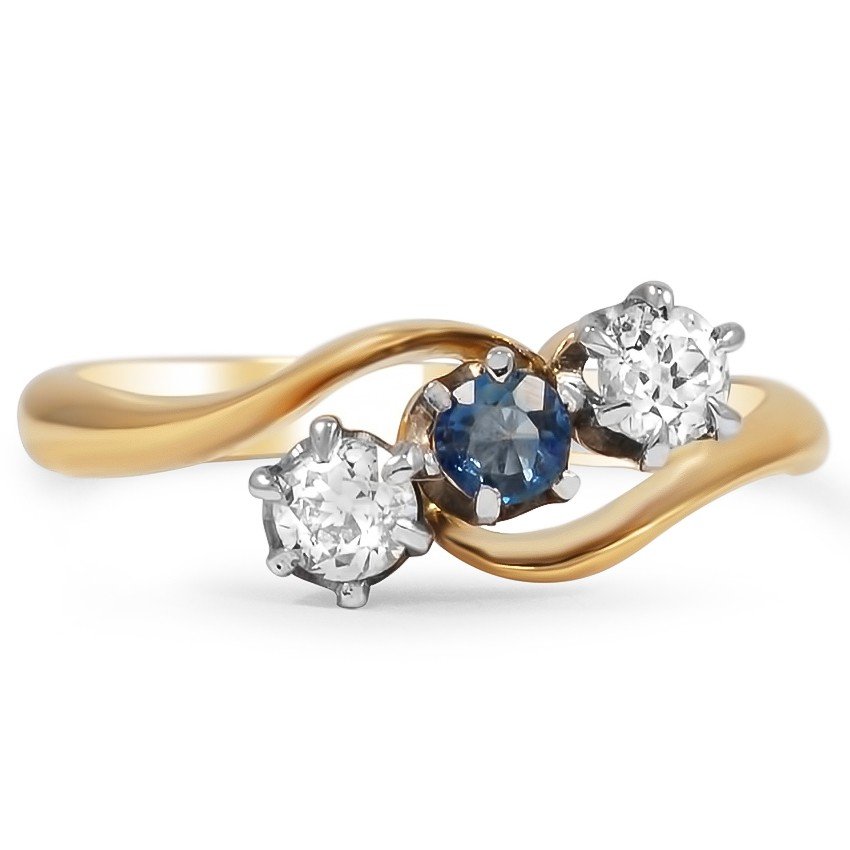 With its feminine curves, soft colors and artistic designs, jewelry from the Art Nouveau era is incredibly romantic, and the rings make beautiful engagement rings today. Not just a period in time, Art Nouveau was a movement that sought to offer a counterpoint to the mass-produced goods of the Industrial Era by emphasizing artistic design and careful craftsmanship.
Spanning from 1890 to 1910, Art Nouveau overlaps with the Victorian and Edwardian periods, but has its own distinctive style. While classic Victorian and Edwardian jewelry was worn by the aristocracy and those who emulated them, Art Nouveau jewelry was more likely to be worn by those with more haute bohemian or free-spirited style.
These are some of the enchanting characteristics you'll find in Art Nouveau engagement rings:
Curving lines: Precious metal in sensual, fluid shapes is a defining feature of Art Nouveau jewelry. Ring designs are often enchantingly asymmetric.
Elaborate settings: Past jewelry design had emphasized the gemstone, using the setting simply as a way to secure and highlight the precious gems they contained. But Art Nouveau jewelers aimed to create elaborately beautiful settings every bit as attention-grabbing.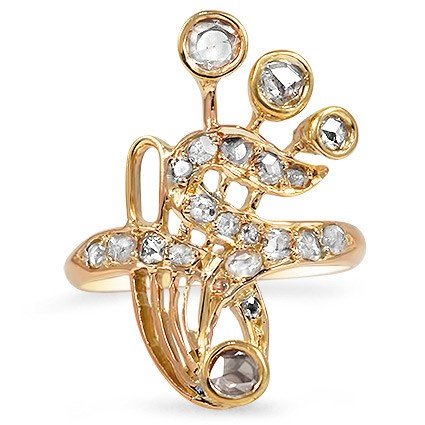 Semi-precious gems: Art Nouveau jewelers often eschewed pricey diamonds in favor of semi-precious stones like opal, moonstone, amethyst, topaz, peridot, citrine, and freshwater pearls. Diamond rings from the era usually feature multiple similarly sized diamonds rather than one large center gem.
Unique materials: Enamel, horn, shell, and other non-traditional materials are often seen in Art Nouveau rings. The creative use of their colors and textures helped jewelers realize their artistic vision.
Nature-inspired designs: The Art Nouveau movement sought to represent nature's beauty. While dainty and stylized nature motifs (of flowers or garlands, for example) were popular in Edwardian jewelry, Art Nouveau pieces often interpret nature as dreamy and mystical, or wild and untamed.  Images of irises, lilies, snakes, and butterflies are sometimes seen in rings from the era.
Learn more about Art Nouveau jewelry in our Vintage Jewelry Guide, and shop for Art Nouveau engagement rings in our curated Vintage Collection.
Share Your Thoughts on Art Nouveau Engagement Rings
What do you think of Art Nouveau engagement rings?  Let us know on Facebook or Twitter, or in the comments section!