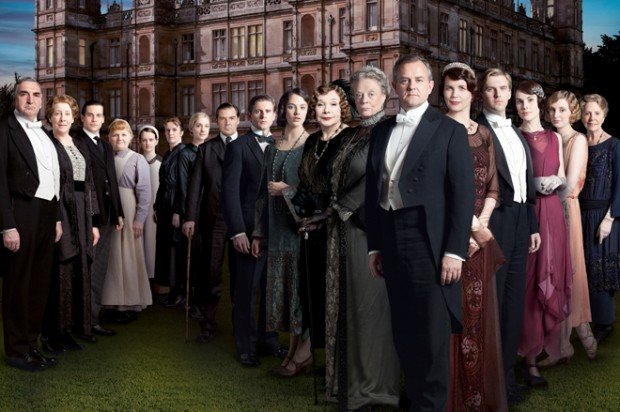 As a culture it seems like we have a crush on the styles of a century ago. The fourth season of Downton Abbey just wrapped up with its highest ratings ever, and Edwardian-era rings and pendants are among the most sought after styles in our Antique and Vintage collection. If you love all things Edwardian, learn a little more about the jewelry of the era:

What is Edwardian Jewelry? 

The adjective "Edwardian" refers to jewelry from the period surrounding the rein of King Edward in England. Edward was king from 1901 until his death in 1910, but "Edwardian" can be used to encompass the last decade of the nineteenth century through 1920. This period was one of increased prosperity in Europe and America, and a time of tension between the traditions of the past and the changes brought by industrialization and the 20th century. Edwardian jewelry reflects the cultural temperature of the time—it is at once joyful and refined, and reflects new jewelry making techniques while using themes and motifs that honored the past.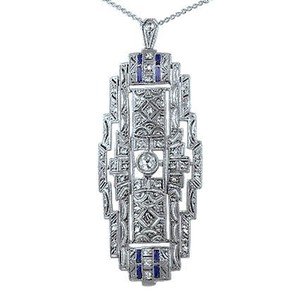 The "White on White" Edwardian Style

Although much would change in the 1920s, with the flappers of the Jazz Age and women gaining the vote in both the US and UK, during the Edwardian era women were still expected to appear pure and ladylike. Edwardian jewelry reflects that feminine ideal with lots of white—in the form of diamonds, pearls and white metals like platinum and white gold. Pearls and diamonds were prized for their understated elegance, and jewelry was designed to showcase their beauty. Diamonds were often cut in an old mine or old European cut, and sapphires were the most popular colored gemstone of the era.

Lacy and Embellished Precious Metals

Recent advances in metalwork meant that Edwardian jewelry could be more delicate and detailed than most of the styles that had come before it. One example is the expert use of filigree techniques; by applying threads of precious metals to the surface of their settings, Edwardian jewelers gave their jewelry a wonderfully lacy look. This period also saw the rise of milgrain, a type of detailing in which the precious metal edges of a ring setting are given a delicate beaded effect, to create a soft feminine feel. It was at this time that jewelers were first able to sculpt platinum on a small scale, and it became frequently used in jewelry. Jewelers used this very durable precious metal to create "invisible" settings, using minimal metal to secure a gemstone and display its beauty. Often platinum and gold were combined in one piece.

Edwardian Ring, Pendant, and Earring Styles

As we've written previously, the Edwardian period saw the rise of the engagement ring as a widespread custom among engaged couples. Much like today's engagement rings, Edwardian rings often featured a large center gem surrounded by smaller gems in a halo or other design. Edwardian ring styles are sometimes larger, ornately embellished, and stretch across the finger vertically, a style that continued to pick up steam through the Art Deco era.

Because Edwardian necklines were lower than those of the prim Victorian era, pendant necklaces were very much in style (while the brooches of the Victorian period took a back seat). Edwardian pendants are often delicate and quite detailed, and can feature garland and tassel designs. We also see long and feminine earrings from the Edwardian period.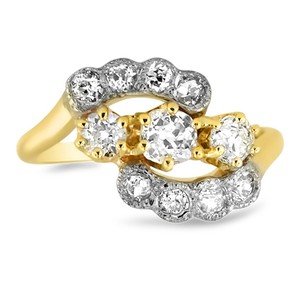 Antique Motifs

Edwardian jewelry designs often incorporate garlands, bows, flowers, tassels, scrolls and laurel wreath images. These motifs were intended to give the jewelry and its wearer a refined and elegant look, and to celebrate classical and neo-classical styles of earlier eras as a counterpoint to the more recent industrial revolution. Roman, Greek, Napoleonic, and French Baroque influences are all evident in Edwardian jewelry styles.

Edwardian Jewelry vs. Art Nouveau Jewelry

If you're an antique jewelry fan then you may wonder about the difference between the Edwardian and Art Nouveau styles, because the periods overlap, but the two styles are very distinct. Jewelers of the Art Nouveau style emphasized artistic, detailed settings often designed to celebrate nature by mimicking its curves and featuring nature images. The gemstones in Art Nouveau jewelry are likely to be opals, moonstones and semi-precious colored gems, in contrast with Edwardian jewelers' focus on diamonds. Art Nouveau jewelry frequently features colorful enamel. To learn more about jewelry from these eras, read our Design Eras guide.
Final Thoughts
Do you love Edwardian jewelry?  Which style of antique jewelry is your favorite?  Let us know on Facebook or Twitter or in the comments section!