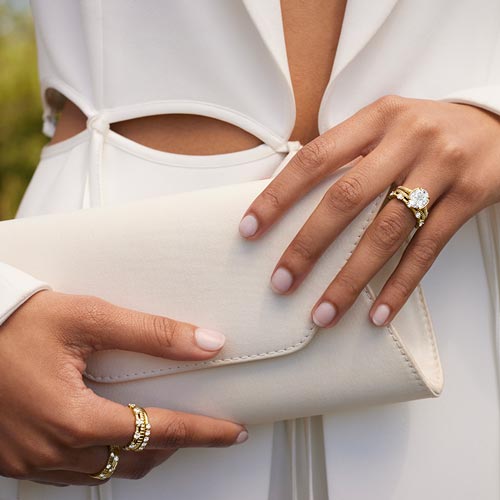 Short answer: no. The long answer actually involves a few more questions: What is engagement gift etiquette? How pricey or elaborate does a gift need to be? Is a gift required of close friends and family members? Does it depend on the hosts of the event? We get into all of that and more in this guide to engagement gifts.
Should I Bring a Gift to an Engagement Party?
It's common and courteous to show up with an engagement gift, but arriving empty-handed to the celebration is not a social faux pas. You can put your savings aside for the rest of the wedding expenditures, like travel, attire, and lodging. Typically gifts come into play at events closer to the big day, like the bridal shower and bachelorette party, so you'll have plenty of opportunities (and obligations) to grace the happy couple with something(s) special. You can also pool your money for one elaborate wedding gift at the ceremony. But early on, your presence can compensate for presents.
Engagement Party Gift Etiquette
Ultimately, the couple is inviting you because they consider you worthy of inclusion in this happy moment, not because they're trying to amass a pile of presents. Some might argue if a couple wants gifts, then they can add them to their wedding registry. Others insist it's fun to spoil the happy couple throughout the wedding planning process (and loved ones in general).
Since engagement gifts are not required, you can do some sleuthing to decide whether they're expected. For example, it's not impolite to ask other engagement party attendees their take on gift etiquette to work out your own plans.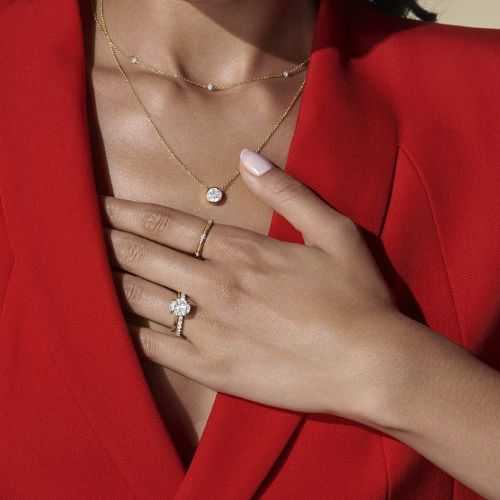 How to Tell if You Should Bring a Gift
If the event is planned and you received a formal invitation. This implies a certain amount of care and consideration in requesting your presence, so you're returning the value and respect they put in.
If the event is intimate between family and close friends. This is the crowd most likely to offer up engagement gifts, so it's better to be safe than sorry.
If the event is at a fancy venue. A gift goes along with the esteem.
If the couple is customary. When the pair appreciates pomp and circumstance, they're likely ones to admire the extra mile.
If the event is catered or has an open bar. A bit of reciprocity acknowledges their generosity.
How to Tell if You Shouldn't Bring a Gift
If the event is spontaneous and didn't require an RSVP. You're not expected to make a mad dash for a trinket.
If the event is a huge gathering where you'll blend in. There's less accountability and less chance of hurt feelings.
If the event is in a casual setting. Anything unofficial doesn't warrant a gift. Decide on your level of comfort.
If the couple is laid-back (and especially if they ask you not to bring a gift — take them at their word and honor their decision).
If you're paying for your own dinner and drinks. You're already chipping in to the occasion.
What Type of Gift Should I Bring?
Think of something pretty or practical that they can make use of that day. A hosting gift is always welcome and meaningful. For example, bringing champagne to the engagement party is a thoughtful gesture to enhance the occasion. Save the flutes as a gift for the wedding day. After all, a gift is only meant to reflect the formality of its occasion.
How Much Should I Spend?
An engagement gift can be budget-friendly. Stick within a third of the price you'd pay for an actual wedding gift. It's an extra, so it doesn't have to be extravagant, and it's expendable, so it doesn't have to be expensive. You can check the couple's wedding registry to ensure there's no overlap with what they'll be receiving on the big day, but it might not yet exist at this stage.
Engagement Party Gift Ideas
While the engagement milestone is major, the gift doesn't have to be. The luggage and coffeemaker can wait for the wedding. You can treat the couple in ways that don't cost a fortune, or even anything at all. For example, your gift can be an act of service, like helping set up the party, or words of affirmation, like a sincere letter or song of congratulations. There are other ways of showing how well you know the couple beyond their love languages. You can gift them with an item related to how they enjoy their time together, like a gift certificate. This isn't the time for gifts that would be humbling (travel tickets) or humiliating (bachelorette party favors). It's the first step in a long wedding march. Again, there's a time and place for every gift.

FAQs
What kind of gift is appropriate for an engagement party?
Even if you opt for an engagement gift, it's fiscally and socially safe to verge on the small side. An engagement party gift is a sweet, simple token to express how honored and excited you are to celebrate with the couple. It's not the time for appliances and fine china, but if you want to up the ante, a wine rack or charcuterie board wouldn't be out of place.
Do I bring the gift to the engagement party?
This is the go-to move, but it might depend on the venue. Rather than have them haul home a ton of gifts from a night out, it's more convenient to have your gift delivered. A few days in advance are essential if your gift is intended for usage at the party — in this case, you'll also want to make mention when the gift should be opened, since unwrapping might not be part of the couple's engagement party agenda. If the couple is hosting from their household, then greet them with a gift in-hand on their doorstep (the visual is a nice touch that might score you some brownie points). Delivery also might be in order if the gift would be damaged at the event.
If I'm not giving a gift, should I still give a card?
Why not? At an engagement party, a hearty and heartfelt congratulations are all that's in order, so it's cute and classy to formalize it with some stock paper and an elegant script (or whatever vibe suits the couple). And if you're feeling gift-guilty, a card is a completely acceptable alternative.
What is engagement party etiquette?
There's no pressure riding on this gifting decision, and in most cases, you won't be disinvited or "forgotten" when it comes to planning guest lists for future wedding events. If you already don't expect to be invited to the nuptials, then you're probably not close enough to the couple to be shelling out for wrapped well wishes anyway. If you would be invited to the ongoing series of events, but can't attend, then an engagement gift can substitute for your wedding present.
What are some traditional engagement party gift ideas?
Bottle of wine or champagne
Chocolates
Picture frame
A plant
Candle
What are some last-minute engagement party gift ideas?
Calendar or planner
Flowers
Check
Wedding magazines

 Final Thoughts
An engagement party is a low-key soiree to mark the couple's milestone. In most cases, it should be inoffensive if all you offer is your best wishes. You can be realistic about what you can personally afford and whether your friend or family member will feel snubbed by the absence or quality of a gift.