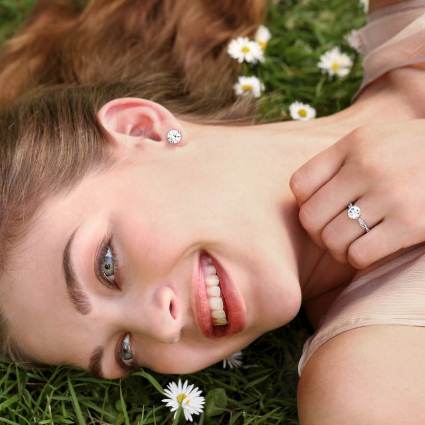 Ear piercing has been a tradition for thousands of years, and it is still a hugely popular practice. The ancient Egyptians, Greeks, and Romans were known to have worn ear decorations, and even the oldest mummified remains were found wearing earrings! Some people decide to get ear piercings for religious or spiritual reasons while others choose to do so for personal or aesthetic purposes. Ear piercing for men has come in and out of fashion, sometimes including both ears and occasionally just one. Perhaps this was due to the popularity of single ear piercings amongst sailors (who believed that piercing one ear would improve their vision), a trend that eventually spread to the nobility.

And studs are becoming popular for more than just earrings! These button-like ornaments are showing up on shoes, handbags, rings, bracelets, sunglasses, jackets, and collars!

Many of us remember the brightly colored sticky earrings we would place all over our ears as children, dreaming of someday owning a stunning pair of diamond or pearl studs like the glamorous adults. Or, if you loved comic books, perhaps you loved Wonder Woman and dreamed of having her earrings that allowed her to breathe in outer space! Perhaps we adore these sparkling adornments because they add brilliance to our faces, lighting up our eyes and our smile. We feel amazing when we wear them! Join us as we celebrate this classic accessory!

What Are Studs?

A stud is a simple earring without ornamentation that sits directly on the earlobe. These earrings appear to be floating on the ear with nothing visible anchoring them. Studs can be classic round diamonds, or they can have more complicated designs. Studs should be distinguished from the more esoteric form of piercing—ear gauges—which begin as studs but eventually stretch the earlobe with plugs of increasing size. This practice is common in many cultures worldwide, but it has recently found its way into mainstream fashion.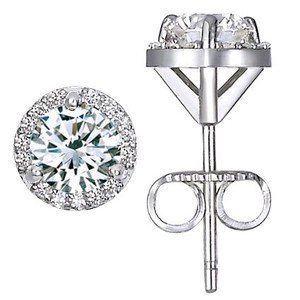 Diamond Studs

The most classic, iconic stud earrings are brilliant diamond studs. They have been sought after for generations due to their incredible versatility, sparkle, and elegance. They transition easily, meaning that they can be dressed down during the day and dressed up for a big night out. Diamond studs typically come in round styles and are held in a basket, bezel, or martini setting. Bezels are very secure, but they do not allow as much light to hit the stone as other settings. If you would like maximum sparkle, basket and martini settings are best.

Gemstone Studs

If you prefer a bit of color highlighting your face, consider colored gemstone stud earrings! Choose brilliant blue sapphires or perhaps a spectacular peridot stud with a glittering accent diamond. Other popular colored gemstone studs are citrine, amethyst, purple and red garnet, and pink sapphire. These gemstones are less expensive than their diamond counterparts and they make stunning gifts.

Halos

If you want to take a stud earring (diamond or colored gemstone) and bring it to the next level of sparkle and glamour, consider choosing diamond halo stud earrings. These dazzling earrings feature a beautiful center stone that is completely encircled with a halo of brilliant pavé-set diamonds. If you want the look of large diamond studs but you are on a budget, halo studs provide the best of both worlds. The circle of diamonds serves to enhance the center gemstone, creating a stunning display of light. The halo setting also brings luxury to a colored gemstone, and it looks particularly gorgeous when wrapped around a deep blue sapphire.


Pearls

Another timeless style is a pair of pearl stud earrings. When we think of pearl earrings today, we think of Audrey Hepburn, Vermeer's Girl with a Pearl Earring, and (more recently) Michelle Obama's stunning collection of pearl jewelry. Pearl studs are synonymous with style, class, and sophistication. They come in a variety of colors, from pure white to a lustrous silver-grey. Pair a pearl stud with a diamond accent and you have a stunning display of iridescence and sparkle.

Unique Shapes

Studs can be much more complex than a simple round adornment! Our sterling silver studs come in an endless amount of styles, such as sparkling flower studs or sleek peace sign studs. You can custom design a pair of stud earrings to be anything you'd like! Make your jewelry represent who you are!

Final Thoughts

Do you love the iconic style of stud earrings? What is your favorite type to wear? Let us know on Facebook, Twitter, or the comments below!