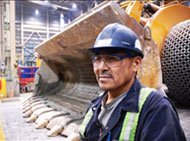 Brilliant Earth's environmentally and socially responsible Canadian diamonds are sourced from two specific mines in the Northwest Territory of Canada, one of which is the Diavik Mine. The Diavik Mine maintains high standards of social and environmental responsibility, and plays an impactful role in local community development of the Northwest Territory region.
From the earliest stages of planning the mine, Diavik consulted extensively with local communities about the mine's operation and its impact. Now that the mine is in full operation, Diavik is continuing its commitment to providing significant training, employment, scholarships, apprenticeships and business opportunities to residents in local communities of the Northwest Territories and the West Kitikmeot region of Nunavut. We are pleased to report that in 2008 the Diavik Mine exceeded its community-building goals by enrolling 19 Aboriginal apprentices in its apprenticeship program.
The operational workforce of the Diavik Mine comprises 67 percent Aboriginal and northern non-Aboriginal workers. Also in line with the mine's goals, 70 percent of the mine's capital and operating expenditures was used in commerce with northern businesses, many of them Aboriginal.
The Diavik Mine's quality of labor and hiring practices, and integration into the local community help make this mine one of the most progressive mining operations in the world. This type of comprehensive approach to environmental stewardship and community involvement is a model not only for the diamond mining industry but also for a wide range of manufacturing and extraction industries.