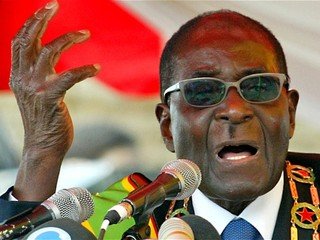 Before saying more about Zimbabwe's presidential election, let's pause to celebrate something positive. Early last month, we worried that these elections might be violent. But in fact, the elections last Wednesday were generally peaceful and orderly. And now that the results have been announced, there still hasn't been much bloodshed.
But survival of the voters is a pretty low bar for judging an election. So let's get to the bad news. Robert Mugabe, Zimbabwe's leader for the past 33 years, has been declared the official winner. According to results announced Saturday, Mugabe won 64 percent of the vote, compared with 34 percent for his challenger, Morgan Tsvangirai. Mugabe's party won a similarly commanding majority in Parliament.
These results are disappointing on two levels. First, Mugabe's blood diamond trade will survive another day, along with his political career. Since Zimbabwe's last election in 2008,  the Zimbabwean army has massacred hundreds of people to gain control of valuable diamond territory, enslaved adults and children in the diamond fields, and stolen about $2 billion in rough diamonds. Last week's elections offered the hope that new leadership would clean up Zimbabwe's diamond trade. But now it looks like Zimbabwe's diamonds won't be gaining an ethical shine anytime soon.
Second, the elections provide evidence that diamonds are disrupting the political process. The Mugabe victory was so big that it's of dubious credibility. Many observers agree with Tsvangirai's claim that it was a "huge farce." Although some African election monitors gave the election a rubber stamp, the government of Botswana today said the elections weren't acceptably free and fair and called for an independent audit. And the European Union and the United States both have expressed serious doubts. "The United States does not believe that the results announced today represent a credible expression of the will of the Zimbabwean people," said U.S. Secretary of State John Kerry.
What role did diamonds play in shaping the lopsided result? Global Witness, an advocacy group, reports that the company handling the voter rolls may have been paid, using stolen diamond profits, to tamper with the voter rolls. About one million urban voters likely to vote for Tsvangirai may have been disenfranchised. In addition, Human Rights Watch has shown how the Zimbabwe Electoral Commission, which certified the election results, is dominated by Mugabe military men. The Zimbabwean military, in partnership with foreign firms, controls the diamond trade. So possibly diamonds played some role in convincing the electoral commission to swallow questionable results.
All this doesn't add up to incontrovertible proof of an election rigged directly by diamonds. The Pacific Standard, a newsmagazine, wrote that the claim of a diamond-rigged election "passes a smell test but remains far from proven." But there's also this: all the off-book diamond profits flowing to Mugabe's allies have helped him keep his supporters loyal. And the loyalty of Zimbabwean elites has been crucial for ensuring no mass erosion of support for the 89-year-old Mugabe. Human Rights Watch also reported prior to the election that in some communities, the Zimbabwean military was harassing Mugabe opponents. Even if the election itself wasn't very violent, it is possible that many Zimbabweans voted for Mugabe in fear of his diamond-funded security forces.
Now that the election is over, the United States and Europe may face calls to lift sanctions on Zimbabwean diamonds. We think those sanctions should remain. Until Zimbabwe can demonstrate that its diamond fields are violence-free and that illicit diamond revenue isn't subverting democracy, Zimbabwean diamonds don't belong in jewelry stores.