Denver boasts an enchanting mix of natural beauty, urban culture and a forward-thinking attitude. Its residents love living outdoors, both on skis and snowboards on the snowy peaks that surround the city, or in hiking boots and on bicycle seats during the summer months.
Perhaps thanks to their enviable location where the Rocky Mountains meet the Midwestern plains, residents of the mile-high city tend to favor engagement ring styles that combine classic elegance with distinctive details that set them apart. To celebrate the opening of the Brilliant Denver showroom, we are sharing our expert observations about engagement rings in Denver:
Modern Solitaires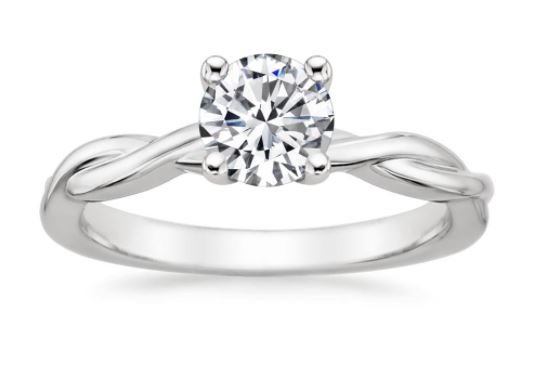 Solitaire engagement rings are especially sought after in Denver, where couples favor modern updates on this classic style. The Twisted Vine Ring, a Denver favorite, is a nature-inspired take on the timeless solitaire,  while another beloved style in Denver, the Six Prong Classic Ring, is understated with a classic look. The Luna Ring, another area favorite, showcases the center gemstone in a bezel setting, for a very clean and contemporary look.
Nature Inspiration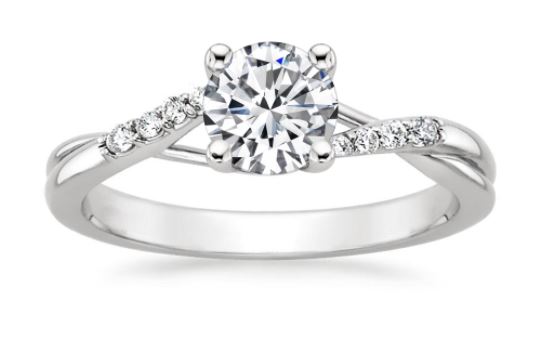 No surprise, many of the engagement ring designs most popular in the Denver area are influenced by the great outdoors. For example, the Chamise Diamond Ring, above, which features delicately wrought ribbons of precious metal that evoke vines or branches, is beloved by Rocky Mountain couples.
Delicate Vintage Designs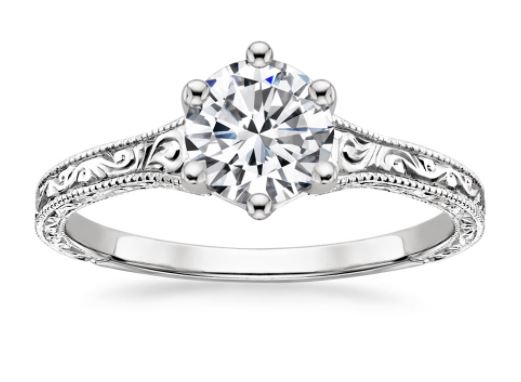 Other couples choose the classic, subtly ornate beauty of designs with vintage inspired detailing. The Hudson Ring is a sought after style featuring old world engraving and delicate milgrain detailing, while the Delicate Antique Scroll Diamond Ring
Enchanted by Sapphires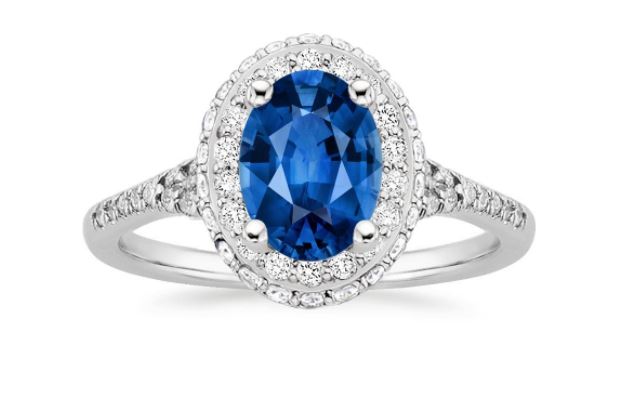 Vibrant colored sapphire engagement rings are more popular in Denver when compared to other regions of the country. Deep blue, alluring teal, and pretty peach are Denver couples' top colors for sapphires, and we especially see more peach sapphire rings in Denver relative to other regions. The vintage-inspired halo Sapphire Circa Diamond Ring, above, is a highly sought after design in Denver, and looks stunning with a vibrant sapphire as the center gemstone.
Fancy Diamond Shapes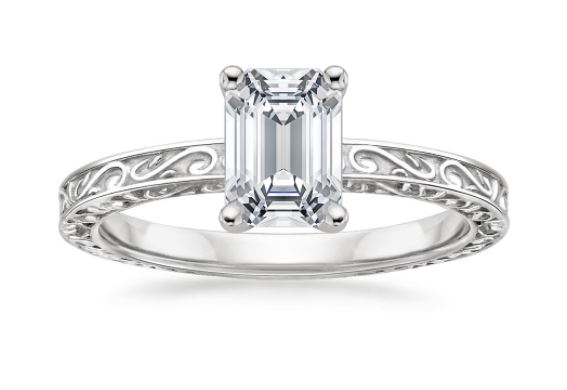 Although they tend to favor classic styles, Denver couples do veer away from the ever-popular round center diamond. In comparison to other regions, Denver couples are more likely to select a fancy shaped center diamond. Romantic cushion cut, elegant emerald cut, and crisp radiant cut diamonds are all especially sought after in Denver. The Delicate Antique Scroll Ring, above, is an incredibly elegant setting for an emerald cut diamond.
Final Thoughts
What do you think of these Denver engagement ring trends? Let us know on Instagram, Facebook, Twitter, or in the comments section!