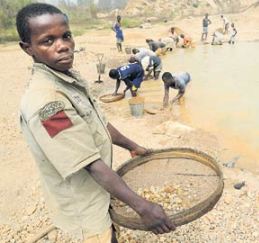 The battle against brutality in Sierra Leone's diamond fields continues. In theory, the Sierra Leone government now controls the diamond fields and oversees mining labor. In reality, however, there are more than 200,000 desperately impoverished people illegally working the fields every day for a pittance, and many of them are children. Despite the aims of the Kimberley Process, it is estimated that nearly two thirds of mined diamonds from Sierra Leone are smuggled from the country.
With complex networks of black market middlemen positioned between the miners and the high-end jewelry shops where many of the diamonds eventually land, the miners are essentially enslaved by the system. They spend long hours standing in unhealthy river water sifting for stones, and have no choice but to sell the diamonds they find for pennies. The numerous child miners are uneducated, malnourished, and meagerly sheltered and clothed, but they have no other options. Without any education or introduction to other opportunities, they will likely remain enslaved by this unforgiving system for the rest of their lives.
One such victim is Ali Tarawally, a 13-year-old orphan from the Kono district of eastern Sierra Leone. For the last three years he's spent long days laboring in the diamond fields in search of rough stones. He spends eight hours a day standing waist-deep in the river, which puts him at high risk for health problems, including malaria, scabies and river blindness. At best, he earns pennies a day, and he is sometimes forced to search in the surrounding forest for whatever he can find to eat.
Brilliant Earth diamonds are sourced from carefully monitored mines that practice both social and environmental responsibility. Our well-established suppliers authenticate the sources of their diamonds as conflict-free, which also guarantees that the stones were not mined by children. We are committed to transparency and a clean supply chain, ensuring that full attention was paid to the health of both people and the environment.