Every day, it's becoming clearer that the Ebola outbreak in West Africa needs a much stronger global response. Brilliant Earth wants to help. Today through October 26 we will donate $25 to the International Rescue Committee (IRC) for every customer purchase. The funds will go to the IRC's campaign against Ebola in Sierra Leone and Liberia.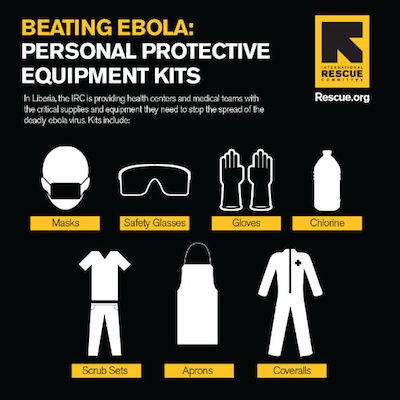 More than 4,000 deaths and more than 8,300 infections have been confirmed so far in the most serious outbreak of the deadly virus in history, according to the World Health Organization. Sierra Leone, Liberia, and Guinea are the nations hardest hit. In a worst-case scenario, there could be between 550,000 and 1.4 million infections in Sierra Leone and Liberia by the end of January, according to the Centers for Disease Control and Prevention.
We believe that one of main priorities now, in addition to treating the ill, should be to contain the spread of the virus. The IRC is saving lives in three main ways.
It is training health care workers in how to prevent Ebola and providing them with protective equipment kits. The kits contain masks, safety glasses, gloves, and other items to shield workers from the virus and prevent its spread .
It is educating local communities about how to prevent the spread of the virus and providing some of the infrastructure needed, such as vehicles and fuel, to assist with a process called contact tracing. When someone is diagnosed with Ebola, it is important to identify and monitor the contacts they've made for symptoms of the disease. When individuals are referred to a health facility before becoming contagious, it stops the disease in its tracks.
It is opening an Ebola treatment facility and providing health care to individuals with other serious medical needs might otherwise be too afraid to visit a health care center.
People and groups around the world all want to see this Ebola outbreak contained. But this is also an issue that deeply concerns us as a diamond jewelry company. Sierra Leone, Liberia, and Guinea are all countries where diamonds are mined. Sierra Leone and Liberia were both affected by blood diamond wars in the 1990s and early 2000s. These countries are still recovering from past traumas. It is very troubling to see them facing a new crisis.
The Ebola issue also affects one of the groups in Sierra Leone that we partner with closely: the Diamond Development Initiative, an NGO that is helping address the poverty and exploitation faced by Africa's diamond diggers. The epidemic has created obstacles for DDI's pilot project in Sierra Leone, which is funded by Brilliant Earth. Until Ebola is controlled, it will be harder to make progress on our long-term goal of ensuring that diamond diggers are treated with dignity. We are glad, however, that so far DDI's staff in Sierra Leone has stayed safe from the virus.
Although the world has been too slow to respond to the Ebola epidemic, it is not too late to save lives. Our donation to the IRC, a group that specializes in responding to humanitarian crises, will make a difference. We also encourage you to donate directly to the IRC and to other groups fighting Ebola. In this West African crisis, jewelry companies and consumers can and should be part of the solution.