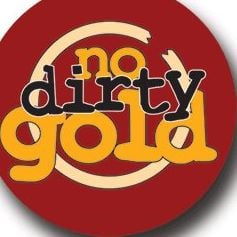 The results are in and Brilliant Earth has aced the test. A new report by the No Dirty Gold campaign, a campaign against dirty gold mining by Earthworks International, gives us an "A" for our measures to source gold in an ethical, eco-friendly way. Brilliant Earth's jewelry is crafted using recycled precious metals. We are also now beginning to offer jewelry made of certified fair trade gold from the Chocó region of Colombia.
The No Dirty Gold campaign gets its name from an unfortunate truth: gold mining is an extremely dirty business. The average large gold mine uses 1,900 tons of cyanide per year. Modern gold mining methods generate about 20 tons of mine waste for every gold ring. The role of the jewelry industry in perpetuating dirty gold mining practices is hardly minor. Most gold production, about 90 percent, goes to satisfy global demand for jewelry. But the complicity of the jewelry industry in dirty gold mining practices has a fortunate flip side. Jewelry retailers have tremendous leverage to demand that gold mining companies adopt more ethical, environmentally-friendly practices and techniques.
Recognizing this leverage, the No Dirty Gold campaign has asked jewelers to sign on to a series of "Golden Rules" for responsible mining. Jewelers pledging to uphold the Golden Rules have agreed to ensure that their gold suppliers adhere to 11 major responsible mining practices, ranging from maintaining a respect for basic human rights; to not dumping mine waste in oceans, rivers, lakes, or streams; to not operating in fragile ecosystems or other areas of high conservation or ecological value. About 60 jewelers, including Brilliant Earth, have signed on to the Golden Rules.
The latest report by the No Dirty Gold Campaign evaluates the steps that those jewelers have taken to encourage mining companies to comply with the Golden Rules. Jewelers responding to a survey received points for using recycled gold; for being able to trace their gold supply to the mine; for signing a pledge to protect Bristol Bay, the largest sockeye salmon fishery in the world and the site of a controversial, proposed gold mine; and for other measures to promote eco-friendly gold mining. Most retailers received "Bs," "Cs," and "Ds" from the No Dirty Gold campaign. By awarding Brilliant Earth an "A," the No Dirty Gold campaign is recognizing Brilliant Earth's leadership as a supplier of eco-friendly jewelry.
Although we are pleased by the recognition, the real test is whether other retailers will join us in demanding that gold mining companies adhere to high ethical and environmental standards. The full weight of the jewelry industry must be brought to bear to pressure the gold mining companies to supply gold that does not harm eco-systems or exploit people and communities. We will therefore continue to raise awareness about dirty gold mining practices, to use recycled gold in our jewelry, and to support exciting initiatives now underway to develop supplies of fair trade gold.