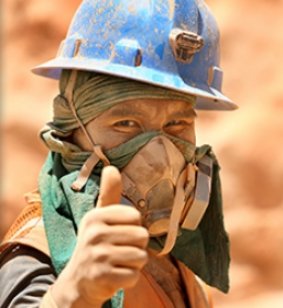 Brilliant Earth this week became one of the first jewelers in America to offer a jewelry collection made exclusively of Fairmined gold. The Fairmined gold label provides independent certification that gold comes from mining cooperatives that pay miners fairly, use sound labor and environmental practices, and promote community development. Brilliant Earth's Fairmined gold jewelry is sourced from two certified cooperatives in central Peru.
Most of the time, it's hard to give gold mining this enthusiastic a thumbs up. One issue is the environmental damage. Gold mining relies on toxic chemicals like mercury and cyanide which can easily harm people's health and destroy ecosystems, if not properly managed. There are also labor issues. At many gold mines, wages are low and working conditions are atrocious; some mines even rely on child labor. On top of these issues, gold mining is linked to violence. In the Democratic Republic of Congo, gold mining is fueling a civil war that has claimed millions of lives.
For all these reasons, Brilliant Earth has long believed in making jewelry out of recycled gold. When consumers choose jewelry made from recycled gold, they reduce the need for gold mining. They also send a message to the jewelry industry that they want gold from socially and environmentally responsible sources.
Still, we've long thought there was room for a different approach—a system which would reduce poverty and raise labor and environmental standards among the 15 million people in developing countries who work in small-scale mining. (Small-scale mining is mining done independently of large corporations, usually with simple tools and methods.) And now, by being one of the first U.S. jewelers to offer Fairmined gold jewelry, we're leading the way in making that approach a more viable alternative.
The Fairmined system, which is administered by an organization called the Alliance for Responsible Mining, was established in 2010. During the past few years, the certification system was still new. Very few mining cooperatives—a cooperative is basically an association of miners—were certified. Fairmined gold supplies were therefore extremely limited. Now, though, that's starting to change, and select jewelers in the United States, such as Brilliant Earth, are able to offer Fairmined gold.
The gradual rollout of the Fairmined certification system is a testament to the strictness of its standards. Some certification systems—such as the Kimberley Process, a flawed certification scheme for diamonds—are so weak that certification is withheld only in rare cases. By contrast, meeting the Fairmined standard isn't easy. At every certified Fairmined cooperative, miners must be paid fair wages and work in safe and progressive conditions. One of the cooperatives providing our Fairmined gold, called Aurelsa, began working toward Fairmined certification in 2008.  Only after creating a long-term community development plan and improving environmental and safety practices did Aurelsa became Fairmined certified in 2012.
Aurelsa is now one of the most socially and environmentally responsible gold mines in Peru. Every miner who works with Aurelsa receives essential safety equipment as well as comprehensive health insurance and benefits. Mining profits have allowed the village of Relave, where most of the miners live, to build and improve health facilities and schools. In 2011, Aurelsa was featured on the PBS Newshour. The story cited it as an example of a gold mine with "less impact on the environment and more benefit to miners."
The other cooperative providing Fairmined gold to Brilliant Earth is called Sotrami. The cooperative employs about 300 people and has taken significant steps to reduce its environmental impact. Using pollution control technology, Sotrami has minimized its use of chemicals in gold processing. Eventually, it may succeed in phasing out chemical use altogether. The local community of Santa Filomena plans to use Fairmined profits to support a pre-school and to teach new skills, such as tailoring, to residents.
Our Fairmined gold jewelry collection presently consists of four exquisite jewelry items. Our hope over the long term is that the Fairmined system grows, that more cooperatives improve standards enough to receive certification, and that gold mining is transformed into an activity that respects people and the environment.