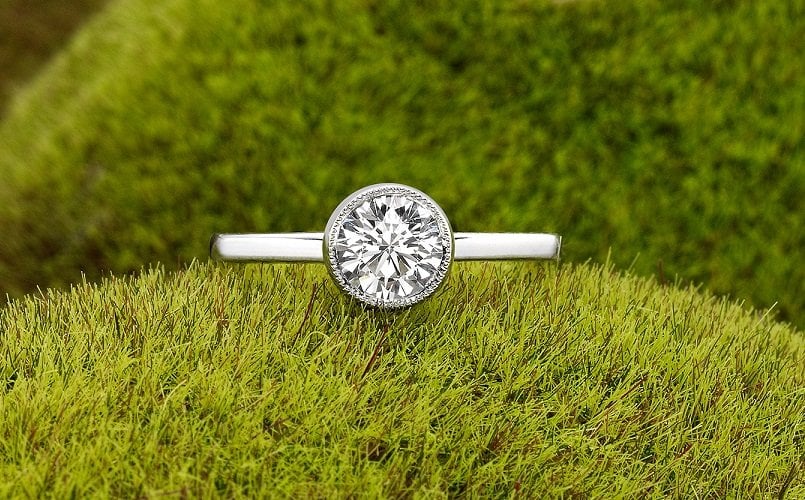 Continuing our new series of posts from our jewelry experts, this week Brilliant Earth jewelry specialist Jeanne Marie Martineau shares her love of bezel set solitaire engagement rings:
Dreaming of and drooling over next week's turkey and pie, I had to remind myself that this cornucopia of coma-inducing food is a celebration of giving thanks. As a jewelry specialist and lover, I'm thankful for jewelry – and rings especially. A ring is one of the most personal pieces of jewelry. Only you see it up close, every day. Don't get me wrong, I'm definitely an earrings and necklace girl, but other people get to see those more than I do!
Ring styles are ever-changing and constantly borrowing from the past. From original Victorian right hand stunners to pavé diamond stacking bands I am thankful for them all. But the ring style I am the most thankful for, my number one go-to, is the bezel set solitaire ring.                                                         
A bezel setting completely surrounds the gem's girdle (its widest point) with a thin precious metal band to create a perfectly smooth edge and keep the gem completely secure. Even though I don't rock climb, lift weights, or mountain bike, I'm busy and active, constantly using my hands and beating them up doing the smallest of tasks! So I love the peace of mind that my gemstone is set in there for good. Another advantage of a bezel setting is no prongs. That's right, no catching on things! Your hair, gloves, tights and sweaters are safe!
So those are just the practical reasons to love a bezel set solitaire, on to the reason that gets to the heart of jewelry in general: aesthetics. A single bezel-set gem on your hand is a remarkably striking look. It's modern, clean, elegant and a phenomenal way to display vibrant gems!
Bezel set solitaires play both engagement ring and right hand ring roles flawlessly. Simple modifications like metal finish, gem placement, and fancy gem shapes give each bezel set solitaire its own distinct style. High polish, matte, or brushed, on a ring with more visible metal than others, metal finish is an important part of the bezel set solitaire's look.
Since Brilliant Earth crafts its rings with recycled precious metals and ethically sourced gems, and donates 5% of profits going to communities impacted by the jewelry industry, a Brilliant Earth bezel set solitaire has style, structure, and soul!