Victorian engagement rings are romantic and feminine, and definitely stand out from the pack in the modern era. The Victorian Era was named for Queen Victoria of England, who reigned from 1837-1901 and was known for her love of jewelry and her happy marriage to her husband, Prince Albert of Germany.
It was a period of creativity in jewelry design, as gold became more affordable and an increased supply of diamonds and colored gemstones allowed jewelers to experiment and made fine jewelry more widely accessible. The artistry of Victorian engagement rings is evident in these nine enchanting designs, all of which are gently priced in comparison to new rings of comparable beauty and craftsmanship:
The Veruca Ring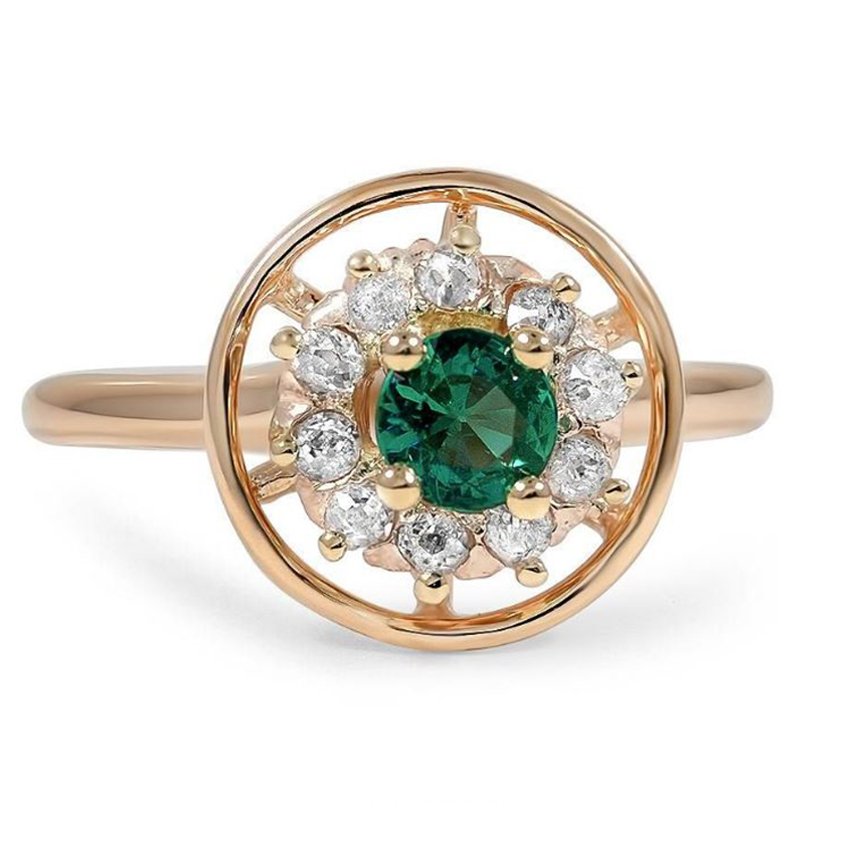 A halo of luminous old mine cut diamond accents surrounds a stunning green garnet center in the Veruca Ring. A ring of gold around the center stones add to the halo effect of this Retro-era ring.
The San Remo Ring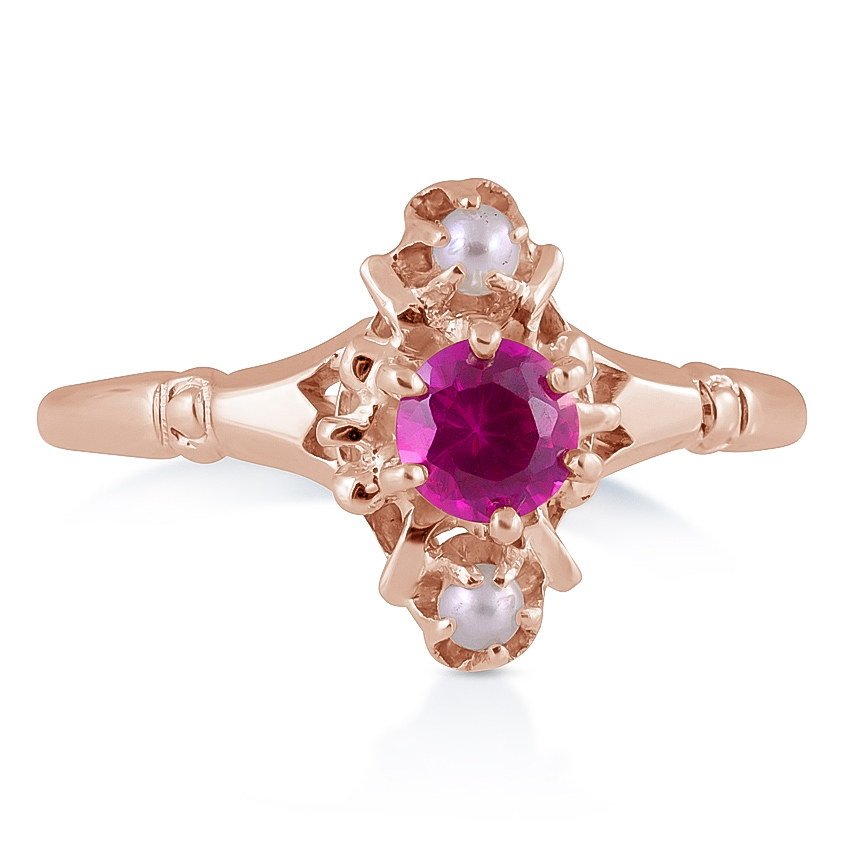 The mesmerizing San Remo Ring features a round lab created ruby and two cultured seed pearl accents set in rose gold.
The Karlyn Ring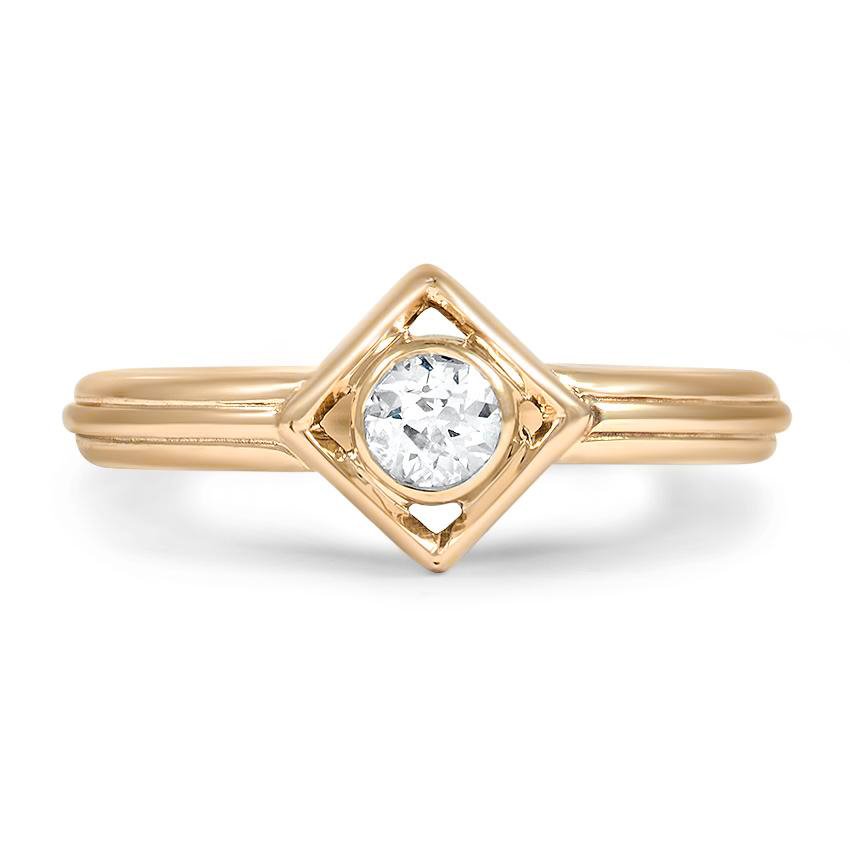 An old European cut diamond is bezel set in a diamond shaped 14K yellow gold head in the delicate and distinctive Karlyn Ring.
The Karon Ring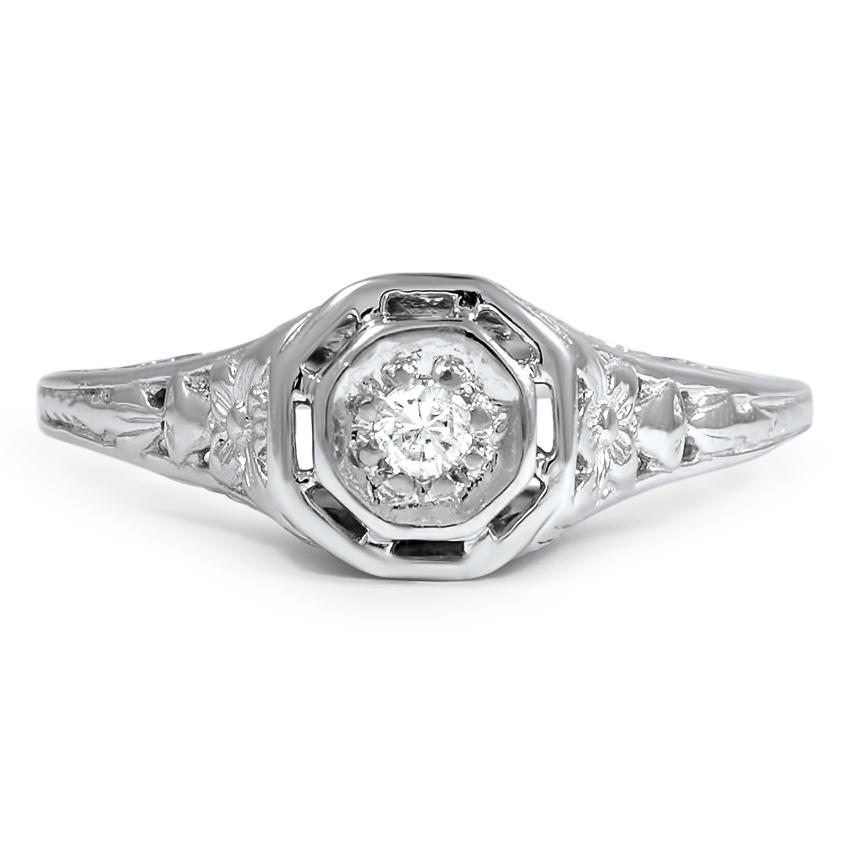 A lovely round diamond is set in the center of a delicately pierced gallery. The Karon Ring's floral detailing along the shoulders exemplifies the romance of the Edwardian era.
The Margy Ring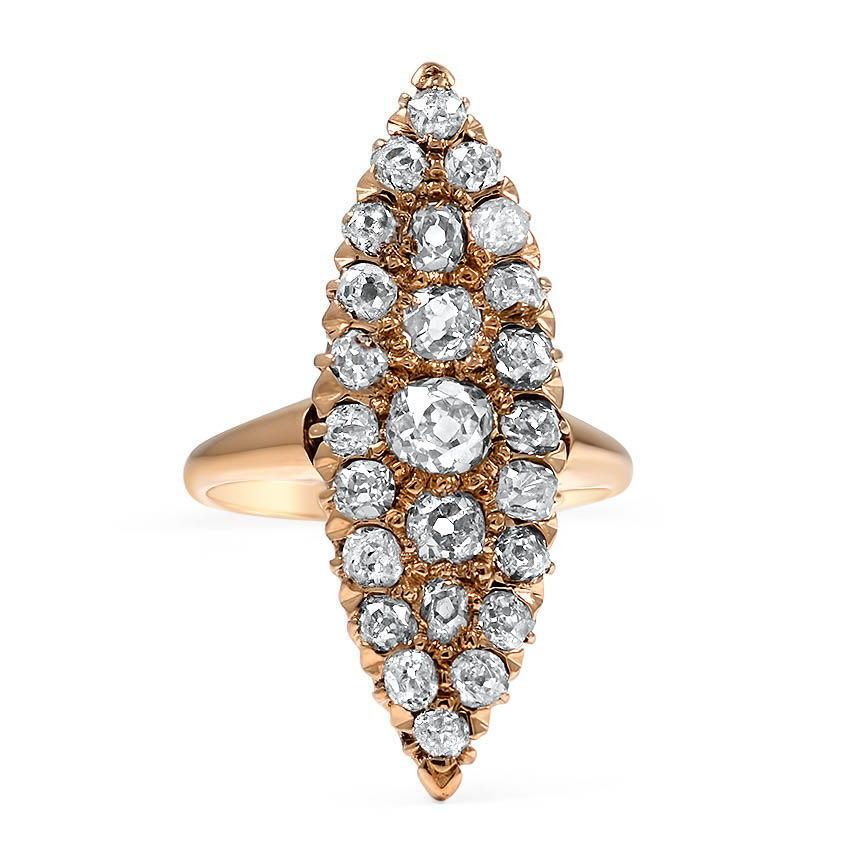 The lavish Margy Ring showcases twenty-five old mine cut diamonds adorning a unique 18K yellow gold ring for a truly glimmering statement piece.
The Raimi Ring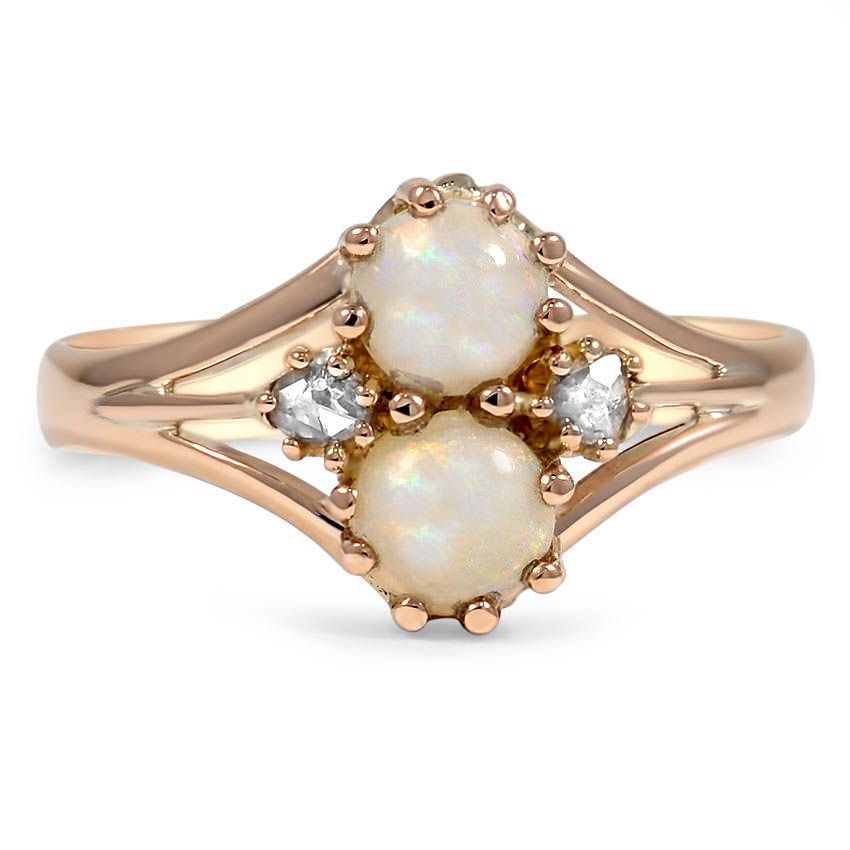 The distinctive split shank style of the Raimi Ring cradles two radiant opals in a rose gold claw prong setting accented on either side by rose cut diamond accents.
The Arvilla Ring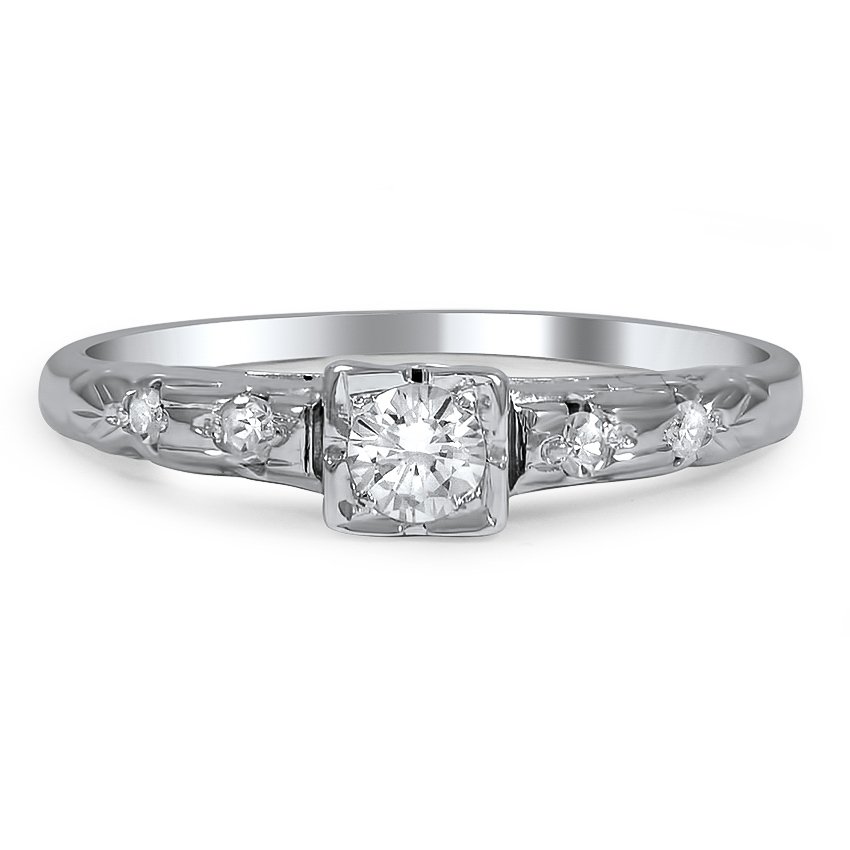 Two single cut diamond accents on each shoulder of the Arvilla Ring combines with a center modern cut diamond for an elegant Retro-era piece.
The Leta Ring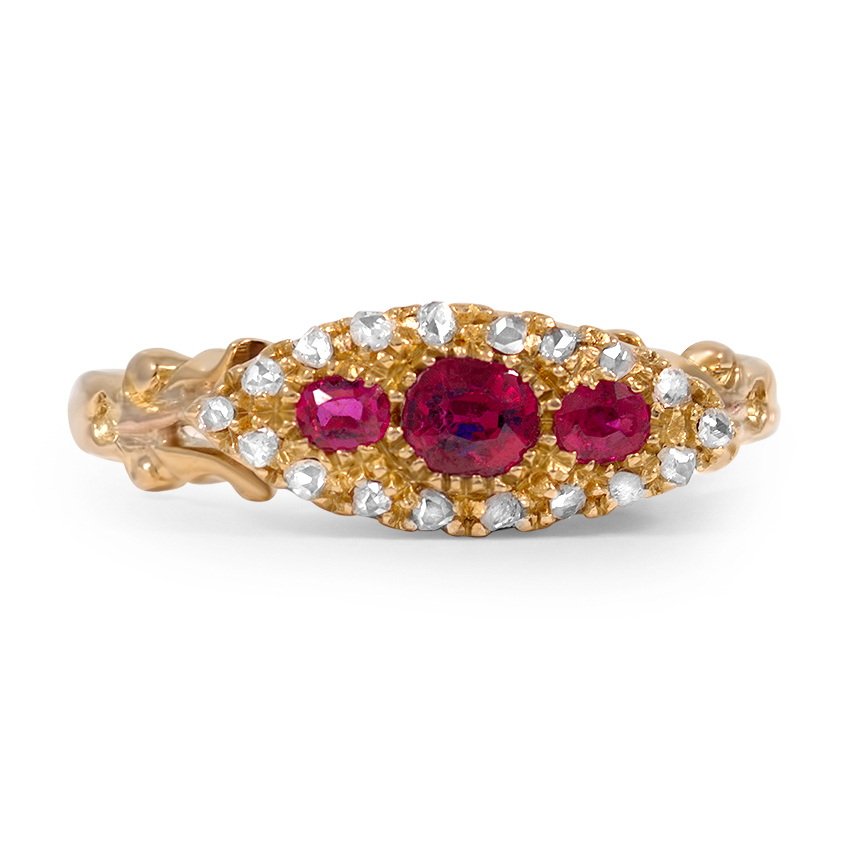 The beautifully detailed  Leta Ring features three oval-shaped rubies encircled by lavish detail and shimmering accent diamonds. The shoulders feature a delicately sculpted botanic design.
The Shantel Ring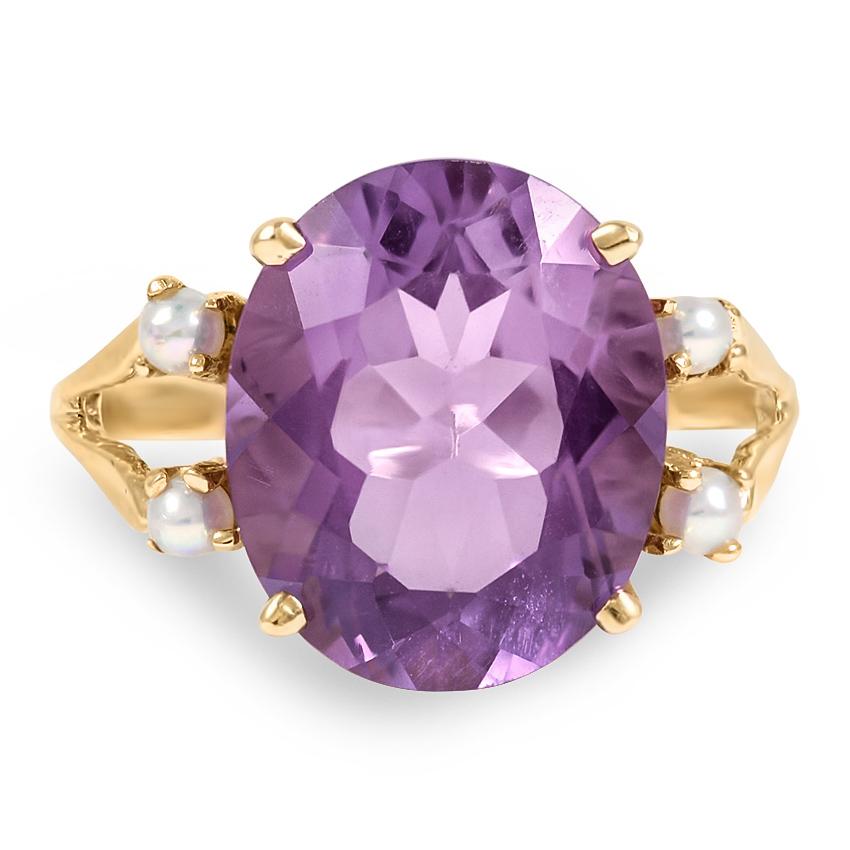 The eye-catching Shantel Ring features a glistening oval-shaped amethyst accented by two delicate seed pearls on each shoulder.
Final Thoughts  
Do you love Victorian engagement rings?  Are you more partial to other vintage engagement rings?  Let us know on Facebook or Twitter, or in the comments section!