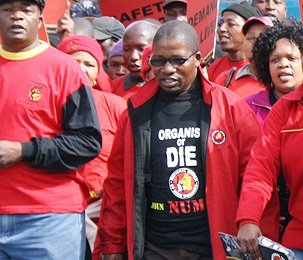 A year ago, when gold and platinum miners went on strike in South Africa, police shot and killed 34 striking miners at the Marikana platinum mine. In total, more than 50 people died in labor unrest at gold and platinum mines around the country. Although workers at the Marikana mine eventually won a 22 percent pay increase, that victory came at a heavy price.
This week, gold miners in South Africa are savoring a less bittersweet victory. About 80,000 unionized gold miners went on strike on Tuesday, demanding better pay. Just three days later, most of those miners are now back on the job, their union having secured an 8 percent pay raise. And thankfully, so far it appears that these strikes didn't result in violence.
Any increase in gold miner pay is welcome news in our opinion. As this CNN report shows, many gold miners in South Africa are so poor that they live in shantytowns, without electricity or running water in their homes. As might be expected, the gold mining companies have made arguments about why they can't pay higher wages. The companies point to falling gold prices and the fact that gold deposits in South Africa are getting more expensive to access as they become depleted. But these arguments, we think, don't release companies of their responsibility to pay their workers enough money to live in dignity.
This new agreement will help – somewhat. The miners originally had asked for a 60 percent pay increase. The 8 percent increase they agreed to barely keeps pace with South Africa's 6 percent inflation rate. It wouldn't be surprising if the miners go back on strike at some point in the future.
We're also aware that South Africa produces only 6 percent of the world's gold. This settlement won't raise wages for millions of gold miners in other countries – particularly the 10 to 15 million gold miners who work in artisanal, or informal, gold mining and often live in extreme poverty. (Artisanal gold mining is the kind of gold mining done by individuals in the informal economy using simple tools and methods. By contrast, most gold mining in South Africa is industrial gold mining managed by corporations.)
The settlement in Africa, however, does point to something universal: the importance of collective action to increase miners' bargaining power. By striking together and bargaining together, the South African gold miners were able to get a wage increase. Similarly, in artisanal gold mining, many miners who otherwise would sell their gold to traders individually have found success forming mining cooperatives and selling their gold together.
Brilliant Earth supports the concept of increasing miners' negotiating power. That's partly why we buy fair trade gold from the Oro Verdo gold mining cooperative in Columbia, and why we have funded a program in the Democratic Republic of Congo aimed at helping artisanal diamond miners join together to create cooperatives, thereby increasing their bargaining power. We hope that someday, more gold and diamond miners will be empowered to fight for a better life for themselves, just as the South African gold miners did this week.