Antique and vintage engagement rings possess a beauty and level of craftsmanship that's beyond compare.
They have been adorning fingers for decades, and sometimes for more than a century, but we can only guess at these rings' romantic pasts. That aura of mystery is one of the many things that makes vintage rings so enchanting. Here are eight gorgeous antique engagement rings from the design eras of the past century:

The Araceli Ring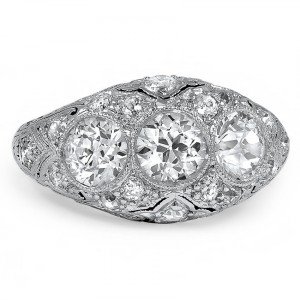 The Art Deco era Araceli Ring shimmers from all angles with three old European cut diamonds set in platinum and surround by fifteen accent diamonds. A surprise diamond lights up the intricately engraved gallery on either side.

The Rosana Ring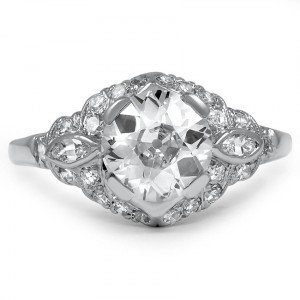 The Rosana Ring features a round brilliant cut diamond surrounded by twenty-two diamond accents and two marquise cut diamonds for a ring with unmatched shimmer. This platinum Retro era ring dates to the 1950s.

The Corie Ring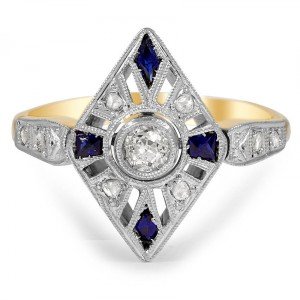 An Edwardian era ring with mixed metal allure, the Corie Ring features a glimmering old mine cut diamond in a kite setting with eight diamond accents and four French cut sapphires.

The Marcelle Ring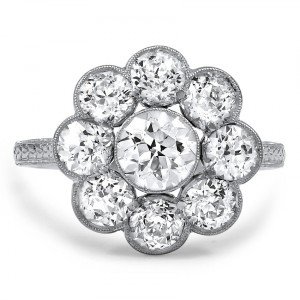 The floral Marcelle Ring showcases an old European cut diamond surrounded by eight petals of round shaped old European cut diamonds. The milgrain edging and leaf engraving in the gallery add to the floral motif of this Art Deco ring.

The Larue Ring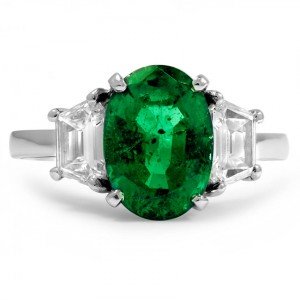 An oval shaped green emerald makes a stunning choice as the center stone in the Retro era Larue Ring. The trapezoid shaped diamonds act as bold geometric accents.

The Brilliana Ring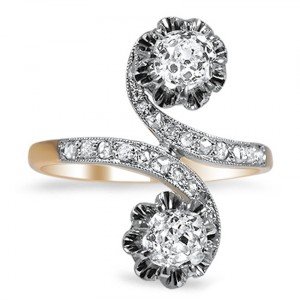 Two gorgeous old mine cut diamonds shimmer in the Brilliana Ring's elegantly curved bypass setting. Eighteen rose cut diamond accents complete the look of Art Nouveau glamour.

The Brooklee Ring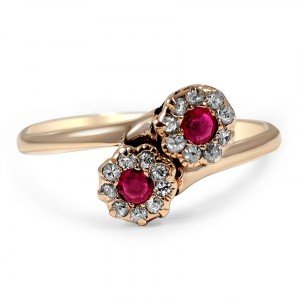 The delicate Brooklee Ring captures the romance of the Victorian era with its two ruby-centered flowers ringed by old mine cut diamonds.

The Monnie Ring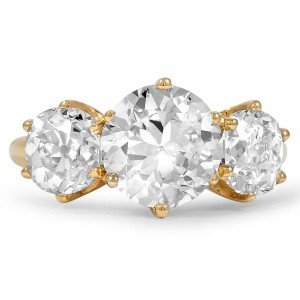 A striking old European cut diamond is nestled between two cushion shaped diamonds in the Monnie Ring. The 14K gold crown setting lends a regal air to this sparkling Edwardian era ring that's fit for royalty.

Final Thoughts
Which one of these vintage engagement rings is your favorite? Would you rather have an antique ring or a new one?  Let us know on Facebook or Twitter, or in the comments section!