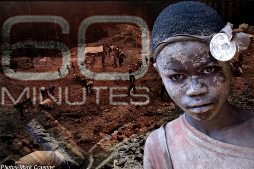 Media focus on the problem of "conflict diamonds" has raised public awareness about the negative social and environmental consequences associated with diamond mining. Less media attention has been given to gold mining and how, as with diamonds, the lust for mineral wealth can lead to some of the same disturbing consequences. Brilliant Earth therefore considers it significant that, on a recent episode of 60 Minutes, the CBS show devoted its opening segment to exploring how gold mining in the Democratic Republic of Congo has been fueling a disastrous civil conflict between rebel militias and the government.
The segment, by reporter Scott Pelley, showed images of mine workers in eastern Congo, many of them children, digging in open pits and laying blankets in riverbeds in order to extract gold and valuable minerals such as tin, copper, and coltan. Rebel militias controlling the mines then exchange the minerals for guns, ammunition, and medicines. Gold funds the violence, but it is also one of the underlying causes. "If you do a conflict analysis, you will find that when there are spikes in violence, it has something to do with contestation over the mineral resources," said John Prendergast, a human rights activist, in the report.
Gold mining in Congo has taken a colossal toll on the country's people. To date, the civil war in that country has claimed more than 5 million lives, making it "the deadliest war since World War II," according to the report. About one million people have been displaced and about 200,000 women in eastern Congo have been raped. In addition, mine workers endure abysmal conditions. Earning no more than one or two dollars a day, many workers die in mudslides and rock falls. Workers also expose themselves to environmental hazards. To separate out the gold, miners add mercury to mineral-rich sediments and then heat the mixture. This process binds the gold together, but exposes workers to toxic fumes that can cause neurological damage. The segment showed a man using mercury to produce a pebble-sized piece of gold worth $5.
Prior to the show, the Jewelers of America (JA), a jewelry industry trade association, wrote a letter to jewelers warning that 60 Minutes would "attempt to call the integrity of the entire gold jewelry supply chain into question." Sure enough, 60 Minutes reported that, despite efforts by the United Nations to stop gold exports from Congo, gold is easily smuggled into neighboring Uganda and exported from there. About one percent of the world's gold supply comes from Congo, Pelley reported. In the segment, Pelley interviewed Matt Runci, the JA's Chief Executive Officer, who ceded that "source of origin" is not something the jewelry industry tracks. Attempting to deflect criticism away from the major jewelers, Runci argued that information about civil conflicts and human rights abuses was difficult to obtain. "One needs to know where the sources of controversy are if one is to try to prevent those sources from getting into the legitimate supply chain," he said. In reply, Pelley quipped: "It's been pretty well known for a long time where the sources of controversy are in Congo." Runci was forced to agree. "Well, in the eastern province, yes it has," he said.
The 60 Minutes report was well-done and timely, though two aspects of the report deserve clarification and elaboration. First, the report may have given the mistaken impression that consumers, at present, can do little to ensure that their gold is ethically-sourced. Pelley discussed how most of the major jewelry retailers in the United States, including Wal Mart, are unable to trace the origins of the gold they sell. Yet the segment did not mention any jewelry companies able to trace 100 percent of their gold to ethical sources. Brilliant Earth, the leader in ethically-sourced jewelry, sells only recycled gold and fair trade gold. Consumers purchasing jewelry from Brilliant Earth do not contribute to civil strife, human rights abuses, and environmental degradation in Congo or elsewhere.
Second, the segment suggested that the Kimberley Process, the diamond industry's response to concerns about trade in conflict diamonds, might be an effective model for reform. "It was seven years ago the industry banned so-called blood diamonds from West Africa," Pelley reported, in reference to the Kimberley Process. "But, up until now, it hasn't done the same for gold." Brilliant Earth agrees that the jewelry industry needs a new strategy to make gold mining more responsible. However, the Kimberley Process, which does not track individual diamonds at every stage of the production process, has failed to eliminate conflict diamonds from the international diamond market and has done little to curb diamond-related human rights abuses. In an especially appalling decision, the Kimberley Process last month chose not to suspend Zimbabwe, even though the Zimbabwean military has been engaging in a brutal campaign of forced labor, torture, rape, and murder in many of Zimbabwe's diamond fields. The Kimberley Process is not a good model for ensuring the ethical mining of gold.
Brilliant Earth's goal is expose the ills of the jewelry industry and to drive change by serving as a model for a new way of conducting business in this trade. We hope this 60 Minutes episode helps raise awareness and encourage consumers to act, and that one day ethical and eco-friendly gold will become the norm throughout the jewelry industry.