Combining different precious metals together is by no means new – jewelers have been crafting stunning rings that combine different precious metals since the late 1800's.  This gorgeous look is enjoying a resurgence as a leading trend in 2013, and mixed metal rings are more sought after than ever before.  Here, we take a look at five enchanting, one-of-a-kind antique rings that highlight the origins of the mixed metal ring style.
1. This Art Deco engagement ring features a gleaming yellow gold band that contrasts beautifully with a white gold metal setting for the center diamond and diamond accents.  The Corsica Ring is an ideal example of ring that very subtly showcases two different precious metals.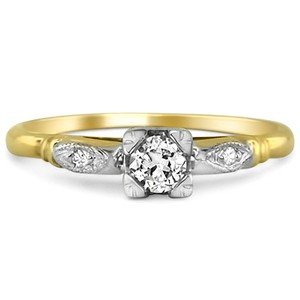 2. This wondrous matched set features an engagement and wedding ring that both feature yellow gold and white gold, for a more eye-catching mixed metal look.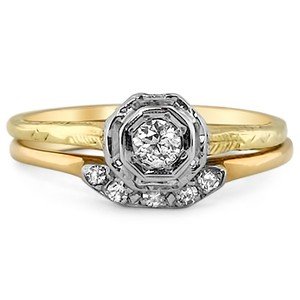 3. In a unique and romantic twist on mixing yellow and white gold, The Nikita Ring features sought after blush-hued rose gold subtly combined with 18K white gold.  The mixed metals beautifully set off a distinctive floral array.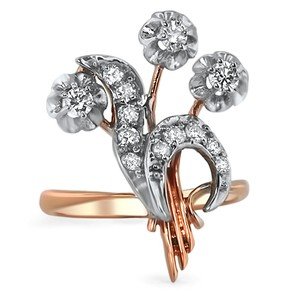 4. If you'd like to include mixed metals in a very subtle way, consider a ring that features an alternative metal in only the ring gallery, like the exquisite rose gold flower detailing in The Rosita Ring.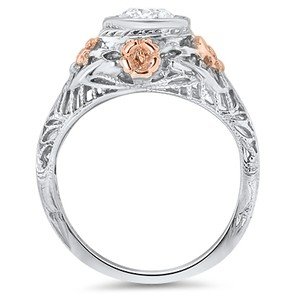 5. Three beautiful tones of gold meet in this delightful bow-inspired ring, showing that mixing metals can work exceptionally well in Retro inspired designs.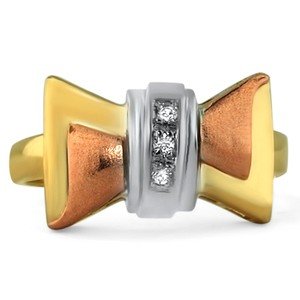 For more stunning styles, browse our full collection of one-of-a-kind, antique engagement rings.