On New Year's Eve, it's easy to blend into a crowd of sequins and little black dresses.  It takes a very special piece to stand out in this sea of glitz and glamour!  We recommend these five distinctive and stunning styles as the ideal way to stand out from the crowd this New Year's Eve and make a statement.
1. Consider a glamorous eternity ring stack!  This vintage inspired set of stacking rings makes a bold statement, and the delicate milgrain detailing adds a lively glimmer.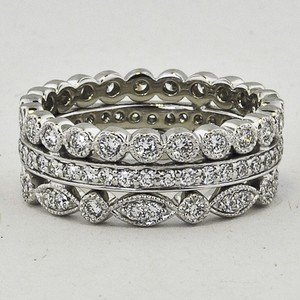 2. Select an original antique ring to ensure that your ring is truly one-of-a-kind.  The romantic history behind your ring will be an instant conversation starter.
3. Brilliant sapphire stud earrings are the perfect twist on a classic pair of diamond studs.  These vibrant beauties offer a distinctive alternative!
4. For a unique twist on the sought after halo ring style, consider a dazzling halo style with a fancy shaped center diamond, such as a princess or radiant shaped gem.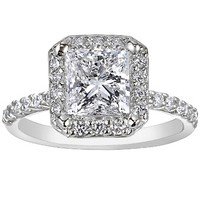 5. In a sea of 18K white gold and platinum, opting for 18K yellow gold fine jewelry is a stunning way to show your individuality this New Year's Eve!