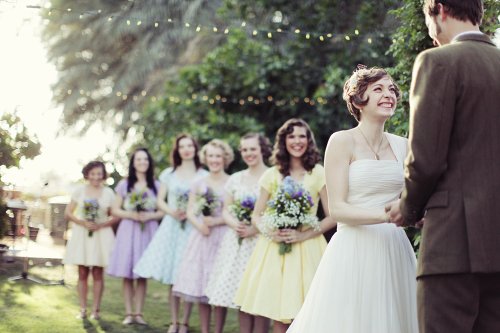 You can have a fun and fabulous wedding without any financial aftershocks. Check out these tips and tricks for trimming money from the budget without sacrificing style. (Bonus: Most are also eco-friendly).
1. Streamline the invitations. Just a few years ago an email invitation might have seemed way too casual for a wedding, but as life increasingly plays out online (and invitation sites like Paperless Post offer ever more gorgeous designs) wedding evites just make sense—and save money and trees, of course.  If you have your heart set on paper invitations, save by eliminating the reply cards and asking people to RSVP via email.
2. Let the drinks flow, affordably. Limiting your liquor options to a single signature cocktail, plus beer and wine, will slash your bar costs. Another sneaky way to save: Serve fancier wines at cocktail hour, then switch to less pricey ones at dinner—by that time your guests aren't likely to notice the difference.
3. Use local, seasonal flowers. Not only will it cost a lot less, it's better for the planet than flying off-season flowers in from a hothouse in Holland.
4. Focus on one favorite type of blossom. Instead of combining many varieties of blossoms, go big with one affordable one (labor is a big part of a florist's price). One idea with meaning: Orange blossoms, which were traditionally part of Victorian bridal ensembles because they were thought to symbolize fertility, and are still the traditional wedding flower in Spain. Another cheap and chic idea: Baby's breath—these lovely little white flowers were once a filler but now big bouquets of them are taking center stage.
5. Ask a friend to do the honors. If you aren't having a traditional religious ceremony, why not ask a close friend to officiate?  It's easy and affordable to get ordained by the Universal Life Church (though laws on officiants vary by state, so check the legalities), and you'll save the officiant's fee or church donation.
6. Rock a dress you can wear again. The idea that a wedding dress should be a once-only thing is a modern one—in Edwardian days a bride wore her wedding gown to parties for six months after her marriage! As we noted in our 2014 trend report, many of today's brides are skipping bridal boutiques in favor of glam ready-to-wear gowns they can wear at fancy events in the future.
7. Use something(s) borrowed. If some of your good friends are married already, they'd probably be flattered to lend you accessories from their big days. You'll save money and give your wedding extra meaning by using pre-loved items from those close to you.
8. Don't demand cookie-cutter attendants. Instead of asking bridesmaids and groomsmen to spend their hard-earned moolah on identical outfits, simply ask them to wear the same color, or colors in a certain palette. This strategy lets their unique personalities shine through.
9. Enlist talented friends. Save money and do your friends' wallets a favor by asking them to contribute to your wedding instead of buying you a gift. You probably have some talented people in your circle—could one be the DJ, the photographer, the calligrapher, the driver who chauffeurs you from ceremony to reception?
10. Consider comfort food. Roast chicken and mashed potatoes, mac and cheese, delicious sandwiches—many (probably most) people prefer these simple pleasures to pricier delicacies like filet mignon and lobster, so keep that in mind when planning your menu.
11. Serve it family style. Buffets are the most affordable option, but if you want a seated dinner you can shave some money off the budget by having food served on large platters. You may also waste less food since people will be able to serve themselves only what they'll eat.
12. Invest in a monogram stamp. To stylishly and affordably personalize wedding details, from invitations to place cards to thank you notes, have a stamp made of your first initials and any other details like the wedding date or a favorite symbol. You can find lots of options for monogram stamps on Etsy.
13. Serve up a dessert buffet. A wallet-friendly trend your guests are sure to love: Offering a dessert bar instead of the expected elaborate cake. Ask close friends and relatives to make favorite desserts for the event—think pies, cookies, or an old family recipe of any kind—to add an extra-sweet touch to your sweets course.
14. Pare down the cake. If you do go with a traditional cake, decorate it with a few flowers from your florist rather than with elaborate designs made of fondant. Labor intensive decoration is what can make wedding cakes so pricey.
15. Use DIY paper decorations. Stylish paper flowers, garlands, table décor and more can be crafted by you (or a crafty pal) and tossed in the recycling bin after the wedding. For ideas, check out this slide show of paper wedding decorations.
16. Be your own DJ. Listen to exactly the songs you like by subscribing to Spotify Premium (just $10 or so per month), creating a free wedding playlist and connecting a laptop to your venue's sound system—just make sure there is reliable Wifi and ask a music-savvy friend to keep an ear on it.
17. Set up a "selfie" photo booth. Rather than hiring a professional photo booth company, set up a DIY station filled with cheap fun props and a digital camera or a Polaroid, and instruct guests to snap themselves (you can share the photos online later).
18. Give edible favors. Instead of shelling out for favors that your guests might never use, give eco-friendly edible favors like small jars of local honey, bags of muffins or scones for the next morning or homemade cookies or truffles they can nibble on the drive home. (You could also skip favors entirely).
19. Buy your wedding rings online. Online jewelers can offer lower prices than brick and mortar stores without sacrificing quality, and usually offer a wider variety of rings. At Brilliant Earth we have a huge selection of wedding ring styles for both women and men, including custom wedding bands, matching wedding bands, antique wedding bands and more.
20. Do less. Simply skip wedding features that don't feel important to you—just because other people have printed menu cards or towering cakes doesn't mean you should do the same. You'll save money, slash stress, and your wedding will be even lovelier when you focus your budget and attention on the aspects of the event that you truly value.
Final Thoughts
Do you have any money-saving wedding tips?  Share them with us on Facebook or Twitter or in the comments section!
Photography Credit: Kha Do Photography