Investing in Youth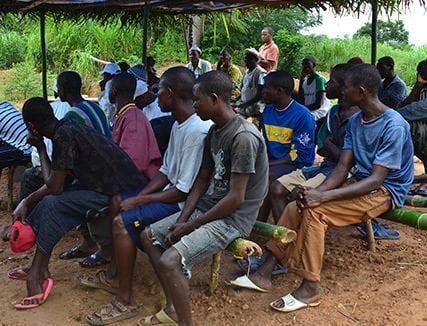 DDI meets with young
adults in Sierra Leone
Brilliant Earth is partnering with the Diamond Development Initiative (DDI) to empower and train young adults in the diamond industries of Sierra Leone and Brazil.
This initiative focuses on providing young artisanal diamond miners with education, vocational training and skill development. This program is a step toward uniting the artisanal diamond mining industry and providing young miners with a future of fair wages and secure employment.
why It Matters
Young adults who are preparing to join the work force in Sierra Leone and Brazil face high rates of unemployment, but many remain hesitant to join the diamond mining industry.
When unregulated, artisanal diamond mining provides minimal legal and economic protections. Diamond mining is considered a poverty-driven occupation, a designation we aim to change.
We are helping to provide youth with education, vocational
training and skill development to create long-term
opportunities in artisanal diamond mining.
About the initiative
The goal of this initiative is to formalize the artisanal diamond mining sector through relevant education, skill development and industry regulation. DDI will outreach to a number of diamond cooperative communities and provide youths with basic vital mining education. The types of education and training include basic prospecting techniques, diamond valuation, environmental impact mitigation, health and sanitation training, gender sensitivity training, and skill development. This shared knowledge will empower young miners across the country to create industry-wide standards and work towards a fair trade system.
This initiative will work alongside Brilliant Earth's other DDI funded programs to lay the foundations for a system of fair trade diamonds. We believe that providing youth with education and guidance is an investment in a brighter future.