Gold Mining and the Community
Dirty gold mining has contributed to violence, worsened public health problems, and threatened indigenous cultures. Too often, the costs of gold mining exceed the economic benefits.
Civil War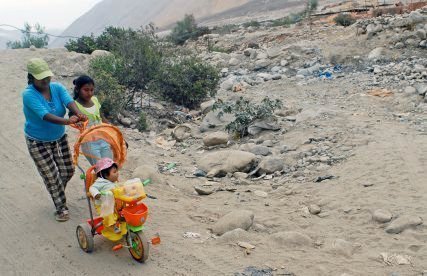 Gold mining is fueling a deadly civil war in the Democratic Republic of Congo. Since 1998, more than 5 million people have lost their lives to violence, disease, and starvation associated with the war. About one million people have been displaced and over 200,000 women have been victims of rape or sexual violence. The war is one of the worst humanitarian catastrophes since World War II.
Although the war is an ethnic conflict, it is also a fight to control the supply of gold and other mineral resources. Rebels often take over gold mining communities and force local miners to give up a portion of their earnings. The soldiers use the profits to buy more weapons. When the gold is exported, it is blended with gold from other sources, making it indistinguishable in the global gold supply.
Despite a peace settlement, violence in eastern Congo continues. In 2010, the U.S. Congress passed a law requiring large U.S. companies to disclose the origins of certain "conflict minerals" in their products. It is hoped that increased transparency will make it harder for rebel groups to profit from the gold trade, helping to stem the violence.
Further Reading
CBS News
Enough Project
Brilliant Earth Blog
Financial Overhaul Bill Takes Aim at Dirty Gold
The promised benefits
of gold mining
often never arrive,
instead leaving
communities with
ruined lands and
torn social fabrics.
Crime
A rise in gold prices has led to a modern gold rush. About 15 million people worldwide now make a living as artisanal gold miners, panning or digging for gold. Unfortunately, along with this gold rush has come a spate of crime and violence.
In remote areas of the Amazon, people have been found dead, the victims of hot tempers and greed. "You can't trust anyone, even your friends and those you work with," said one miner in Guyana who was shot and robbed of his gold. "Your own friends would kill you."
Gold mining boomtowns can be lawless places rife with theft, prostitution, drug and alcohol abuse, and murders. The people who suffer the most in these towns are not always gold miners. In 2011, authorities in one Peruvian gold mining town rescued 293 women and girls who had been forced to work in prostitution.
Further Reading
The Guardian
The high price of gold: death and destruction in the Amazon mineral rush
Fox News
Peru police save 293 women from sex traffickers
Reuters
Gold price surge spurs Guyana jungle mine violence
Public Health
Gold mining harms the health of miners and communities by releasing dangerous substances into the air and water. Mercury and cyanide, the two most common gold extraction agents, are toxic to humans.
Public health problems also result from the lifestyle and migration patterns of some gold miners. Many miners work at remote locations, spending months at a time away from their homes and families. These circumstances can encourage the growth of the commercial sex trade in mining towns, leading to the spread of HIV. Some gold mines in South Africa report that one in three miners is infected with the virus. The disease is spread when the miners return home, infecting their spouses and unborn children.
Tuberculosis, similarly, has been linked to the work patterns of gold miners. Dusty gold mines and crowded living conditions leave gold miners susceptible to the disease. When miners go home, they spread tuberculosis to their families and communities.
Further Reading
Reuters
Mercury poisoning, the dark side of Colombia's gold boom
Reuters
African mining may be driving TB epidemic: study
Reuters
Is HIV a time bomb under the mining industry?
Land Rights
Mines often require a significant amount of land to operate, but communities may rely on that same land for housing, farming, ranching, or other purposes. Battles over land are often the result, with local communities losing out.
A related problem is that governments may neglect to consider the historical, cultural, or legal rights of indigenous peoples when negotiating with mining companies. Even when surface land rights are clearly titled to indigenous groups, governments often sell the subsurface rights, effectively removing the land from indigenous control. About half of all gold is believed to come from native lands.
In the Peruvian highlands, indigenous peoples have fought for more than a decade against the Newmont Mining Company and its plans to expand the Yanococha gold mine, already the largest in Latin America. And in the Bristol Bay region of Alaska, a proposed gold mine would interfere with indigenous ways of life by threatening the world's largest sockeye salmon fishery.
Further Reading
No Dirty Gold
New York Times
Tangled Strands in Fight Over Peru Gold Mine
PBS
EPA: "Alaska Gold" Mine a Threat to Salmon Fisheries
Economic Development
The economic benefits of gold mining do not always meet expectations. Most artisanal gold miners earn wages that barely allow them to meet basic needs. Large gold mining companies often hire workers from abroad, disrupt local economic activities such as farming and fishing, and leave environmental devastation in their wake.
Economic development is frequently held back by the poor quality of government institutions. In many gold-rich countries, tax collection is disorganized and prone to corruption. Revenues from gold mining are often misspent or kept by power-hungry leaders. In the end, little money is available to invest in education, infrastructure, or the foundations of a stronger economy.
Further Reading
The Guardian
Zimbabwe gold deposits 'claimed' by Robert Mugabe's Zanu-PF
Associated Press
Guyana to target corruption amid gold mine boom
Brilliant Earth Blog
Gold Mining a Risky Bet as Haiti Recovers From Earthquake