Medical Aid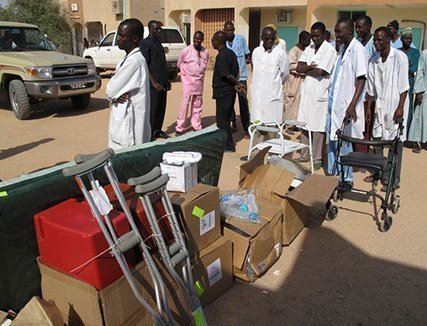 MedShare International delivers
much-needed medical supplies.
We've joined with our friends at The Conflict Free Diamond Council to fund Atlanta-based nonprofit MedShare International to send essential medical supplies to two hospitals in Sierra Leone.
The supplies bring sorely needed relief to victims of the global conflict diamond trade.
Why It Matters
Conflict diamonds helped fuel a decade-long civil war in Sierra Leone that has left lasting scars on victims whose arms and legs were brutally hacked off.
Today, thousands of amputees still wait for justice and fair reparations, years after the civil war has officially ended.
"Through our partnership, we hope to bring some relief to
conflict diamond victims who continue to live in
pain, even though the war has ended."
—robert cosentino director, the conflict free diamond council
MedShare international
MedShare has sent two forty-foot medical containers to hospitals in the Kono and Bo regions of Sierra Leone. In addition to receiving prosthetic limbs to help amputee victims, hospitals were able to choose the supplies in each container that are most useful to their patients.