Recycled Gold & Platinum
As part of our commitment to environmental responsibility, Brilliant Earth uses recycled precious metals in all of our fine jewelry. We guarantee our customers eco-friendly gold and platinum of the highest quality.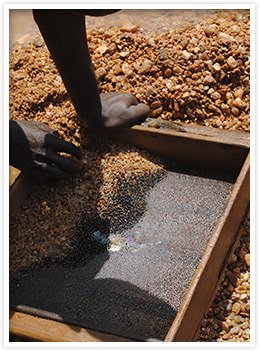 Metal mining – gold mining in particular – is one of the most environmentally destructive types of mining, with 20 tons of ore required to produce enough gold for a single ring.
What are the negative consequences of gold mining?
What Can We Do?
We can choose recycled metals to decrease the global demand for newly mined gold. This will diminish the environmentally and socially destructive effects of dirty gold and other metal mining practices. Because precious metals can be recycled repeatedly with no degradation in quality, they are a naturally renewable resource.
Choose recycled precious metals to protect the
environment and reduce demand for dirty gold.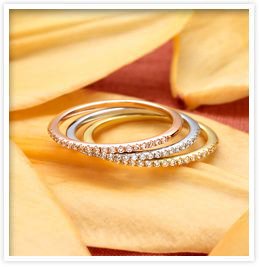 WHERE DO THE RECYCLED PRECIOUS METALS COME FROM?
Brilliant Earth's reclaimed precious metals come from numerous post-consumer sources, including:
Existing jewelry
Industrial-use metals
Electronics components
Every piece we cast is made with 100% recycled and re-refined precious metals. Because our reclaimed gold, silver, and platinum are re-refined back into their pure elements, they are of identical quality to newly mined metals.
Responsible Jewelry Production
Recycled precious metals are an important component of Brilliant Earth's commitment to the environment, but we also practice environmental responsibility throughout the jewelry production process.
For example, we employ a vapor emissions cleaning system and a rigorous process of cleaning liquid emissions to prevent contaminants from being released into the environment.
Additionally, we are committed to responsible labor practices. Many jewelers outsource their production to countries where labor and environmental standards are weak or poorly enforced. While this may reduce cost, it often comes at the expense of product quality as well as worker health and safety.
All Brilliant Earth jewelry is crafted in the United States with the strictest labor and safety practices.