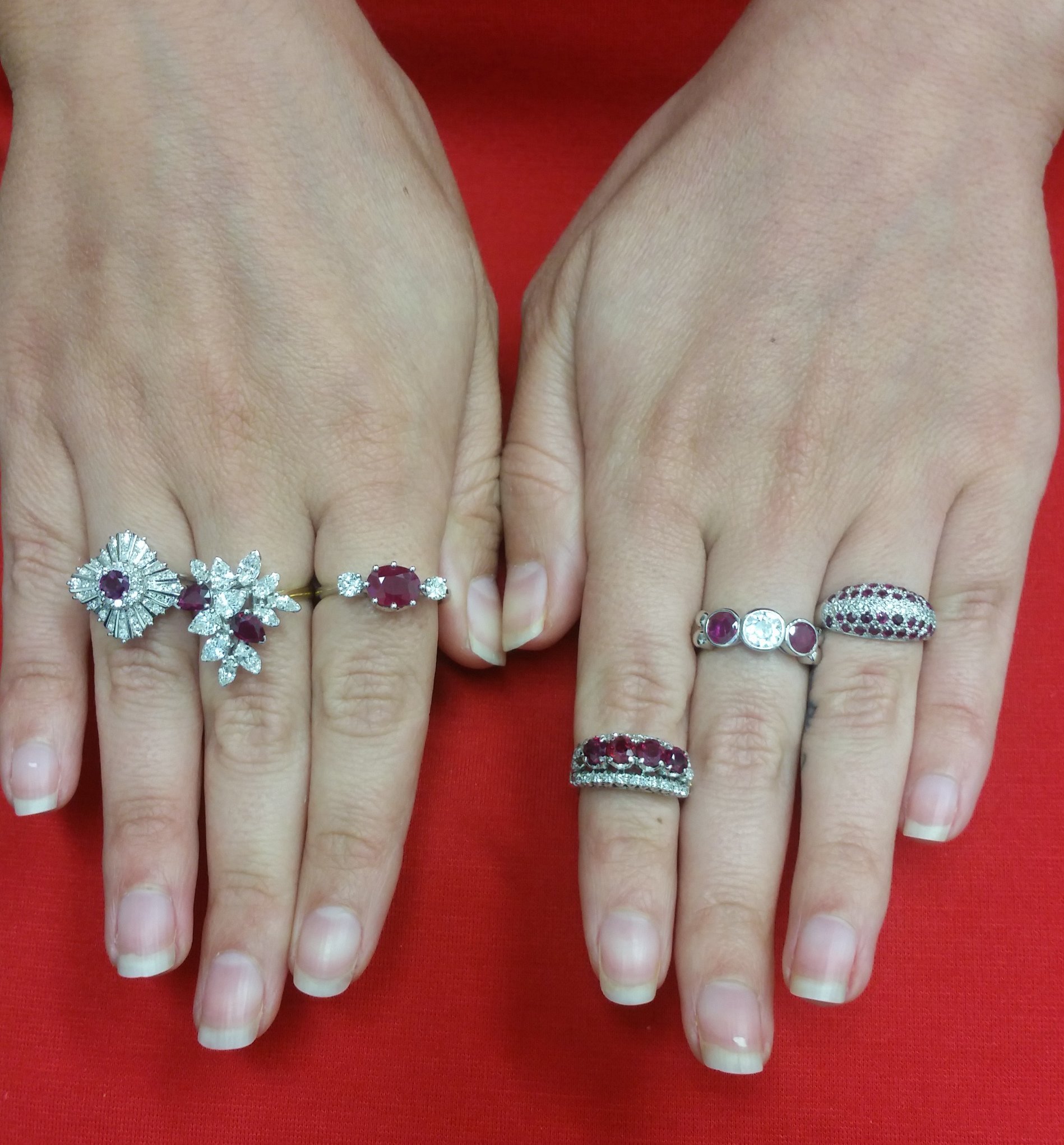 Rubies have been one of the most valued gemstones for thousands of years, both in Eastern and Western cultures. Rubies were valued for their beauty and for the belief that they offered the wearer health, wealth, wisdom, romantic success, and the ability to live in peace with his or her enemies. Because red has long been associated with love and passion, a ruby makes a fitting focal point for an engagement ring.
At Brilliant Earth, we carry antique and vintage ruby engagement rings from as long ago as the Victorian era, as well as from recent decades. We don't carry new ruby engagement rings as one of our standard options because ethically sourced rubies can be hard to find. The majority of the world's rubies come from mines in Burma, a country with a terrible human rights record. The US government currently bans the import of Burmese rubies, but that ban is not airtight because the gems are smuggled into countries such as China and Thailand and then re-exported. However, we can occasionally source ethical rubies and lab-grown rubies, and you'll find them in our gallery of Unique Colored Gemstones.  If you have your heart set on an engagement ring featuring an ethical red ruby we would be happy to source one for you.
If you are drawn to rubies, we bet you'll fall for at least one of these breathtaking ruby engagement rings currently in our Antique and Vintage Collection:
The Serita Ring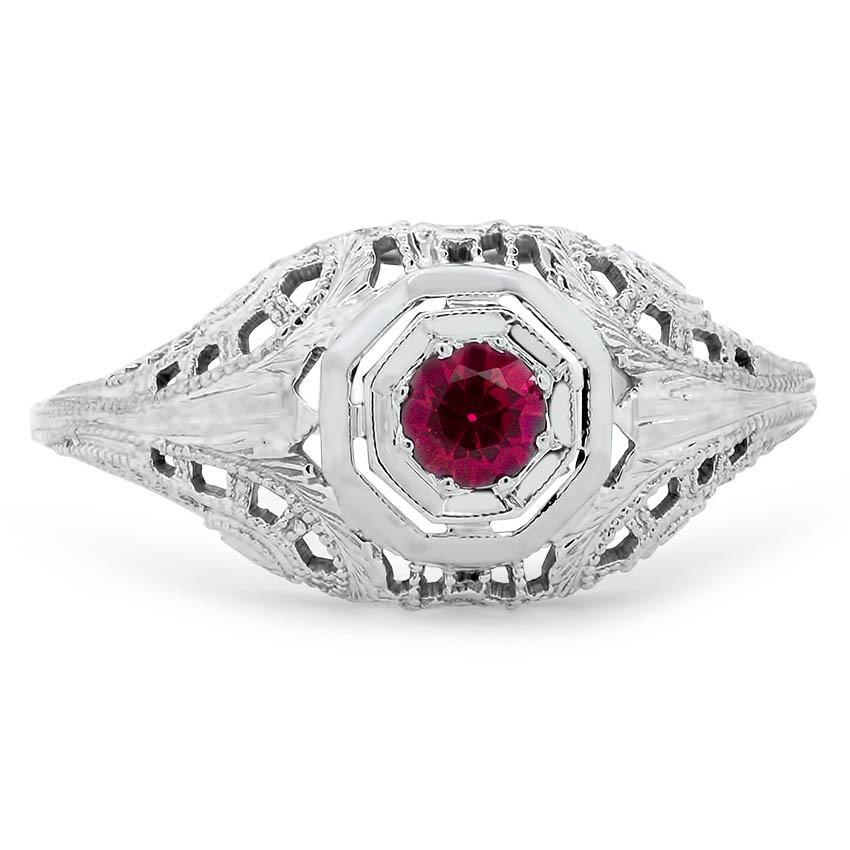 A treasure from the 1920s, the Serita Ring showcases a round synthetic ruby in an octagonal setting. Piercing and milgrain reveals excellent craftsmanship and embodies the finely detailed Edwardian aesthetic.
The Annalee Ring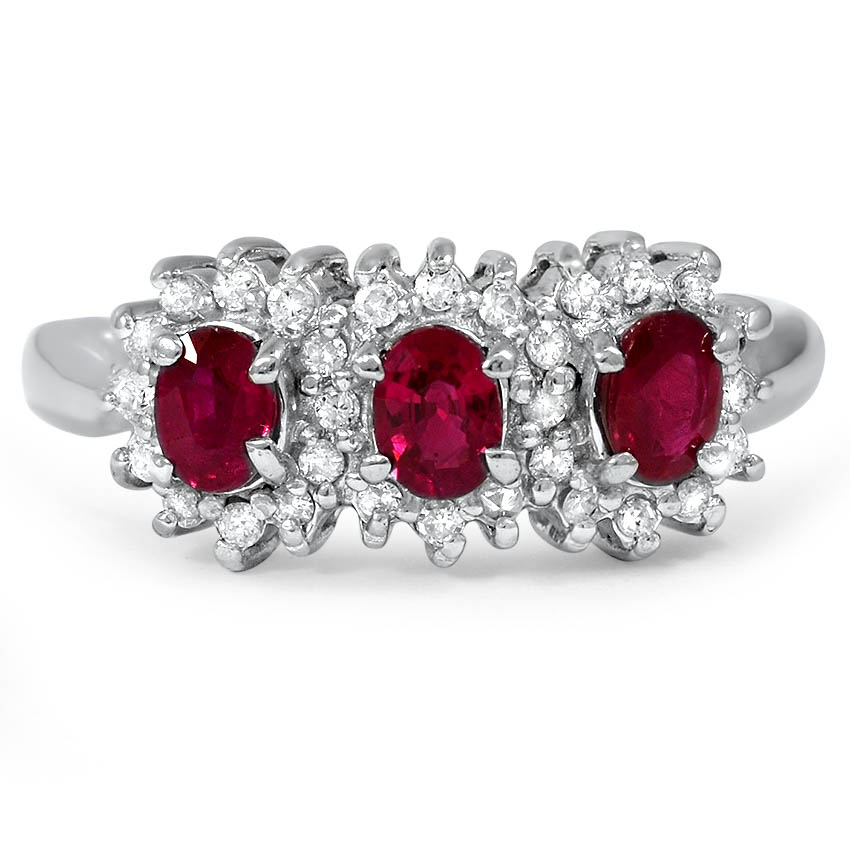 In the platinum Retro-era Annalee Ring three lovely oval rubies surrounded by the brilliance of thirty round diamond accents, for a dazzling look with timeless appeal.
The Belina Ring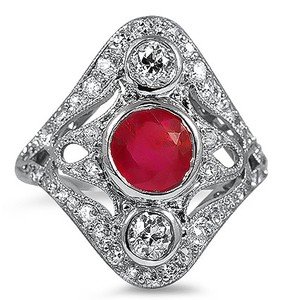 With artistry characteristic of Art Nouveau designs, the Belina Ring features a beautiful round ruby bezel set and surrounded by the magnificent shimmer of twenty old mine cut diamonds set in platinum.
The Bodie Ring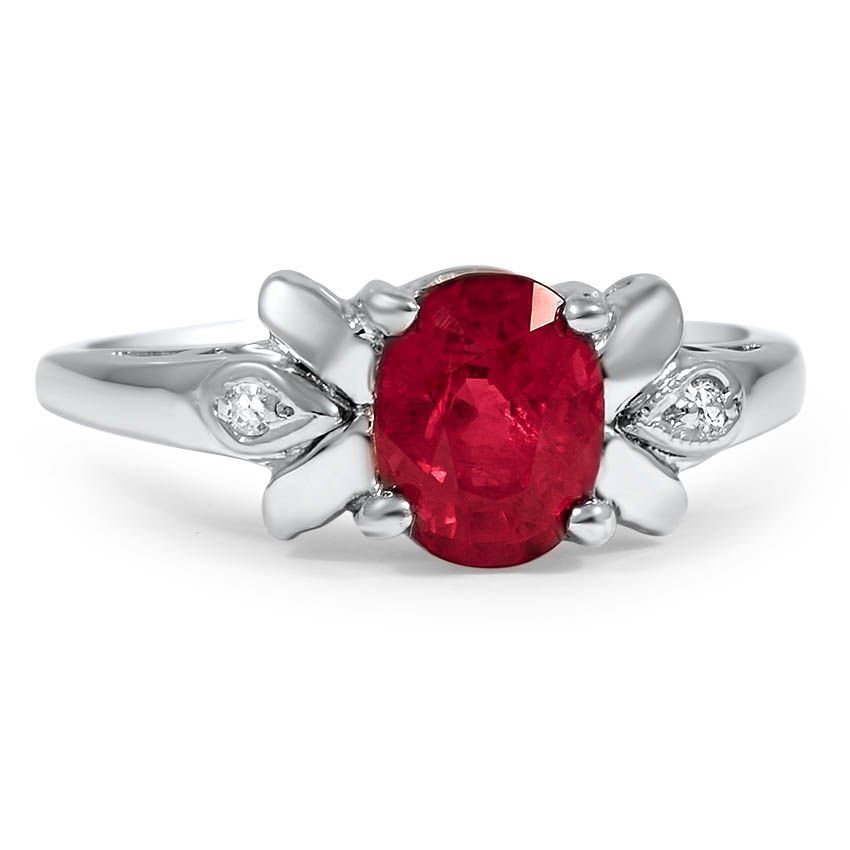 The stunning Retro-era Bodie Ring boasts a vivid oval-shaped natural ruby in a chic and modern setting. Two sparkling single cut diamond accents in marquise-shaped frames sit on either side of this irresistible piece.
The Natesa Ring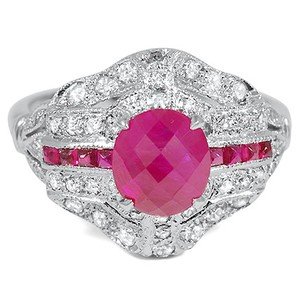 Glamorous and mesmerizing, the Retro-era Natea Ring features an oval natural ruby accented by eight rubies set in rows on each side. Forty-four diamonds framed in lustrous white gold surround the rubies with magnificent shimmer.
The Britton Ring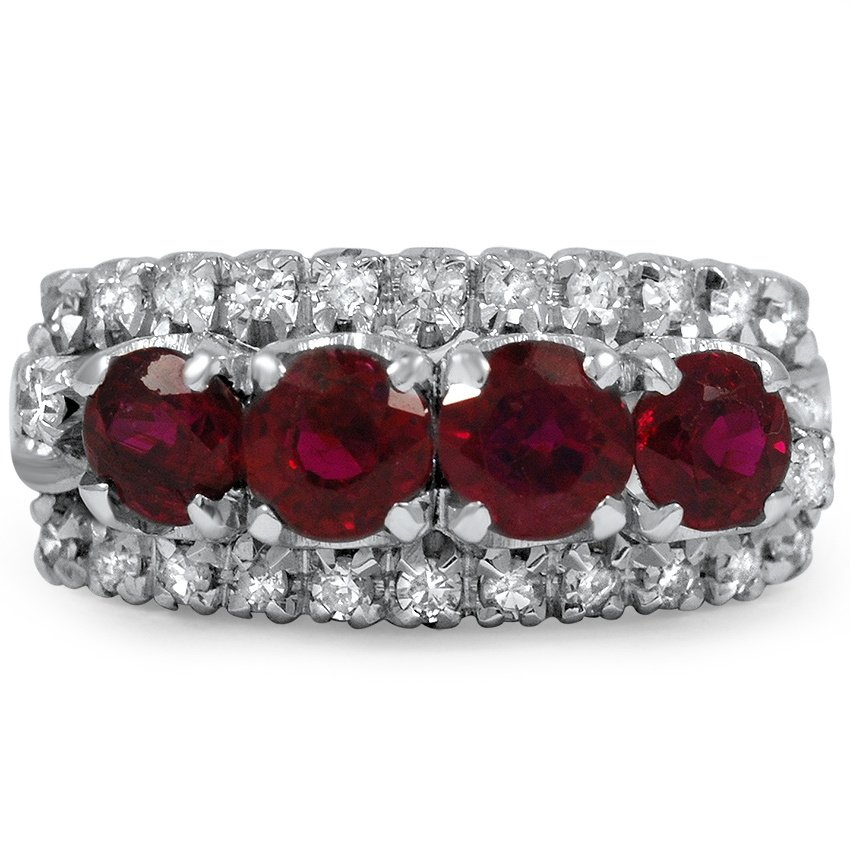 The exceptional Retro-era Britton Ring showcases four captivating synthetic rubies, all surrounded by twenty-eight glittering single cut diamond accents to gorgeous effect.
The Raiden Ring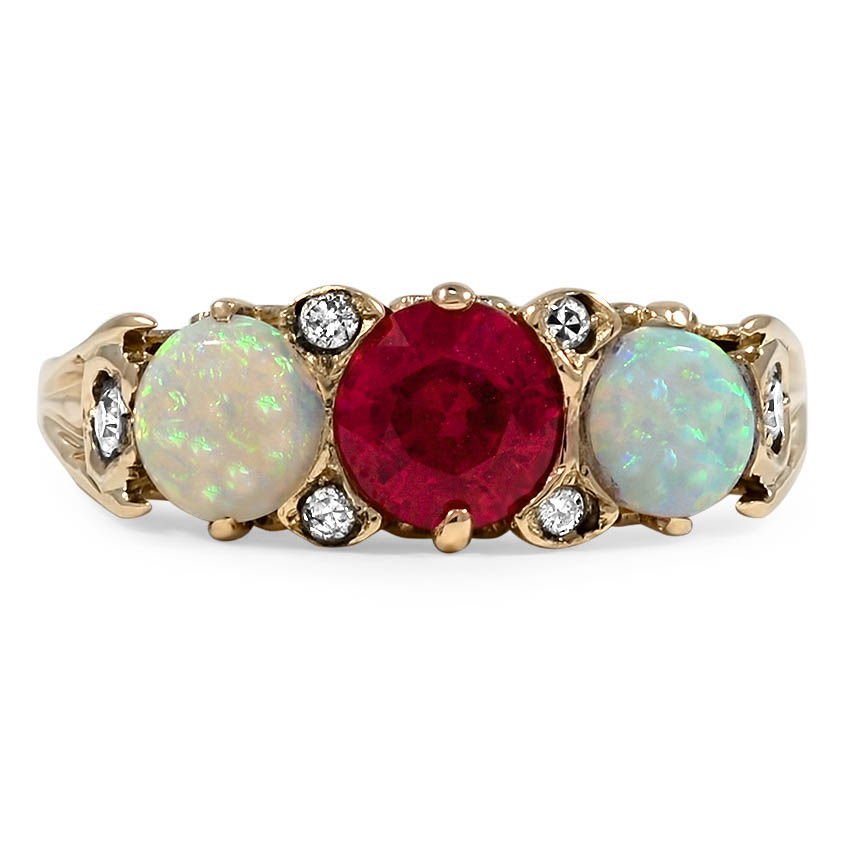 In the unforgettable Edwardian-era Raiden Ring two enchanting opals sit on either side of a stunning round natural ruby. Six sparkling single cut diamonds are nestled in the sculptural yellow gold band.
The Freida Ring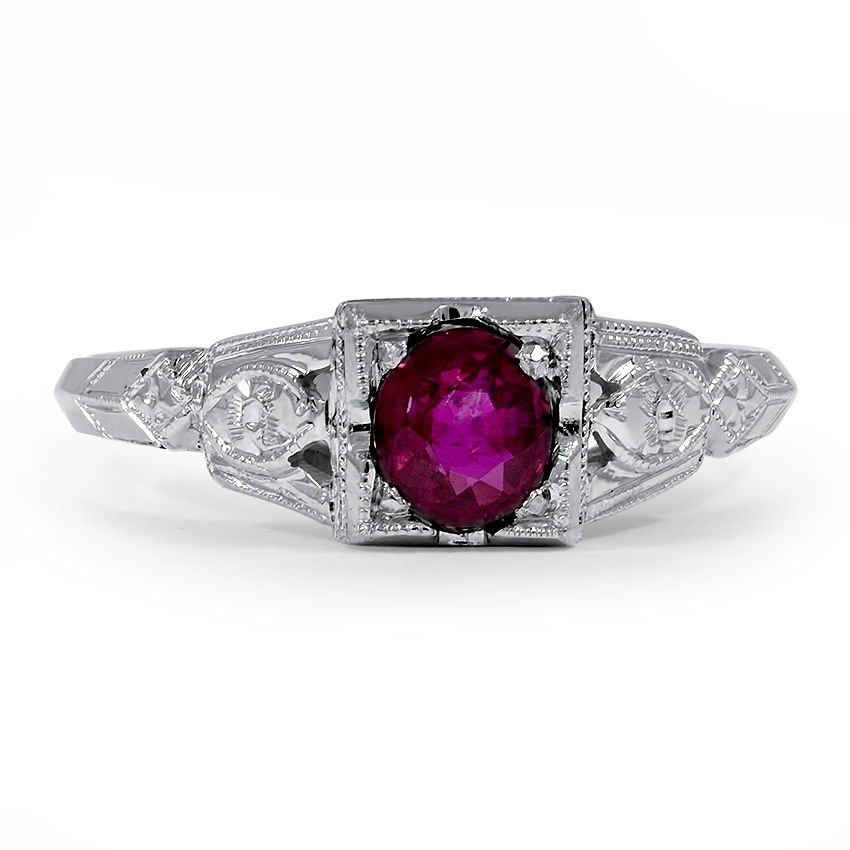 A lovely natural ruby sits cushioned in the Art Deco-era Freida Ring, accented by a square-shaped setting detailed with fine milgrain. Engraved details along the knife-edge shank add extra glamour.
Final Thoughts
Do you love ruby engagement rings?  Which of these antique and vintage beauties is your favorite?  Let us know on Facebook or Twitter or in the comments section!